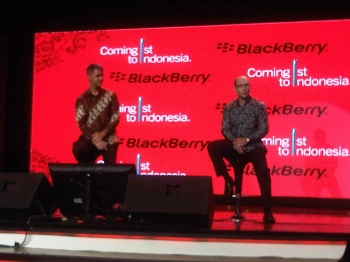 RIM (NASDAQ:RIMM) have officially launched its latest handsets, the Blackberry Bold 9790 and Blackberry Curve 9380, at an event in Jakarta. Indonesia was chosen to be the first country to enjoy the newest OS 7 and NFC-equipped smartphone.
We recently saw the Blackberry Bold 9900 & Torch 9810 launched not too long ago, but yet RIM is offering the Blackberry nation new smartphones to crave. So what's new about these two smartphones?
The Blackberry Bold 9790 is quite similar to its brother, the Bold 9900, which offers both touch and a QWERTY keyboard. Equipped with a 1GHz processor, the new Blackberry Bold 9790 will run apps, browse the web, and work with documents. The five megapixel camera also has the auto-focus feature and it includes 8GB of onboard memory and can be expanded up to 32GB. As for price, it will cost 4,599,000 IDR ($510) if you want to get your hands on it.
Taking the battle to Android handsets and the iPhone iPhone, RIM also released the Curve 9380 with its tagline 'All Touch, All Social.' It features a 3.2 inch high resolution display, and it also comes with pre-instealled social networking apps like BBM, Facebook, Twitter and the new 'Social Feeds' which aggregates all your Social Media feeds.
At the launch event, co-CEO Jim Balsillie shared some stats with us. He stated that Blackberry in Indonesia holds a 38 percent market share, making it the leader in the Indonesia smartphone market (Frost & Sullivan 1H report). Four out of five smartphone sales are Blackberry. IDC also forecasted that RIM will ship 9.7 million of Blackberrys in 2015.
In this newest Blackberry line, RIM is helping local developers and start-ups with promoting their apps. Names such as Koprol, Bouncity and Menoo are all in the prestigious list in addition to Macetter.us, Domikado Finance, Fun Komik, Gift&Take and Makanter.us. With RIM going all out in Indonesia, it will be interesting to see much attention and focus other smartphone makers place in the region.