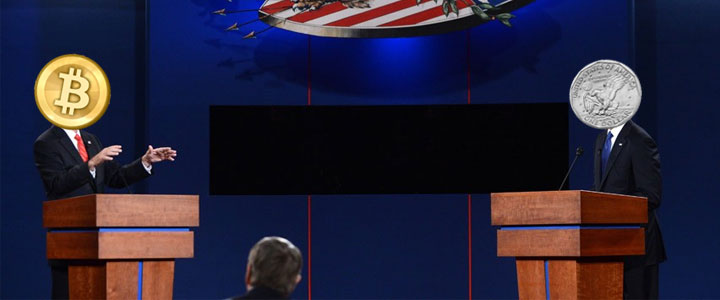 With our events, the team at Tech In Asia is always trying to find new ways to bring you great content and conversations that will help us understand the technology landscape in the region. At Startup Asia Singapore, we've had fireside chats, presentations, and panels mainly, and we'd like to expand our catalog of content mashups with a Bitcoin debate on May 8, the second day of Startup Asia. Now, let's get into the nitty gritty:
Why did we choose Bitcoin as a debate topic?
This question is easy to answer. Obviously, Bitcoin is one of the most controversial topics in the world right now. Not only is it started by a mysterious unknown man, but it's also hailed as a disruptor of finance, governments, legal systems, payment models, and more. The rise of Bitcoin – and all other cryptocurrencies – has forced us to take a look at the fallacies in our current transactional structures. It potentially decentralizes financial systems that have been in place for centuries. With cryptocurrency having such a huge impact on these systems, there's of course going to be people on different sides of the fence.
If you run around startup circles, it's ridiculously easy to find techies and entrepreneurs who support and marvel at Bitcoin. But then, if you enter government and finance circles, there are some very strong arguments against Bitcoin. So let's bring all of these ideas into the light. Let's take a deeper look into the future of Bitcoin, especially in Asia.
How will it be framed?
We'll take a page out of the US presidential debates for this format. Two moderators will sit offstage equipped with questions from the audience and our own editorial questions. On stage will be two podiums with two debaters, each on opposites sides of the Bitcoin debate. Our editors will feed them both questions that provoke general enquiry into what bitcoin is as well as its strength as a global currency that will last. You, our dear readers, and audience will be able to decide privately who you think will have won the debate. We'll keep the debate civil and fun and explore the topic together.
Our awesome Bitcoin debaters!
For the past few months, we've been hunting our vast region for some interesting debaters that will give some spice to our Bitcoin debate on stage. We're happy to report that we've got our two debaters: Richard Jerram, Chief Economist of the Bank of Singapore and Aurelien Menant, founder and CEO of Gatecoin. Each represents fundamentally different positions on the growth of Bitcoin and we'll be looking forward to a lively show. Here's more on the two:

Richard Jerram was appointed to Chief Economist of the Bank of Singapore in 2011. His economic expertise is in emerging markets with an emphasis on Asia. Richard has a Ph. D. from the London School of Economics.

Aurelien Menant is the founder and CEO of Gatecoin, a licensed global digital currencies exchange based out of Hong Kong. The company was founded in 2013 and is riding the wave that is Bitcoin. Before founding Gatecoin, Aurelien has worked extensively in finance, especially in stock and acquisitions.
If you haven't got your Startup Asia Singapore tickets yet, now's the time to do it! Today's the last day to receive a 10 percent discount with the EarlyBirdApril code.