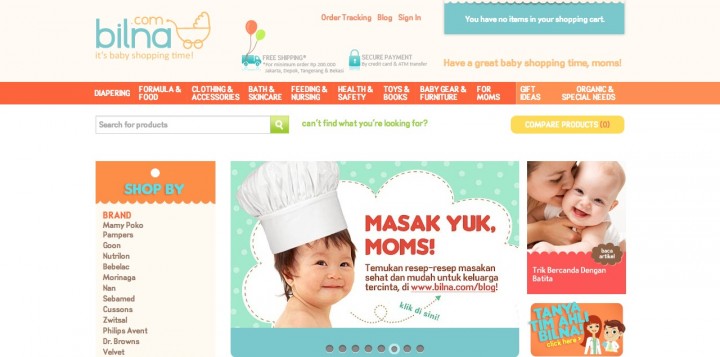 The e-commerce scene in Indonesia is picking up speed as we speak, and today, baby care e-commerce site Bilna 1 announced that it has closed series A funding to make sure it keeps pace with the growing industry.
The round is raised from existing investors CyberAgent Ventures and East Ventures, as well as new investors DG Incubation (DGI), TMS Entertainment, and Golden Gate Ventures. DGI is leading this round, and the amount is undisclosed.
Co-founder Eka Himawan explains how they will use the newly acquired money:
The new capital will fuel our full list of developments such as our expansion into a new vertical, and also to enlarge and modernize our warehouse to build a scalable operation that can withstand multiples of the current volume.
He says that they will add more payment methods including cash-on-delivery this year. The team will be launching a new version of the site too which promises to be more user-friendly and "will feature a lot more personalization and social media integration".
Bilna sells products for babies, infants, as well as mothers, and it's recording good sales in Indonesia. In its peak, the site could process more than 1,000 orders a day. The company attributes its good progress in 2013 to diversity of products, efficient operations, dedicated logistics, and highly-targeted marketing. The company was launched in November 2012.
Bilna's number one rival in this space is Tororo. What makes this rival look fearsome is that it is headed by Ken Dean Lawadinata, the former CEO of Indonesia's biggest online forum Kaskus.
(Editing by Terence Lee)
---
Disclosure: East Ventures invests in Bilna and Tech in Asia. See our ethics page for more information.↩