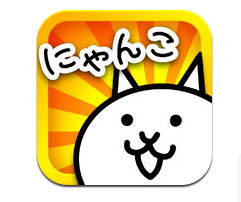 We recently wrote about Mr. Ninja, a fun iPhone game from Japanese developer Ponos. That game was fun for casual play, and for the first time really put Ponus on our radar as a developer to watch. And over the past couple of days I've taken a closer look at some of their games, most notably Battle Cats, which was released for iPhone and iPad just over a week ago.
The title is a tower defense game, which might initially turn you off with its bad English text and weird backstory intro. But if you can get past that minor flaw, you'll be rewarded. You take your cat army into battle against the enemy, defending your own tower and trying to destroy theirs. You have different cats with different abilities that you can send into battle, as well as a canon mounted on your castle which you can fire at enemies when it is recharged.
Overall, I really like the game mechanics of Battle Cats. I'm a big fan of tower defense games in general, but this one sort of reminds me of Age of Empires – or dare I say chess – in how you can put stronger defensive cats up front and try to follow up with more offensive cats from the back. Tempo also comes into play as you can time your attacks to coincide with lapses in the enemies attacking wave.
Each round of the game takes place in a different region of Japan, so if you can't beat one round, you can back track and re-do an earlier round to earn XP and upgrade your army. Alternatively, you can pay to continue or buy more energy so you don't have to wait to play more rounds. The in-app purchases are smartly implemented, and so far they haven't crippled the game for me in any way [1].
Battle Cats is currently doing well in the 'strategy' and 'simulation' categories in the Japanese app store, but it hasn't really made an impact anywhere else yet. I know it's still early in the lifespan of this game, but I think that with some polishing, this game could have some serious potential to be a global hit. It's the most fun I've had on an iPad since Infinity Blade. Battle Cats fits right in that category of 'cute/wacky Japan' that follows in the bizarre tradition of Nyan Cat, and the characters are just as marketable as those in Angry Birds [2].
Give it a try and let me know what you think. You can download it for free over in the App Store. Selfish update: If you want to kickstart your game with an invite code, mine is yg2t0!