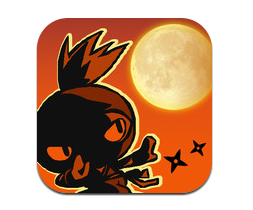 Here's a fun iPhone game from the folks over at Japan-based Ponos Games which is today discounted from it's regular price $0.99, available for free on the iOS app store. Mr. Ninja is a simple game where you slash up invading aliens in an effort to keep your castle safe.
This game has been around since last year, but if you haven't checked it out yet, I think it's worth a look. There are three game modes, but only normal mode is available to start. As you play and improve your ninja skills, you'll unlock new game modes.
The second is 'Super Chain' mode, where a timer comes into play, requiring you to slash with a little more urgency. After that, there's 'Impossible Mode,' to which I haven't yet graduated but I expect to see quite soon!
To get a better idea of how the gameplay works, you can check out the trailer below. And if you like this one, you can check out Ponos's other 'Mr' titles, including Mr. AahH, Mr. Space, and Mr. Oops. The latter two are also available for Android. [h/t AppBank]