Chinese tech blogs are reporting that Baidu (NASDAQ:BIDU), the nation's top search engine, is consulting with a legal team over the mechanics of its newest rival, Qihoo's 360 Search. The software maker made an explosive debut with its search engine exactly one week ago, with some web analysts saying that it already has at least 10 percent market share in the segment.
We've reached out to Baidu HQ in Beijing [UPDATE: "Baidu has no comments regarding this matter at this time"]. If true, the move to seek legal advice might just be a precaution, checking that no Baidu patents were trampled, and no search results scraped, in the process of 360 Search's operations.
One feature that Baidu will be most fiercely protecting against Qihoo (NYSE:QIHU) is its "box computing" system for putting interactive widgets on the first page of its search results. It's an area where the Chinese company claims it's ahead even of Google, enabling users to do more with their search result without having to click through to anywhere else. An example of this is found by searching for a popular TV show in Chinese. Baidu's results show the four most recent episodes of that show in chronological order; 360 Search does the exact same thing: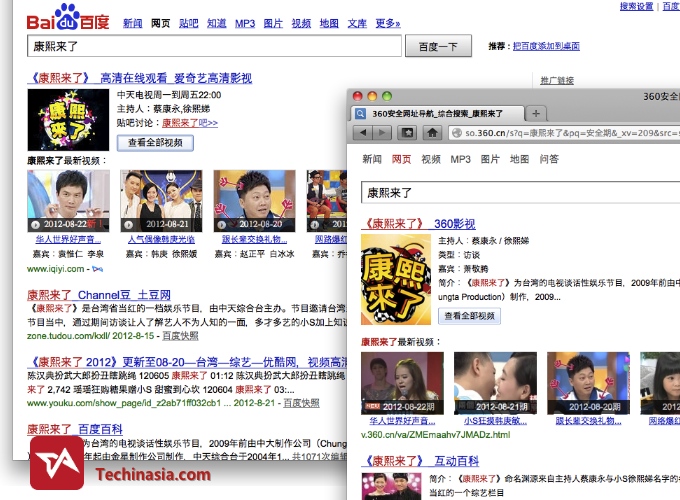 In fact, the aesthetics are very similar too. But that doesn't really prove anything, as other Chinese search engines, like Sohu's (NASDAQ:SOHU) Sogou.com, now have such widgets as well. Though Sogou's don't look quite so identical as 360 Search's do to Baidu's.
Sogou has released official data which actually might back up any legal claims that Baidu has, saying that Qihoo's search engine has a "38 percent rate" of similarity with Baidu's search listings, way higher than its matches to those of Google.com.hk or Sogou.com results.
We've reached out to Qihoo as well, asking the company about its search algorithm, as well as the visual likenesses in its search widgets.
[Via: Techweb #1 and #2 (graph) – article in Chinese]