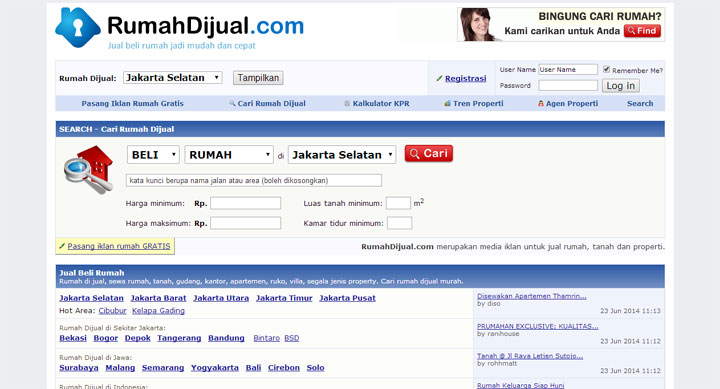 Thanks to Indonesia's promising property market, several property classifieds sites have popped up in the country. Out of all the usual big names, one claims to maintain its strong position without spending a cent on advertising: RumahDijual (translated as "house for sale").
RumahDijual is a website for property agents and home owners to sell their properties – houses, land, apartments – in many big cities throughout Indonesia. According to SimilarWeb's estimates, RumahDijual generates more traffic than its two competitors: PropertyGuru's Rumah and iProperty's Rumah123 (pictured below).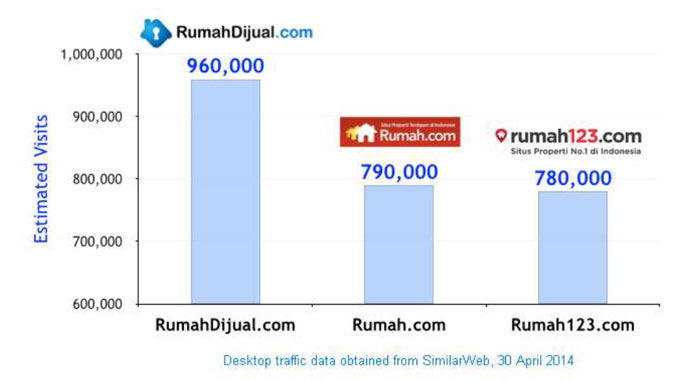 Founder Yohanes Aristianto is the one-man army behind RumahDijual. He says that unlike his competition, RumahDijual doesn't have massive funds to funnel into marketing. He had to think of more creative ways to generate traffic, and found solace in his SEO-friendly domain name.
Optimizing the domain name
Aristianto admits that RumahDijual's features are quite similar to its rivals, leading him to believe that his domain name plays a pivotal role in sustaining growth.
He explains that he was very selective in deciding a domain name. While every founder has his or her own methods for choosing a domain name, he has several criteria like easy to read, easy to remember, easy to explain verbally, and conveys a positive impression.
RumahDijual – or house for sale – is a very common term in Indonesia. A lot of people use this term in newspapers, offline classifieds, banners, brochures, and other media. It's easy to understand what RumahDijual's business is about just by hearing the name. He optimizes the name by repeating the term frequently within the website.
See: Need a house to live in? Here are 6 property marketplaces in Indonesia to jumpstart your search
This helps immensely in generating traffic for RumahDijual, which he claims doesn't spend money on online or offline ads. RumahDijual has been operational for four years with just Aristianto as the sole team member and backer.
RumahDijual earns money from ads, and works with property developers from time to time. In May, RumahDijual recorded over 1.9 million visits, 900,000 unique visitors, and 11.5 million pageviews.
Right now the startup has 100,000 live listings. In comparison, rivals Rumah.com and Rumah123 had 220,000 and 240,000 live listings as of the end of 2013, respectively.
RumahDijual is looking for possible partners who share his vision.
(Photo from Flickr user World Bank Photo Collection)
---
This article was first published on our Indonesian site Tech in Asia ID.