In recent years, the real estate market in Indonesia has boomed rapidly, especially in big cities like Jakarta. A survey by The Urban Land Institute ranked Indonesia third in Asia Pacific for real estate investments.
For those who are interested in the country's real estate industry or looking for a place to stay, Tech in Asia has spotted a number of online property marketplaces that have launched in the past year. Here are six of them: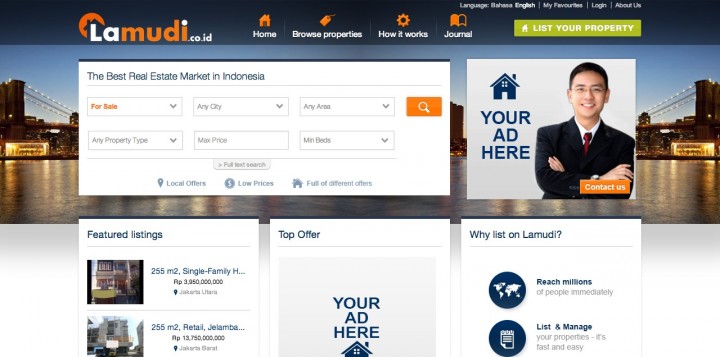 The Indonesian version of Lamudi, Rocket Internet's real estate marketplace venture, is a relatively new player in this country. It was launched in February 2014 and has more than 2,700 listings so far. The listings in the marketplace can be searched according to property type, city, price, and other specific facilities like rooms or car spaces, making it easier for users to find the property that suit their needs.
Lamudi is now operating in more than 20 countries, including Philippines and Pakistan.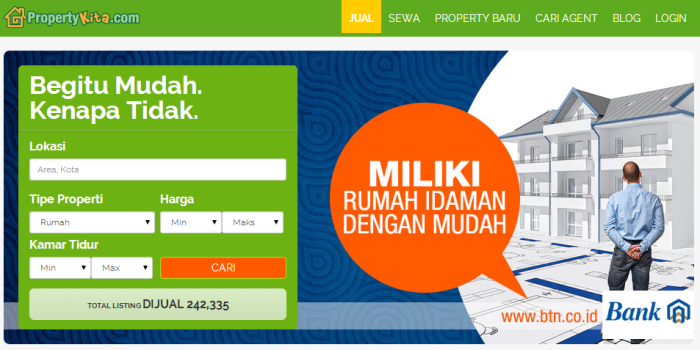 Launched in 2009, PropertyKita is one of the largest property portals in Indonesia with more than 240,000 property listings. It monetizes from ads and does not charge any commission from successful transactions. Users can search for local agents by area or name, then contact them.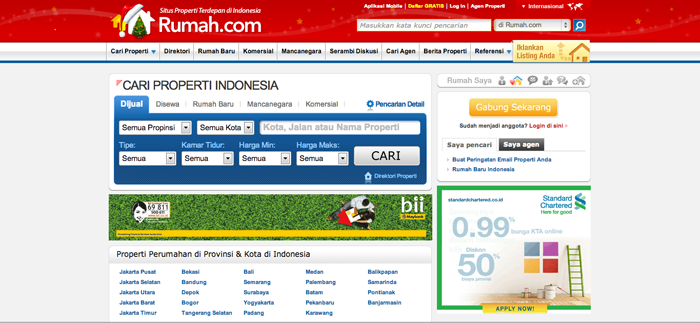 Rumah, which was acquired by Singapore's PropertyGuru in 2011, is one of the top property portals in Indonesia. By the end of 2013, the portal has seen the number of paying real estate agents grow to 6,400, and active property listings have reached 220,000. Besides listings, Rumah also provides discussion forums and property news.
Rumah has a mobile app, which is available for download on iOS, Android, and BlackBerry.
(See: With strong mobile presence, Rumah.com claims it's the leading Indonesian property portal in 2013)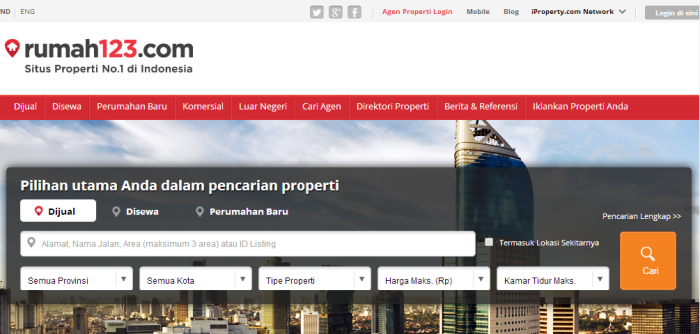 Also claiming to be the number one property portal in Indonesia is Rumah123, which provides property listings of various property types in big cities across Indonesia. The site was acquired by IPGA, the owner of Malaysia's iproperty in 2011. Like its competitor Rumah, Rumah123 provides discussion forums and property news on its site.
Rumah123 mobile app is available for download on iOS, Android, and BlackBerry.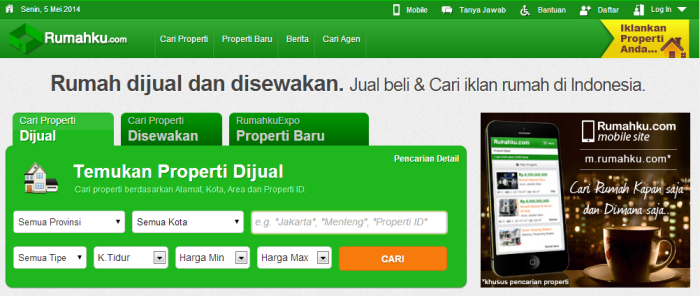 Rumahku was first launched in February 2011 to help Indonesians find their desired properties online. RumahKu has some unique features: the ability to put old listings back up, unlimited photos for each listing, unlimited listings for property agents, and sales reports that calculate commissions for agents. Beside listings, Rumahku also provides property news and property tips for its users. RumahKu also holds offline events like expos at popular malls across Indonesia.
Rumahku's mobile app is available for download on BlackBerry.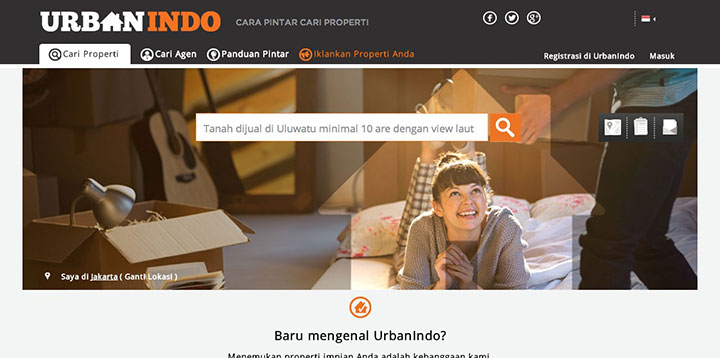 Founded in November 2011, UrbanIndo claims to be offer "the most innovative real estate search in Indonesia". It simplifies the search process by allowing users to query directly on a map, complete with features like neighborhood reports, similar property recommendations, and price distribution analysis of a neighborhood. Currently, there are more than 200,000 properties listed by 20,000 real estate agents on UrbanIndo.
In June 2013, UrbanIndo concluded a series A financing round from Japan-based GREE Ventures and IMJ Fenox. Prior to that round, UrbanIndo raised money from East Ventures1 and other undisclosed angel investors.
---
Disclosure: East Ventures is also an investor in TechinAsia. See our ethics page for more information.↩