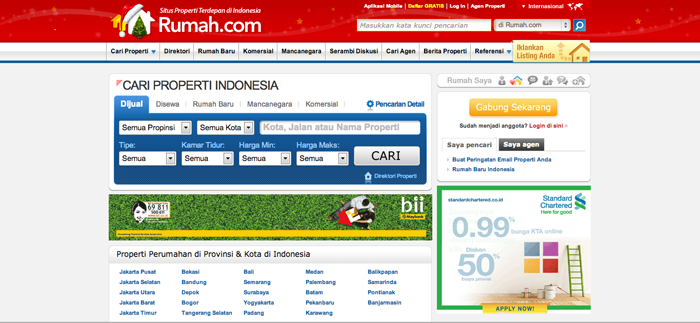 With the end of 2013 in front of our eyes, Rumah.com, an Indonesian online property portal, reveals its stats for the outgoing year.
Rumah, which was acquired by PropertyGuru in 2011, rolled out its BlackBerry app last year, and followed that up with an Android and iPhone apps this year. The new Android and iPhone apps have seen 300,000 downloads, the company tells Tech in Asia , and now mobile search contributes more than 4.2 million page-views per month. That's more than 20 percent of all visits to the website.
Jessica Effendi, the head of operations of Rumah, says that Rumah's mobile app is proving most popular in Indonesia in terms of downloads, compared to Thailand, Malaysia, and Singapore.
On a side note, the portal has seen the number of paying real estate agents grow from 4,207 to 6,400, and active property listings have nearly doubled from 123,000 to 220,000. The team is positive that the number will keep on growing rapidly next year.
According to the latest ComScore findings in November (as quoted by the Rumah team), Rumah.com is the top property portal in the region in terms of the number of unique visitors, stronger than competitors such as Rumahku, Rumah123, RumahDijual, and PropertyKita. Rumah counted up two miillion visits per month on the website in September and October.
Rumah is confident in mobile uptake in Indonesia and will continue to invest in its mobile infrastructure in the country. Effendi added:
Indonesians want to be able to search for their desired properties on the go and in their own time. That is why we've incorporated their online behaviour into our development strategy to provide an inituitive and user-friendly property search experience through mobile apps, similar to what the Rumah.com website currently provides.
Mita Agustina, head of public relations at Rumah.com, reveals that the company will announce a "new, very seasoned industry heavyweight" as the new country manager for Indonesia in February.
(Editing by Enricko Lukman and Steven Millward)