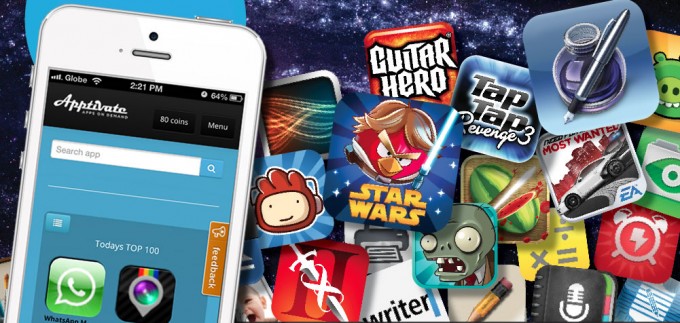 When getting apps for your iPhone or iPad, paid apps are often much better than the free ones. No distracting advertisements, and users will get the full experience of the application. But especially in the Philippines, not everyone has a credit card to buy apps for their iOS device, and they either end up getting stuck with the free app, or they borrow someone else's credit card.
Philippine-based startup Apptivate answers this issue by creating a web-based application where users can top-up credits it calls "coins" for users to buy iOS apps in the Philippine version of Apple's iTunes App Store without needing a credit card. It sells prepaid cards in PHP 100 ($2.33) and PHP 200 ($4.67) denominations, and uses an SMS service that lets users top up their Apptivate account through their phone credits.
How does it work?
Apptivate founder Norris Jay Perez gave me a prepaid card and walked me through the process, which is pretty simple. Users just have to login to the site and enter their iTunes username, mobile number, and the code on the prepaid card. Upon choosing the app for purchase, a confirmation will be sent via email, and the redeem button will lead to the app's downloading state. I'd say this would take a mere three to five minutes with a good internet connection. They have already made the prepaid cards available in universities all over Metro Manila such as the University of the Philippines, De La Salle University, and the University of Santo Tomas.
Topping up Apptivate with phone credit, a new service that uses Globe Telecom's platform, should be easier as you do not have to go to a retail store to buy a prepaid card. As long as users have a Globe Telecom SIM card (regardless if its postpaid or prepaid), they can easily text APP to 2662 and a redemption code will be sent via SMS. Available denominations are PHP 60 ($1.40) and PHP 120 ($2.80). Jay says that they are looking to make this available to other local telecom providers too.
Expanding to Android and new markets?
Having a background on software development, Jay has simply built this using a platform through Apple iTunes' redeem functionality to answer his own dilemma of buying apps. Last year, Apptivate was one of the only four startups from over 50 pitches to join the first batch of the five-month accelerator program by Launchgarage. After this program, last February, it was also one of the 10 startups to receive $30,000 seed funding from incubator Kickstart Ventures. Through the same incubator, it also received PHP 2 million ($46,600) in mobile ad credits as well as GCash integration from Globe Telecom, plus other goodies from Amazon Web Services and ZenDesk.
Kickstart Ventures president Minette Navarette believes that startups need a "full support system" to achieve greater innovation.
By making these investments, we literally put our money where our mouth is: providing startup capital, as well as organizing training programs, regular mentorship, and business introductions to bring startups and progressive corporates together.
Apptivate plans to expand its service by making all iOS/iTunes Store apps, music, and books (even outside the Philippines store) available for purchase. Buying prepaid credit will also be available through convenience stores like 7-eleven. Jay says the startup is also looking at making this available for Android users via the Google Play store.
Expanding to markets in Southeast Asia with the same needs will be its next move for expansion. Currently, Jay says, he is talking to Thai mobile telco AIS and indonesia's Telkomsel to provide this service.