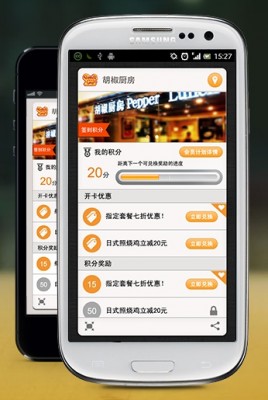 Chinese consumers have plenty of choices if they want to use their smartphones to get discount coupons, but we've seen very few startups try to provide a lot more complex things like mobile payments or loyalty cards. That's what Appconomy's JinJin app is aiming to achieve, and has recently added social gifting to its features list.
For shoppers, the JinJin app for Android and iPhone can be a mobile wallet that holds loyalty cards, discount coupons, allows mobile payments in-store, and even lets you gift a product to a friend via SMS, email, or some Chinese social networks. For JinJin's retail partners, explains Appconomy general manager Gerry Goldstein, it offers tools for understanding customers and how they shop, and permits the targeting and automation of shopping promotions.
In this way, says Gerry, it's a much broader service than the simple coupons that Chinese smartphone owners are now familiar with – from the likes of the heavily-invested DDMaps – and comes closer to "closing the loop" on a full mobile commerce experience in the real world.
Cash-less consumers
JinJin's team is mostly in Shanghai, with a sales office in Beijing and some Appconomy personnel in Austin, Texas, as well. The focus is on Beijing and Shanghai for now, where the most crucial early element for such a platform is getting the right kind of retailers on board. Gerry explains that they're targeting major chains right now, with brands like Burger King and ShabuShabu fully on board for the loyalty program and mobile payments.
JinJin's partner retailers can process everything on your phone and without taking cash. If you're a user of the app and you drop into Burger King for one of its calorific concoctions, then the JinJin app will cook up a QR code that the Burger King staffer can scan. Your mobile payment will be made via Alipay, China's top e-payments service, and loyalty points will be added to your card as well. In Beijing, the local K-Pay system is also supported.
Gerry adds that small- to medium-sized businesses will be supported in due course. As an alternative revenue source for Appconomy, they also offer white-label solutions to turn JinJin into a branded platform for some retailers.
The gift that keeps on being forgotten
The newest feature in the service, e-gifting, is being used by some local food and leisure chains in Shanghai and Beijing. Gerry reckons that this kind of gifting is perhaps even more important than any other feature for retailers, as it's a chance for them to reach out to new customers who are arriving via a strong recommendation from a buddy. Effectively, your customers become your brand advocates. He believes JinJin solves the "breakage" with vouchers given as gifts, whereby the receiver doesn't bother – or forgets – to make use of them. Far from it being free money for a retailer, the Appconomy GM says that it's actually a lost opportunity, as a shopper brought in via a valuable coupon will "often spend 35 percent above the card's face value" and might well become a regular customer. To help people remember to use their e-gifts, the app has optional location-based reminders whenever the coupon-holder passes the relevant store.
Pilot tests of e-gifting have been well received, we're told, and have spawned larger rollouts. For social gifters, the present can be shared via Sina Weibo or Tencent's WeChat mesaging app.
Appconomy won't reveal any JinJin numbers for now, but Gerry says the team now has five retail chains in each of its two target cities right now, with more to be revealed after Chinese New Year, which wraps up tomorrow for most people.
Appconomy raised $16 million in series A funding back in December, and plans to remain "China-focused" while making use of mentoring and expertise from Chinese investors such as QiMing Ventures and Neusoft Corporation.
Chinese shoppers seem to have reached the level – with widespread smartphone usage and over 200 million people on 3G – where they're ready for mobile-based payments and loyalty cards like this, but it's always a challenge to bring in enough retailers and shoppers to make this kind of thing take off. There are persistent rumors that the huge WeChat app – with over 300 million users – might venture into local deals and mobile payments for its China-based users, which would be bad news for startups in this niche sector.
Take the JinJin app for a spin by downloading from its homepage.