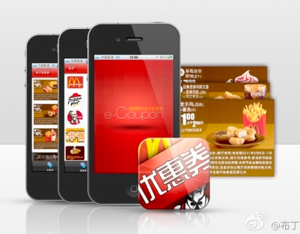 Just because you have a pricey iPhone, it doesn't mean you don't enjoy getting a discount from a bit of coupon-clipping. So we've rounded up five apps that give you instant, old-fashioned coupon savings, in Japan, South Korea, Hong Kong, and mainland China.
Note that these are not group-buy apps or services, so no purchase is necessary. It's as simple as finding a "Get this KFC set meal for just 30 RMB" coupon within the app on your iPhone, showing it at the counter, and enjoying an instant cash saving. Here's the list, in no particular order:
---
1. BuDing Coupons
---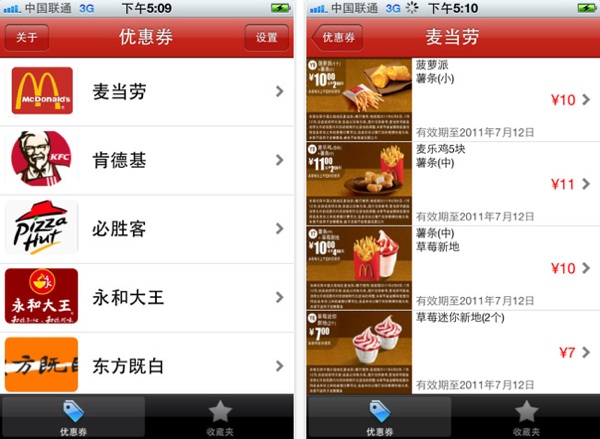 [iTunes App Store link] Launched just yesterday, and useable across mainland China, the BuDing Coupons app comes from a well-known source of local eateries listings. BuDing has been using Sina Weibo well – now up to 12,800 fans – to market its free apps for iPhone and Android.
This newest one focuses solely on coupon-clipping, giving you instant discounts by just showing the app, at places such as McDonalds, KFC, Pizza Hut, and the Chinese restaurant chain YongHe, all across the mainland. If used with the company's separate listings app, you'll be able to hunt down your nearest fast-food branch as well.
---
2. iCoupon
---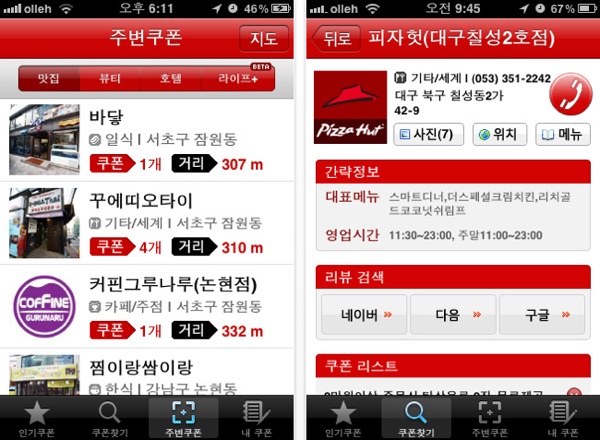 [iTunes App Store link] The Korea-wide iCoupon offers maps and daily downloads of updated coupons, direct to your iPhone. Covering not only your preferred chain of greasy processed meat, but also coupons for beauty salons, hotels and coffee shops.
---
3. Mcdonald's Japan
---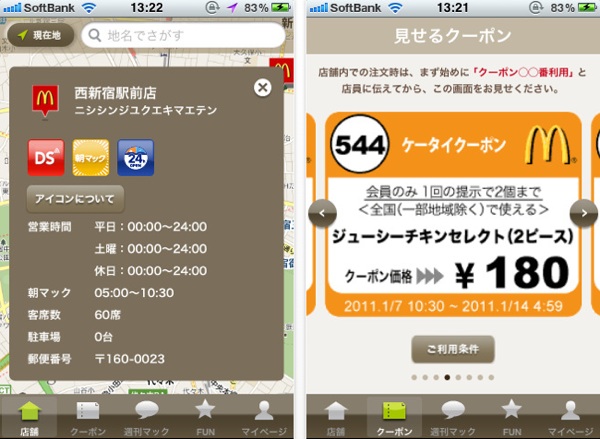 [iTunes App Store link] Japan has long since made its coupon-clipping more hi-tech, with many fast-food stores putting QR codes on their storefront window to allow customers to get a discount via their phone as soon as they walk in. Perhaps that explains why there's aren't so many coupon-clipping apps in the Japanese app store.
This one from McDonalds Japan stands out, giving not only coupons but also a store-locator map, and the full details – like opening and closing times – of all stores.
---
4. Coupons Follow You
---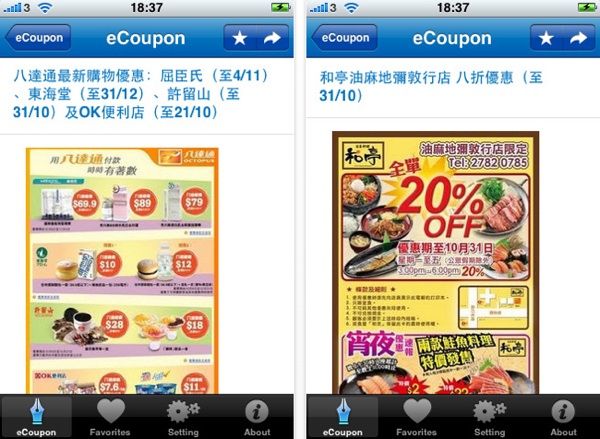 [iTunes App Store link] Effective only in Hong Kong, Coupons Follow You gives daily updates online for lots of locations across the hip-and-happening city of HK, such as steak houses and even fashion retail chains.
---
5. Coupons To Go
---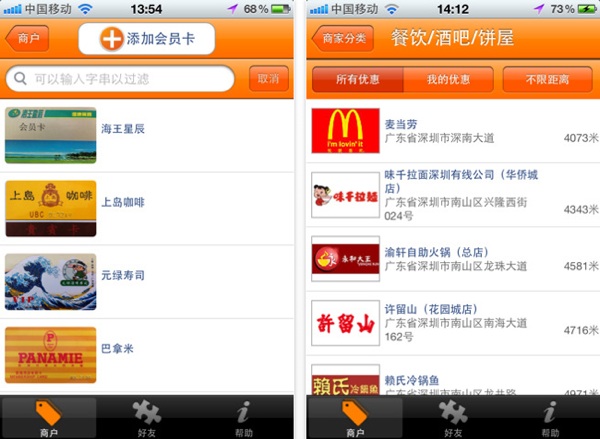 [iTunes App Store link] The small Shenzhen start-up behind YouHuiXing.com has gone for a different angle, and is trying to build up a location-based network for mainland China alongside its free coupons. So, when users make use of a coupon from within the app on their iPhone, it also creates a check-in at that restaurant, and also shows what you're eating (based on your redeemed coupon). Coupons are available for lots of popular Chinese joints, such as well-known coffee shops, bakeries and hot-pot chains, as well as international fast-food brands.