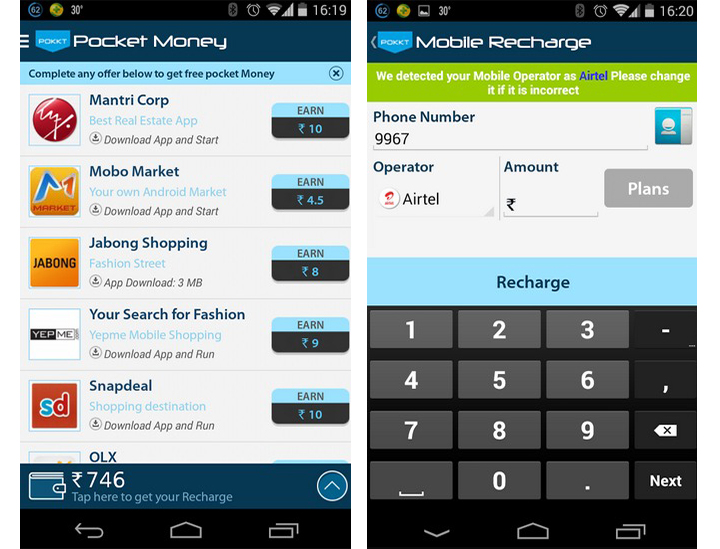 Indian startup Pokkt (Pocket) has come up with a unique way to enable mobile payments in emerging markets, where credit card penetrations are low.
Essentially, it has created a marketplace for consumers to get apps, games, and other digital content without paying a single cent. Instead, they pay with their time by consuming content from some 100 advertisers, who pay to plug into the platform.
Pokkt wants to achieve two things: besides giving consumers easier access to digital content, it also provides developers a way to monetize from users who use their apps for free.
To do that, Android, iOS, and Windows Phone developers get access to Pokkt's software development kits (SDKs) which allow easy integration between their apps and Pokkt. Part of the money coming from advertisers goes to developers.
Now, the Mumbai-based startup is kicking its operations into a higher gear. It has just raised a US$2.5 million series A round led by JAFCO Asia, a Singapore-headquartered venture capital firm, along with SingTel Innov8, Jungle Ventures, and serial entrepreneur Ganesh Krishnan.
Serving time
It also launched a new product this month: Pocket Money, a consumer-facing Android app in which users consume advertisers' content in exchange for credits. They can then use the money to redeem mobile recharges on India's major telcos like Aircel, Airtel, and Tata Docomo.
Pocket Money differs from Pokkt's current products by offering users a dedicated app to consume and redeem items. In the past, consumers could only receive content by using specific apps made by Pokkt's developer network.
The startup has seen increased usage. It now has between 8,000 to 10,000 transactions a day – defined as completed redemptions – up from 500 a day in the first quarter after it launched in October last year, says Pokkt founder and CEO Rohit Sharma. It aims to grow to 100,000 transactions a day within the year.
Sharma will use the new cash infusion to push further into Southeast Asia, particularly Indonesia and Thailand. Right now, most of Pokkt's consumers live in India. He also plans to add between five to 10 developers to the platform a week.
Pocket Money is a stepping stone to the startup's vision of fluid digital payments in developing countries. While users can only redeem mobile credits for now, the status quo won't stay for long.
"Now it's just mobile top-ups. Eventually, we'll let users redeem games, movies, and even stuff that's offline," says Sharma. For instance, consumers could eventually get cash on Pocket Money, paid for by advertisers, and use that to redeem a special item in his favorite Pokkt-integrated mobile game.
See: Pokkt, a marketplace where consumers pay for digital content with their time, pockets seed funding