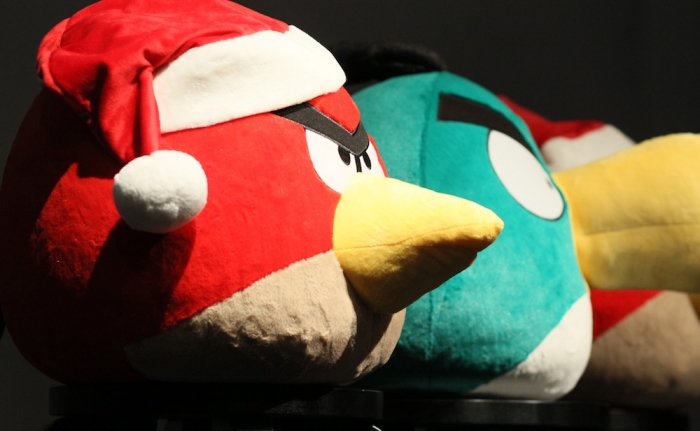 In today's changing gaming landscape few characters are as iconic as Angry Birds. And while publisher Rovio is modest about the comparison, Angry Birds is perhaps the first franchise to ride the smartphone wave to approach heights only occupied by Mario, Zelda, Sonic, and Pac-man. And yet the brand is still in its infancy.
Today in Tokyo, Rovio celebrated the second birthday of Angry Birds with an event at the Ginza Apple Store. Rovio's 'Mighty Eagle' Peter Vesterbacka was on hand, as was Antii Sonninen who is the company's representative in Japan. Peter looked back on Rovio's journey so far, and the conditions and circumstances that came together for Angry Birds to take flight as they did. As Peter notes, Rovio is only just getting started, explaining that the company's trajectory over the next year will bring many more games than we saw in 2011. He lays out a roadmap that looks to rocket the Angry Birds brand to a billion fans, with more than a few unlikely stops along the way. You can read Peter's two-year retrospective below, including some new announcements, and the vision for the future — which is about to include Japan. [1]
How Rovio was hatched #
Rovio is not new to games, and it has now been two years since Angry Birds – but we have been making games since 2003. There were 51 games before Angry Birds. It's important to keep in mind that success stories like these don't happen overnight. Angry Birds is an overnight success story that took a few years to make.
If you look at Rovio, it started out of a competition I organized while at HP at Helsinki in Finland. After Niklas Hed and two student friends were making mobile multi-player games (him and two friends won the competition) they asked what should we do now? I said why not start a company? And so Rovio got started.
Angry Birds was the 52nd game. Some other games were also good, primarily games we did for others. Bounce was on 220 million Nokia phones. We made Burnout and Need for Speed for EA. Lots of work for higher projects. It's important to note that the market was tough for a small startup like Rovio. You used to need to be friends with handset and mobile operators for distribution; it was very tough to get distributed. It's appropriate that we're celebrating here at the Apple Store in Tokyo, because what really changed the market was the iPhone and even more the App Store. It's much easier for small developers to distribute games now. We have Apple and the App Store to thank for that.
If you look at Angry Birds, we're about two years into the experience, not such a long time. On December 11, 2009 Angry Birds came out. Development started in spring of 2009, and the process took eight months. We thought we knew good games, but distribution was hard. We looked at the iPhone and the App Store, and analyzed many games out there to see what it took to make a hit game. And our strategy was to keep making games until we had a hit an then take it to all screens – like a Tetris strategy – make an iPhone hit and then take it everywhere. And on December 11 2009 we released Angry Birds.
It took eight months to develop and we used a very analytical process to create the game. We tried to eliminate luck, but of of course you need a little luck as well. Every Friday we have an internal pitching of ideas, and one of our games designers Jaakko Iisalo had a design that was very different from the current design, but it had the birds characters. And everyone fell in love with the characters. And we knew we had to make a game around the birds.
Developing character #
Being here in Japan you have many successful character-based businesses; many stories created around characters in Japan. We're very much driven by character based entertainment. Then we needed a story. And the Angry Birds story is very simple. You have an island with two species: birds and green pigs. The pigs are not evil, but very, very hungry. The biggest pig is the king, and there's not really a lot to eat on this island. Only one thing is very nutritious, and that happens to be the eggs – and so the pigs steal them. But the eggs are very important for the birds, and you all know what happens next – the birds get very, very angry.
It's a very simple story and it's an epic battle that has no end. Pigs steal and birds get angry, and it goes on and on. It took eight months because it was a project in between our work for hire projects. There were only 12 people at the company at the time. Some things [happened] during the development process, for example, a very late addition was the slingshot. But now when you pick it up, everyone knows how to play it – from young kids to grandparents. Angry Birds is easy to pick up, and very difficult to put down.
Because of the slingshot and the game play, it's a very approachable easy-to-play game. We often get feedback from people who say "I don't play games but I play Angry Birds," or parents with kids with disabilities saying this is first game they can play doesn't require lightning fast reflexes. So pretty much anybody can play, and nowadays pretty much everybody does play, as we have a few hundred million downloads to show for it.
The rapid ascent #
It took eight months to make and on December 11 we released it. It wasn't an immediate success everywhere. In Finland at time there were not many iPhones, and we'd tell friends and family to buy. But eventually it got to number one in Finland, and after that we got a bit lucky in Sweden in the spring of 2010, during the Winter Olympics. One skier Anja Pärson [talked about playing Angry Birds during her downtime in an interview]. And we became number one in Sweden then as well.
After that Apple took note and featured us in the UK app store and we hit number one there in spring of 2010. Shortly after that we hit number one in the US. As opposed to other hit games we went to number one and stayed there. We were number one in the US app store more than 300 days, ten times more than our closest competitor. Angry Birds is not a release-and-forget kind of game. We viewed it as a service, with constant updates every four or five weeks. And that keeps fans coming back and playing the game.
We just hit 600 million downloads, and it took Tetris 20 years to do 100 milion. It's been number one for quite a while; in over 80 countries it has been number one. It has been quite a ride for the last two years. If you look at what we've been doing, gaming is where it all started, and it's all about fans and about the brand. For us, it's very important to keep the fans coming back, which is why we update the game [so frequently]. And we have a pretty massive update to the game today as well.
We have expanded to many other areas. It's all about the brand. We don't view ourselves as a games company but as a next-generation entertainment franchise around the Angry Birds characters. We've expanded into toys and physical products. We sold about 10 million toys, and about one million plush toys every month. We haven't started here in Japan yet but you can expect many more [to sell] here. It's really important to keep in mind that Angry Birds is really much more than just the game.
We have about 180 million monthly active users, and we have taken Angry Birds to all screens: smartphones, PC, Mac, consoles – our HTML5 browser-based game works well with Safari and all other browsers.
Changing with the seasons #
Last year we released Angry Birds seasons featuring seasonal updates. We launched at Halloween and [subsequently] did Christmas, Valentines Day, St. Patrick's Day – the latest update is an advent calendar called Wreck the Halls. Here's a video about latest update.
That's a small teaser of the main Christmas video that will be out in couple of weeks. In the summer we bought an animation studio, and are now working on series of animated shorts. You can expect to see weekly animated shorts next year. We wanted this in-house to strengthen our characters and expand on the story of Angry Birds.
We started to create very localized versions of Seasons. We did moon festival for China, and you can expect local Japanese versions for Japanese seasons. Expect to see a Japanese [version] of Seasons in the not too distant future.
Of course one example of what we're doing [in Japan] is we have Antti [Sonninen] as our first Rovio representative here and you can expect to see a few more here in Japan.
We have also expanded into comics, with one for moon festival in China. Right now we're doing one every day for Christmas, and you can see that in-game and on the web, every day there's a Christmas related comic strip.
Unlikely flight paths #
We also started a book publishing unit. We have this cookbook which is selling well in the US, and you can expect to see that in digital form, which is main reason we got into it in first place. Rovio is about surprise and delight, and not many people expected a cookbook – but it makes perfect sense because we wanted to bring the whole family together, to cook some nice meals around eggs.
For the [Finnish] Independence Day party with my wife, you can see we're also getting into fashion – so there's no limit to where the brand can go. We have so many requests for these designs so we probably need to launch a line of Angry Birds fashion. So you'll probably hear more about that later.
One thing we're announcing today is a new partnership with Lappset, top players in the activity park market. There has been lots of talk about Angry Birds theme parks. Our Chinese friends were kind enough to build one without permission. But when you have a brand it has lots of incarnations. We're launching this activity park concept, and we're going to have thousands of parks all over the planet. The first ones are going up in Finland in Espoo. Already there are many discussions in tens of countries around the world so expect to see them popping up over the place. We'd like to build small scale activity parks, because the idea is not to send you to stand in a line for 15 minutes [like at an amusement park], but rather engage people in activity. It's not about standing in line. It's an Angry Birds magic place, and when you go there magic will happen. In Barnes and Noble in the US, today it's Birds and Noble just for today. And by going there you can have special features in game.
So you will have special features in-game by going there – bringing the game and the physical world together – and we're really excited and you'll be able to see thousands of them pop up around the world. And you will see these in Japan as well. We're also working with some of best people to make an amazing set of Angry Birds movies so stayed tuned for more in this area.
The first [activity park] opens early next year, then it depends on discussions with players and operators in different countries – but expect to see many in the first half of the year. Lappset is one of top three in world, and is doing well in Japan, Korea, [inaudible]. We're very excited about this, and it's different than what other people have been doing. It's a combination of virtual and physical so it's going to be pretty exciting.
On building other brands #
Our main focus now is Angry Birds. We're only two years into the experience, and we think we can do more around that. We'll will do other things as well, as we can take other IP and distribute on a massive scale. Looking at big guys like Disney who started with Steamboat Willie and added a few after that — I think we will do the same. The main difference is nowadays we have more tools to go much faster. It's a bit unfair to compare us to Disney and other guys because when they started couldn't go as fast. You had to go to a theater to watch. What we do is mostly digital to get 600 million copies out there, and it's not so hard when you have distribution in place. The other guys had to do much more. We're building a next generation entertainment company and you can expect to see other brands as well.
It's also very appropriate that we're here in the Apple Store because in history of gaming there are now new players – like Angry Birds, but we also have Apple to thank for opening these markets. Big changes are happening and it will be interesting to see how some of the old guard copes with these changes.
Nesting in 2011, flying in 2012 #
If you look at this year we only released one new game, Angry Birds Rio, back in March. But this year has been [about] creating back-end infrastructure at Rovio. We had about 50 people at the beginning of the year, and it's now up to 220. And now that we've built much of our infrastructure, you can expect to see five to six new games next year – compared to just one this year. Expect much merchandise, weekly animations, several series of comics strips, a ton of Angry Birds books – not the movie yet though. This year we added 550 million downloads in the year, but this has been very much a year of preparation for a year when we will really do amazing things.
I think we have 7 million downloads here in Japan, considering there are not many smartphones here yet. We take Japan very seriously, and that's why Antti has been here building our organization; building partners. We're off to good start. We signed a contract for toy distribution and physical merchandise. It's all about the brand and the fans. Japan is an important market but we're a small company and can't do every thing at once. A big theme for us next year is Japan, and you can expect to see a Japan-specific version of Angry Birds. You'll see sooner rather than later. There are some big Japanese seasons coming early in the year, so just wait and see.
We want to be the first entertainment franchise with one billion fans which would put us ahead of Facebook and some of these guys. Downloads and fans are not the same thing, of course, and it may take two or three years but we will hit a billion fans.
---
This is not quite verbatim, but it's close. The subheadings and hyperlinks were my addition, just to make the text a little more readable.  ↩