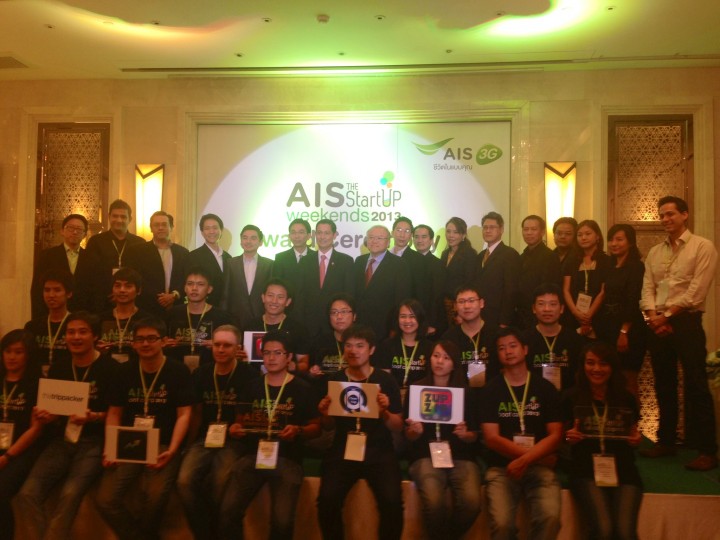 Congratulations to Noonswoon, an online dating app that introduces users to a new match every day at noon, for winning this year's AIS The StartUp Weekends!
This is the 3rd year AIS has hosted an incubator to support the Thai startup ecosystem. It's also the first among the three main Thai telco companies to announce the winner of its incubator.
AIS took five groups of startups under its wings and trained them in a bootcamp system for 90 days. During the training period, the startups got to meet with gurus from various industries including leaders from Singtel Innov8, BANSEA, Invent, and KBank, to get some knowledge and learn from their experiences. Once the bootcamp was done, all five teams of entrepreneurs were ready to launch their mobile applications to the market with support from AIS, one of the three big telcos in Thailand.
The finalists
The five groups of startups that were selected to be the finalists among hundreds of applicants were:
1. StockGuru
StockGuru collects stock recommendation reports, extracting the reports into a readable format followed by comparing the recommendations with stock price history. It aims to be a trustable go-to source of stock info.
2. Closed Tag
Closed Tag links QR codes to Facebook fan pages. Users can scan a QR code of a product/brand then it will redirect to that brand's fan page.
3. Zupzip
Zupzip is the TV version of Yelp. The app provides voting function, allowing the audience to express their feelings about shows, and give people a new way to discover their favorite shows.
4. The TripPacker
The app allows travelers to build their own profile and connect with like-minded travelers. Through crowdsourcing, users can view contents from other users and buy certain packages through the app partners offering on the platform. The TripPacker's GM is also the co-founder of BentoWeb.
5. The winner, Noonswoon
An online dating app, Noonswoon introduces you to your Facebook friends' friends as potential matches if they also use the same app.
The prize
Of course, the mentorship from so many gurus was priceless. But the goal of each team was to earn some money to fund their startups. The winner, Noonswoon, won 600,000 Baht (Approximately $20,000) from AIS, Invent, and KBank. Besides that, all five teams also each got a 200,000 Baht ($6,300) cash prize, three months bootcamp with AIS, one year of Windows Azure Cloud, Windows Nokia phones and workshops, three months of free coworking space at Hubba, and three months consulting service by Eggidea
From the amazing prizes mentioned above, I believe that there will definitely be even more applicants applying for AIS The StartUp next year.
(Editing by Charlie Custer)