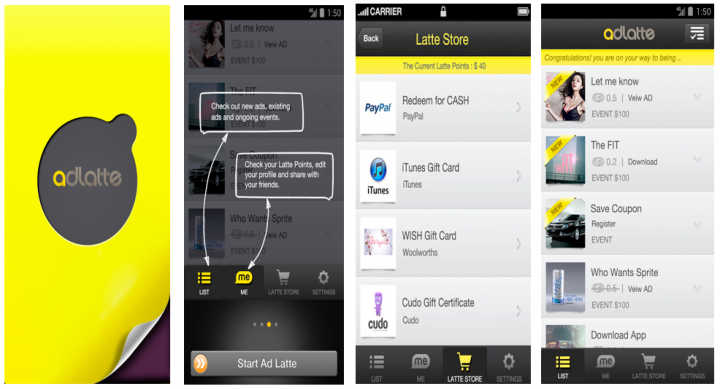 AdLatte, a reward-based mobile advertising application that launched in Seoul, Korea back in August 2011 is now available in Thailand. This makes Thailand the 6th country added to its current operations in Korea, Australia, Japan, Singapore, Taiwan and Vietnam. AdLatte, which was developed by IT venture company AppDisco, claims to be Asia's number one reward-based mobile advertising application with 10 million downloads and $13.8 million paid out.
The platform was once ranked number one in the Social Network category in the Korean and Japanese App Stores. It was also ranked number two in Vietnam's and number seven in Taiwan's Lifestyle category.
The success of AdLatte in other markets is not a total surprise. A study shows that consumers react positively twice as often to mobile ads when they're reward-based. That could be the reason this type of app is growing so fast. An example of a similar app would be Pocket Change in the US.
AdLatte works on an incentivized model. It's a new way to persuade app users to watch advertising in apps that are paid for by brands. After watching an ad, if users participate by answering a poll,  taking a quiz or acting on what's required of them, they can get rewards. Rewards consist of gift cards, coupons, discounts, virtual currencies, and sometimes cash back. In Thailand, AdLatte partners with Rabbit Card to refill money for the BTS and MRT services, Burger King, Mc Donalds, Starbucks, and more to allow people to use AdLatte credits at the aforementioned stores.
Although the business model sounds legitimate, I wonder if it will actually take off in Thailand. Not to be too skeptical, but it's easy to just click on ads, let it run while you do something else, then just wait to collect the rewards. But it seems the CEO is very optimistic about this expansion.
Soohwang Jeong, the CEO of AppDisco explains:
Not only is Thailand one of the most tech savvy countries in Southeast Asia, but also the people in the industry are very friendly and open-minded. Preparing for the Thai launch, we have been building our business network with talented and creative developers in Thailand as well as various media channels based on very positive reviews."
One of the main factors for AdLatte's success is the broad range of ad networks. The app now has over 4,000 campaigns with 600 clients.
AdLatte is now available on both iOS and Android.
(Editing by Charlie Custer, Steven Millward, and Paul Bischoff )