The holidays are approaching soon in Indonesia; Muslims are going to celebrate Eid Al-Fitr, on which they often travel to their relatives' houses, go back home, or spend the holiday somewhere else. Non-Muslim citizens also celebrate this holiday as the time when they finally can take a long vacation. So with all that traveling going on, this is a great time to take a look at Indonesian startups that offer travel services including flights, hotels, train booking, or holiday trip packages.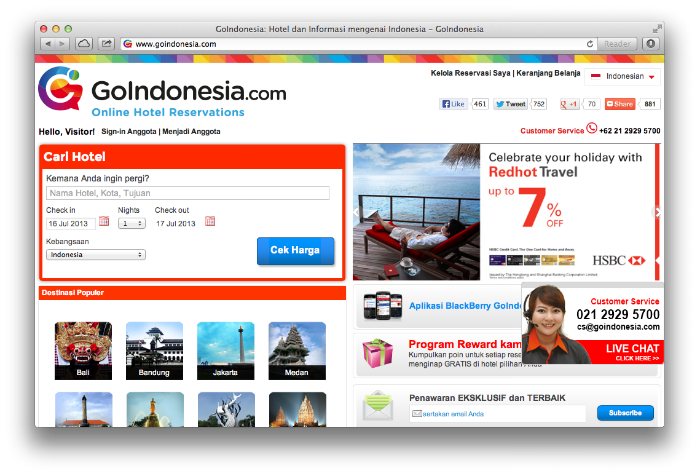 GoIndonesia is an online hotel reservation website with instant booking confirmations. GoIndonesia guarantees that the room you have selected will be available even when you book it during high season because of its real-time booking management, which connects with the systems at each of its partnering hotels. In addition, when individuals, travel agents, companies, or government departments are registering as GoIndonesia members, they can access the hotel's special promotional offers online, including Hot Deal, Last Minute, Early Bird, Minimum Stay and Bonus Nights specials.
GoIndonesia also has a Blackberry application, which can be downloaded here.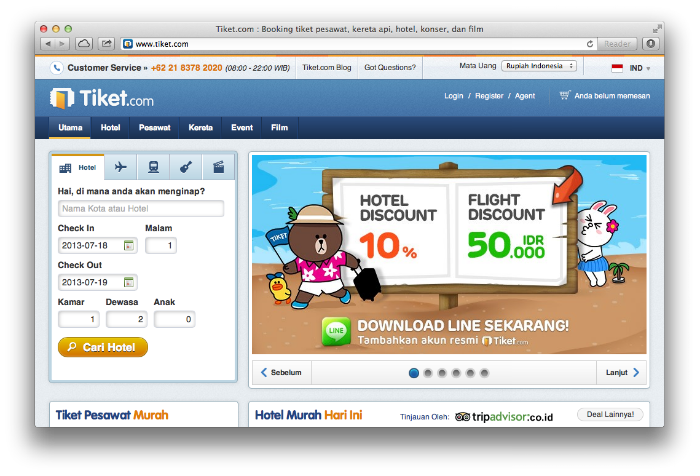 As an award winning startup, Tiket has proven its position in Indonesia as a trusted online booking website for hotels, flights, and trains. It collaborates with almost 1,000 hotels across Indonesia and also nine of Indonesia's flight companies, which serve both domestic and international flights. Tiket is also the only place you can buy train tickets besides the official website PT. Kereta Api Indonesia.
For easy access on online flights bookings, you can download the Indonesia Flight app made by Tiket Solutions here (Android) or here (iOS).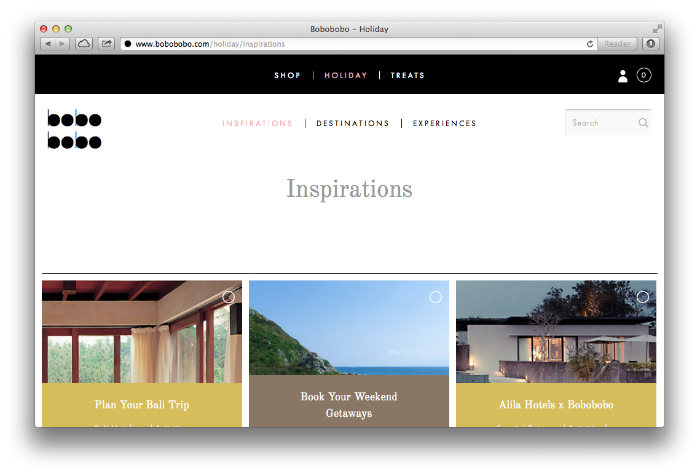 Bobobobo is a luxury e-commerce service that offers choices of trip packages such as Indonesian Underwater Utopia to Gili Island or South Lombok, and Up in the Air packages, where you can head to Bhutan, Nepal or India. Make sure you have a lot money in your wallet, though, because all of the offered trip packages are worth millions of Rupiah.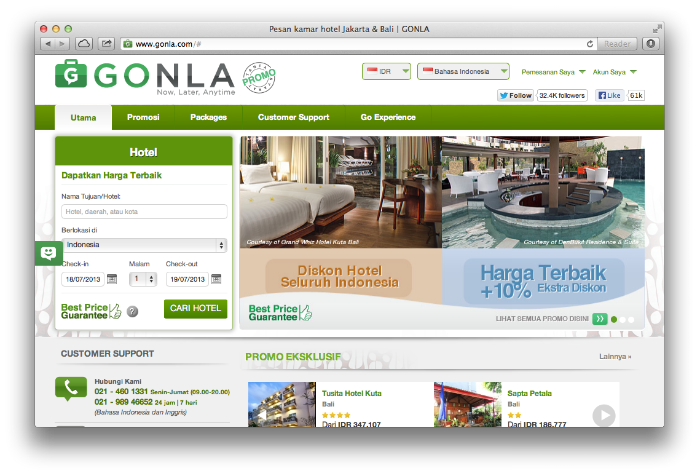 Gonla is an online hotel booking service that covers only hotels in Indonesia, especially in the Jakarta and Bali areas. Gonla gives you the best promotions to choose from, and it also has "Go Experience" features to read from travel guides, and travel stories written by travelers and travel journalists.
A unique thing about Gonla is its Best Price Guarantee service. The company guarantees that you will get the lowest price for hotel booking compared to the competitors' websites; if you find a cheaper price on another website after you make a booking on Gonla, Gonla will meet or beat that price.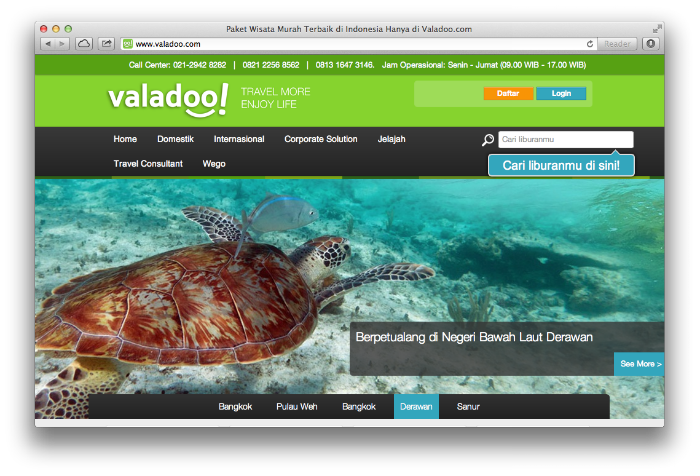 Valadoo is famous for its tour package offerings, which cover 27 provinces in Indonesia and eight other countries: the United States, Malaysia, Singapore, South Korea, Thailand, Vietnam, Hong Kong, and Taiwan. You can choose any kind of travel you want, including beach and island, art and culture, sport and adventure, and even photography.
Valadoo has been working with MalesBanget.com to make journey episodes in order to introduce people to unique travelling destinations (caves, mountains, villages, etc) in Bandung, Jogjakarta, and Sumatra. This can be a good travel guide for people who seek more nature experiences. It also has a travel blog for you to read on its website, called Jelajah.
Valadoo is also collaborating with CIMB Niaga, an Indonesian local bank so that every payment transaction on the site using CIMB clicks will get you a price cut of IDR 500,000 ($48).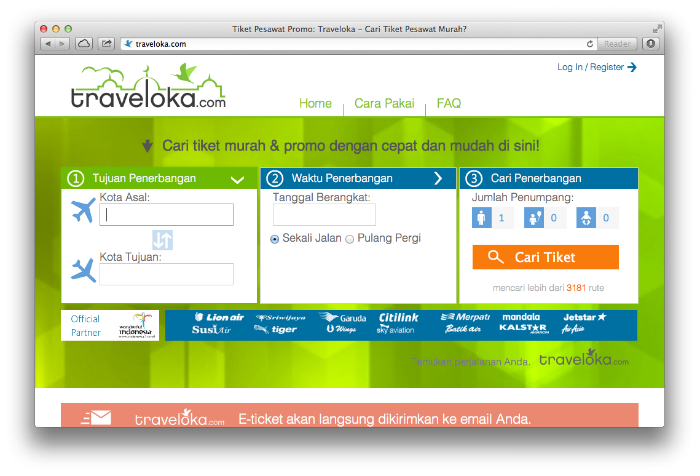 Traveloka 1 acts as an aggregator for finding domestic and international flights easily and quickly. It has collaborated with 14 airline companies so far, including Lion Air, Susi Air, Sky Aviation, etc. For international flights, Traveloka covers Kuala Lumpur and Singapore only.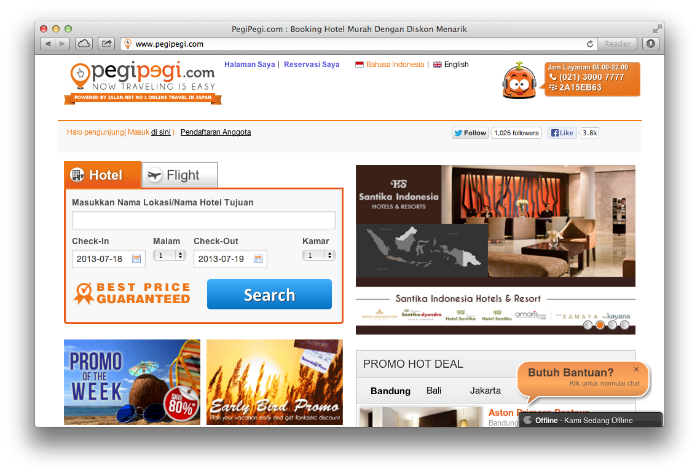 PegiPegi is an online hotel and flight booking service. To attract customers, PegiPegi has Promo of the Week and Early Bird Promo specials with discounts at some hotels in Bali, Jakarta, Surabaya, and Bandung.
Additionally, BCA credit card users can pay the hotel bill with a zero-percent-interest installment plan (3 months or 6 months), and CIMB Niaga users can get a discount up to 60 percent by paying using CIMB click.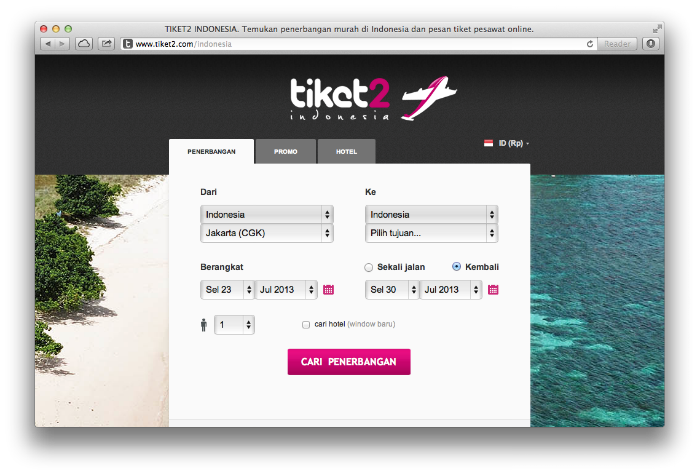 Tiket2 offers online hotel and flight booking. It also likes to offer promotional flight ticket prizes in association with 10 airlines companies such as Air Asia, Tiger Airways, Garuda Indonesia, and more.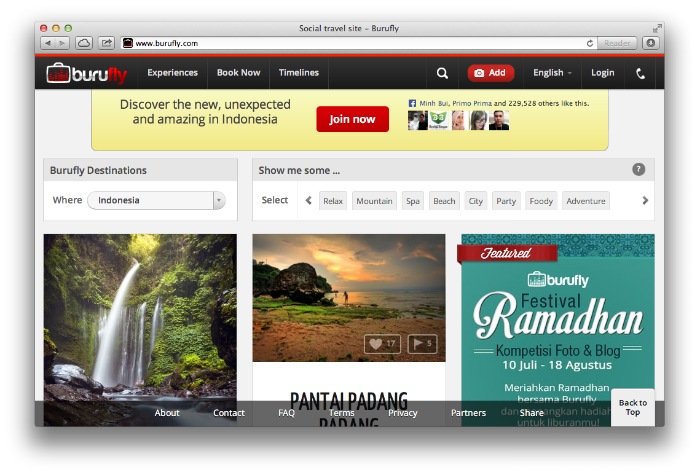 Burufly focuses on domestic tour packages and online hotel booking service. The tour package descriptions give you insights about why you are going to love it and what you are going to do on the trip.
---
So which travel service will you choose for a fun and memorable holiday trip? Give one a click!
(Editing by Charlie Custer, Steven Millward, and Enricko Lukman)
---
East Ventures invests in Traveloka as well as Tech in Asia. See our ethics page for more information.