A few days ago, the folks at Canalys released some data revealing that over the previous quarter, Apple share of China's smartphone market has dropped from 5th to 7th. Here's a chart of what the market looks like now: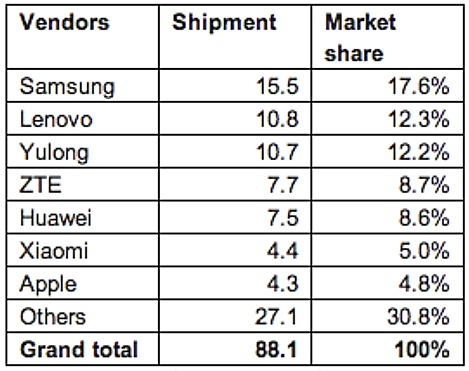 So why is Apple tumbling down the charts?
Price. Although part of Apple's appeal has always been its status as a high-priced luxury item, Chinese consumers aren't dumb and nobody likes throwing money away. The trend of high-powered, low-price smartphones that Xiaomi kicked off several years ago has grown since then, with lots of Apple's competitors offering products that approach the iPhone's power without approaching its sky-high price. If you look at the chart above, it's no coincidence that one of the companies that jumped Apple last quarter was Xiaomi; sales have been growing steadily as the startup develops the manufacturing capacity to sell larger volumes of its phones at one time.
Timing. As my colleague Steven pointed out a few weeks ago, the iPhone 5's earlier-than-usual release in China (and the lack of a new smartphone product since then) has meant that Apple's initial burst of sales came earlier than usual and had less of an impact on the company's Q2 sales than it might usually. It's worth noting that this isn't the first time ever that Apple has slipped off of China's top five smartphone vendors list, and it might well see a return to form this fall, especially if the rumors of a low-cost plastic iPhone prove true.
Changing tastes. Big-screen smartphones and — ugh — phablets are hot in China, and Apple offers nothing of the sort. Consumers who might otherwise be inclined to buy an iPhone are attracted to bigger-screen phones, and especially when they can find a bigger screen than the iPhone's for a lower price than the iPhone, it's tough for the iPhone to compete. Additionally, Chinese consumers like to switch to new phones fairly often just to keep things fresh, and the iPhone's price and makes that prohibitively expensive.
Relationships. As I wrote a few days ago, China's major mobile and web companies are partnering up, and Apple isn't really involved. Aside from basic deals with a few of China's telecoms, Apple doesn't have the sort of cross-promotional synergy (boy, do I hate myself for using that phrase) that domestic companies do. Look, for example, at Xiaomi's latest project in collaboration with Tencent. This is the sort of thing that Apple doesn't do, preferring to keep to itself and sell its products only via its own stores. But based on Xiaomi's place on the chart above, perhaps the Cupertino company should reconsider.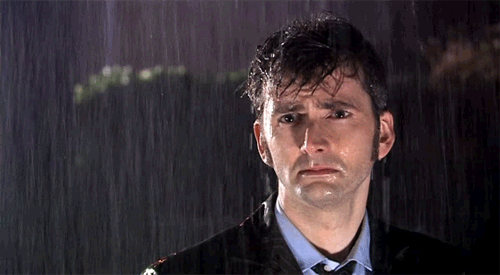 Saturation. There are a limited number of people in China who can afford expensive smartphones like the iPhone, and at this point, pretty much all of them already have one. So while that group may continue to buy Apple phones as each new one comes out, it isn't growing as quickly as middle and lower-income smartphone buyers, who are more interested in the variety of powerful low-cost options now available on the market.
The buzz is wearing off. Apple's iPhone was originally a cutting-edge, hip tech product. Then it became a mainstream luxury item. Now, it's just sort of boring. With hip domestic alternatives like Xiaomi and Meizu on the scene and Apple widely perceived as stagnating, the California company simply doesn't have that "cool factor" it once did in China.