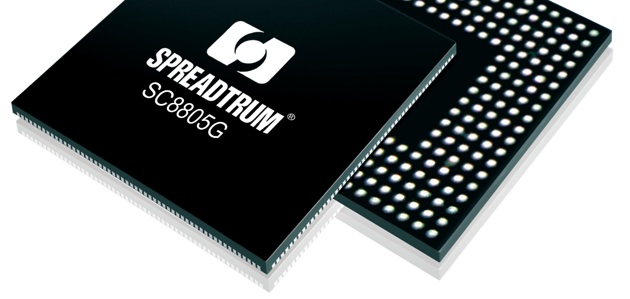 A $100 Android device? That's so passé. That's because $50 Android smartphones are on the way for 2012. A brand-new pair of budget chipsets devised by the Chinese manufacturer Spreadtrum (NASDAQ:SPRD) will bring down the cost of entry to the world of smartphones very soon, with manufacturers able to make – says Spreadtrum – "$40 to 50" handsets that are expected to hit stores in China sometime next month. The chipsets – which hold an ARM 9 600MHz processor, and can support only the older Android 2.2 OS – have just starting shipping to OEMs.
One of the pair is the SC8805G (pictured above) which supports China Mobile's (NYSE:CHL; HKG:0941) TD-SCDMA 3G network. The country's largest mobile telco has already certified it for use on its network, and will likely subsidize a range of very low-price Android smartphones that will certainly be cheaper than its previous promotions for 1000RMB ($157) devices, such as the Huawei U8110, which is better known as the IDEOS (pictured below).
It's not yet known which OEMs will be first to adopt Spreadtrum's new chipset – but manufacturers have known they were coming for months in advance and will have been prepping devices in good time to ship in January, ready for Chinese New Year. Likely candidates include Chinese firms such as ZTE (HKG:0763; SHE:000063), Haier (SHA:600690; HKG:1169), and Huawei as well.
This development should increase the rate of 3G adoption in China, which has so far been quite slow. Currently, China Mobile has 43.2 million 3G users (in most recent stats for Q3 2011), the highest of China's three carriers, despite running a made-for-China 3G spectrum not used anywhere else in the world.
The other chipset is the SC6810 for GSM handsets and which supports only 2G/GPRS plus wifi, and will likely power super-cheap Android phones on China's other two networks as well.
In a press release to mark the shipping of these cheapest-ever Android-based chipsets, Spectrum's president and CEO Dr. Leo Li, remarked that they were a first move into smartphones for his company, as well as a game-changing "new price segment that will make smartphone devices more accessible to consumers in China and emerging markets."