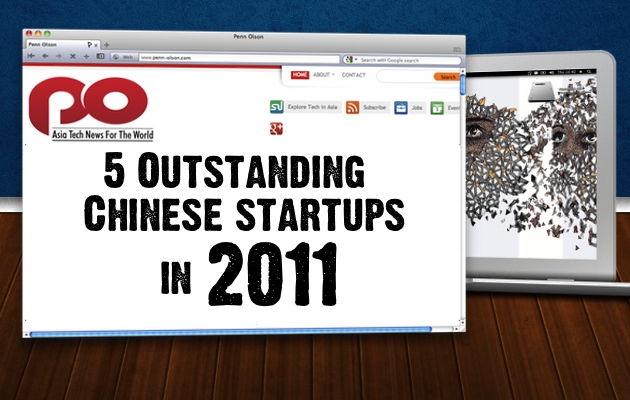 An impressive number of Chinese startups have emerged this year, polishing China's newly-minted title as Asia's hot-bed of entrepreneurship. These teams – made-up of either youngsters or experienced hands trying a new venture – are making services, apps, and gadgets that will draw investment and users, and add greatly to the startup ecosystem in the country.
In no particular order, here's my personal list of five outstanding efforts that have emerged this year (though some were started-up the previous year), and which I get the feeling will be in the headlines again in 2012:
---
Unitedstyles
Unitedstyles is significant not only because it has an impressive website and service that makes anyone into a fashion designer and mediates with clothing factories in China to get your designs into production. It's also a keeper because it can put people into business who might otherwise have been put off by the barriers of language, distance, and lack of connections.
At TechCrunch Disrupt Beijing, the TC crew were wowed by the site, and the startup made it to the Startup Battlefield finale.
---
Xiaomi
Even bigger sums of money have been going Xiaomi's way this year, as the startup that belongs to serial entrepreneur Lei Jun went from making just a pretty Android ROM to manufacturing its own Android-powered phone – and netting an extra $90 million in financing this week – in just the space of a year.
Here's the hands-on demo we got of the Xiaomi M1 when we dropped into the startup's HQ in Beijing a few months ago:
---
Hotel Finder
Hotel Finder, made by Ikamobile, is backed by Li Kai-fu's Innovation Works, which gives this LBS app for locating and booking hotels a great chance of being a success. While it has come late to the party that's dominated by Ctrip (NASDAQ:CTRP) and eLong (NASDAQ:LONG), its superior – and sexier – apps point the way to travel apps having stronger mobile features.
At a recent conference in Beijing, we made use of Hotel Finder, and then get this hands-on demo of the iPad version of its app:
---
Duducars
Duducars seems to have popped up at exactly the right time in China, when greater smartphone ownership has coincided with a more widespread desire for car usage. And so this Zipcar-like service, with its combination of apps and RFID cards to unlock rent-able vehicles (owned by the company), looks to be on-course for funding and growth in 2012.
---
iSheHui
Lastly, let's make an even trickier prediction on an up-and-coming startup in the social media sector – iSheHui will blow up in 2012 (in a good way) as people get into the swing of sharing videos online that they've customized with funky filters. Yes, it's like Instagram, but for vids of your emo cat, not grainy pics of the macchiato you're about to sip.
---
By the way, catch our full series of 2011 round-ups that we're adding to throughout December.