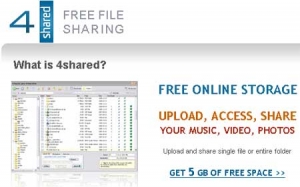 Back in July the Indonesian government announced that it would shut down illegal music download sites. According to Okezone, the government is finally putting its plan into action with 4shared lined up as the unfortunate first victim:
"For now we haven't blocked any sites. The plan is to block famous sites, like 4shared for example" said the minister of telecommunications Tifatul Sembiring. He added that 4shared is a website that offers video, music and images in a huge capacity, and is aimed at teenagers. 4shared violates the IT law which prohibits re-sharing or spreading someone's copyrighted work without consent.
4shared is a file sharing site; one of the most favored destinations for Indonesians to download MP3s. So far the site is still up, with no date explicitly specified for any block or ban.
Local sites are the first priority to be blocked, and the Ministry of Telecommunication is working together with music associations and composers to get it done. With more illegal sites likely going down in near future, the government should provide a solution. It could, for example, encourage the public to buy from legal sites.
"Legal sites can buy the rights to sell the music from the composers and make a deal with them." said Titiek Puspa, a famous Indonesian musician."There can be free songs or they can be sold for as cheap as 500 IDR(0.06 cents) or 1000 IDR(0.12 cents)"
Not winning any popularity contests
After a move to block porn sites last year, the Indonesia government has made itself pretty unpopular among Indonesian internet users, specifically minister Tifatul Sembiring. From the Prime Minister's reaction to 'defamation' in social media or Sembiring's many dubious tweets — the government isn't doing much to win favor with local netizens.
Instead of blocking the illegal sites, I think the government should actively support legal music download sites. There is a huge industry for RBTs, so why not for legal MP3s too? For example, there is Souniq, Indonesia's first music application in the cloud. There's also Musikkamu, a start-up focused on live online concert experiences.
I'm curious to hear what you think of this latest move by the government. What are your thoughts?