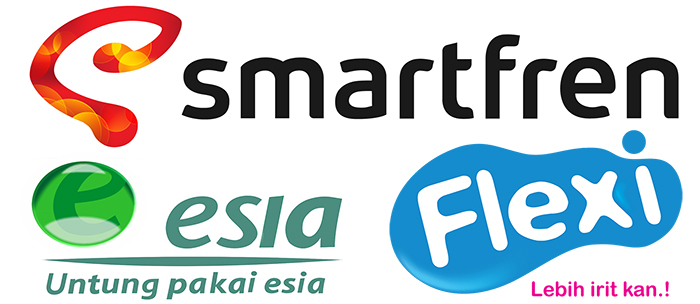 2014 might be the year when CDMA-based1 mobile telcos in Indonesia finally kick the bucket. With the rising popularity – as well as price competitiveness – of GSM services in the country, things are not looking good for CDMA players like Smartfren, Esia, and Flexi. In fact, we might see a couple of the aforementioned CDMA services going into the deadpool as early as next year.
Here's a breakdown of the Indonesia's biggest CDMA carriers:
Smartfren is arguably the strongest CDMA telco when it comes to subscriber growth in Indonesia. The company has grown its userbase from 6.7 million in October 2011 to 12.5 million this year. Its attractive Android handset bundling program is likely the main reason for that growth.
But when it comes to financial matter, Smartfren is in deep trouble with a IDR 1.54 trillion ($139 million) loss in the third quarter of this year. That is a 52 percent greater loss than the same period last year (IDR 1.01 trillion; $91 million).
The company still looks strong as it is looking forward to the 4G era when it can migrate to an LTE frequency. It's still building more base transceiver station (BTS) towers.
Bakrie Telecom's Esia looks in dire need of revolution. The company, which had 14.6 million subscribers in 2011, now serves 11.6 million users with constant year-on-year drops.
Its financial books aren't looking good either with the operator recording a IDR 1.5 trillion ($138 million) loss in the third quarter of this year. The company's debt was downgraded to a default after failing to to pay up.
Flexi isn't looking forward to the new year either. Although the company has 18 million subscribers in Indonesia, parent company Telkom has signalled its intention to discontinue Flexi because it is no longer a profitable business. Telkom is now looking to sell Flexi's 4,000 cell towers to any interested parties.
Another telco player, Indosat, has also signalled its intention to discontinue its CDMA service StarOne earlier this year.
Curse of CDMA?
This loss of faith in CDMA is also echoed by phone manufacturers and network equipment vendors in the country who have shifted focus from CDMA to GSM. One of the biggest handset distributors, Erajaya, now no longer sell CDMA devices in its 500 stores. Major network equipment vendors aren't supplying CDMA cell towers any more either.
Why is this happening? The biggest – and most obvious – reason is that there's no longer any competitive advantage in using CDMA compared to GSM.
In the past, CDMA telcos had cheaper tariffs, though many consumers agreed the signal coverage was lousy. But after a ferocious price war up against GSM operators, the tariff difference isn't that significant between CDMA and GSM.
On the CDMA side, Smartfren charges IDR 18 per second for calls to other operators, Esia charges IDR 800 per minute, and Flexi charges IDR 800 per 30 seconds. Among major GSM telcos, Telkomsel charges IDR 20 per second, XL charges IDR 1,000 per minute, and Indosat charges IDR 350 per 30 seconds. There isn't much of a price difference now.
The same applies for other tariffs such as the call charge between operators.
At this rate, you might be betting on the wrong horse if you're using CDMA – or buying a new CDMA phone – in Indonesia.
(Editing by Steven Millward and Paul Bischoff)
---
Obviously, there are technological differences between CDMA and GSM like how it is easier to swap phones using the latter technology.