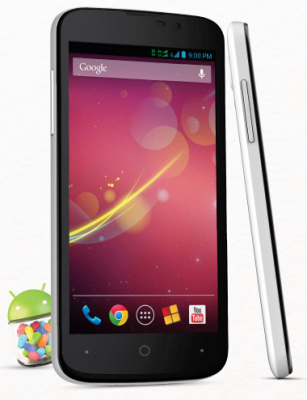 Indonesian telco and handset manufacturer Smartfren released its new phone and tablet yesterday, called the Andromax T (pictured right) and Andromax Tab 8.0, respectively. Both of them run on decent specifications are priced in the mid-range tier. Smartfren also released small update over their progress so far.
Andromax T is a 4.3 inch Android phone which runs on similar but slightly inferior specifications to the 4.5 inch-phone Andromax U2. Andromax T's superior offering is its slim body design and swappable and colorful back casings. On the other hand, the Andromax Tab 8.0 looks to be Smartfren's best tablet so far.
The quad-core Andromax T is sold at IDR 1.8 million ($158), while the Andromax Tab 8.0 is priced at IDR 2,350,000 ($206).
It's a shame that both of them still use Smartfren's second class CDMA internet speed running as high as 3.1Mbps. The only phone that runs on Smartfren's first class CDMA internet speed is its Windows Phone 8 running phone, the Ascend W1, which can run up to 14.7 Mbps.
Revenue over profits
Detik cites Smartfren deputy CEO Djoko Tata Ibrahim yesterday saying that both the company and distributor isn't looking for profit when selling handsets. instead, their aim is to get high average-revenue-per-user. Distributors will get three percent of phone credit sales too.
Right now Smartfren records IDR 50,000 ($4) ARPU from its data users, or IDR 35,000 ($3) if blended with its voice call users. The company claims that it has a less than one percent churn rate and growth rate between 30 to 40 percent.
Smartfren originated as a merger of two CDMA telcos Mobile-8 and Smart, and last year it entered the hardware game with the release of affordable and durable Android handsets. So far, this move has been successful in driving growth: Smartfren currently has 12.5 million subscribers in Indonesia and the company is optimistic that it can get up to 14 million by the end of this year.
(Source: Detik)