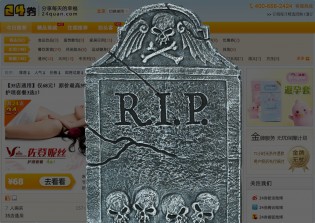 Chinese group buying site 24Quan, once in the country's top five deals sites, has been in the rough for some time now, and it suspended operations back in October. So the following shouldn't come as a huge surprise to anyone: the site has now apparently shut down for good. The company's site now appears to be inaccessible, and there are doubts about whether the company will be able to pay all of its outstanding debts with merchants.
24Quan founder Du Yinan (who we talked to about the company's troubles way back in November of 2011) has yet to comment on the closing, and a 24Quan investor told Sina Tech that the board would need wait for instructions before speaking to the media.
Given that, I suppose it's technically possible the company could rise, phoenix-like from the ashes to take on the world of group buy in China, but I wouldn't bet on it. After months of inactivity, those ashes are going to stay ashes, and Du Yinan — like so many entrepreneurs — will move on to his next great idea.
[via Sina Tech]