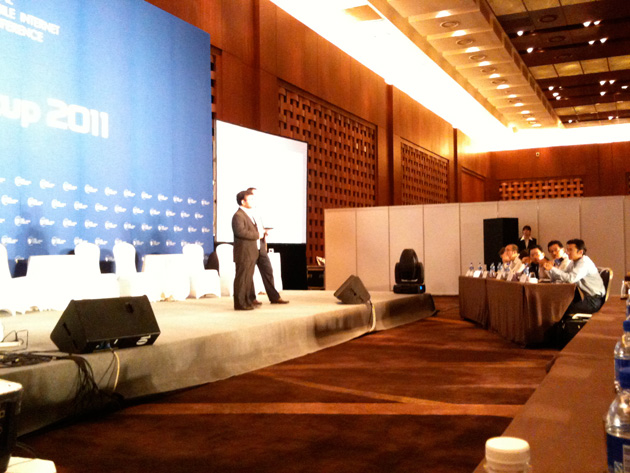 Live notes on start-up pitches.
16Fun (China)
Focuses on mobile games imitating virtual reality
Features include playing games with friends
Business model: Virtual currency, in-app purchases, linking game with business owners
Distribution strategy: Consolidate a list of distributors, build relationships, events
BookRice (Hong Kong)
"Transforming how restaurants and consumers interact with each other"
Problems – Diners: Inconvenience, Restaurants: Still paper and pen reservation, no data analysis
BookRice allows diners to reserve tables anywhere, anytime
Key points: personalized consumer data, scheduling reservation
Competitors: OpenTable but no strong presence in Asia
Judges are concerned about the small market in Hong Kong.
RedSparro (Singapore)
The 20:1000 problem in events – 1000 attendees but an average participants can only meet about 20 people
RedSparro helps you connect with others in an event. Through scheduled meetings, synced with social networks. The app allows you to send message for meet up
RedSparro also help users to find the right people, such as business mentors or co-founders
Post deals also allow users to promote tickets through the app
Competition: Twitter, Presdo
Answer to competition – "Twitter is unstructured and not catered for events and meet ups"
Mentor includes Adeo Ressi and Jeffrey Paine
Kwestr (China)
Social games + real friend + real goals = Kwestr
Gamification any experience within a social framework. Doing things fun and social.
E.g Users set up a "Stop smoking" quest. Milestones will checked and updated via social networks
Energetic presentation
Fonaja (Indonesia)
Fonaja is a virtual enterprise phone system for self-employed professionals and small-medium businesses
Managing a local phone number, creating call rules, providing phone extensions, and many others.
Analytics: Call stat- phone traffic
Business model: Direct subscription, every user = subscriber. Stable revenue compared to ads
Best feature – Intelligent voice response. Answered by auto recordings, aka giving advice through bots voice
Moglue (Korea)
Interactive eBooks
Moglue is basically a drag and drop interface for users to create interactive eBooks on the iPad and Android powered devices
The demo is pretty cool!
5 years from now: Right now is more about creating the eBooks, but eventually it would be about distributing these eBooks.
SmarTots (China)
The "OpenFeint" for educational apps. World's first platform for kids apps
SDK based, for education apps
Provides educational statistics with all the apps build on SmarTots SDK
Business model: 5% from apple, 15% from developers
Total download hit more than 20,000, organic marketing
Seeking for $250,000 to start hockey stick growth. Looking for investors who are into kids products.
Brilliant pitch from the team, the investors love it!
MobileApps (Singapore)
MobileApps.com is the Google Adsense/Adwords ad network for mobile apps
"Adsense widget "for their mobile app
95% ad sales to developers
2800 app developers, 800 publishers so far
Sasser (Japan)
Our friends from Sassor is up next
Catch the ELP featured story here
Senscape (China)
To become the AR browser supporting both iOS and Android on smart phones
With the AR browser, you practically find apartments and friends through a scan
The video demo is pretty good: Futuristic (can't find it on YouTube)
Vision is to provide the foundation of new media platform in the era of mobile internet integrating virtual into the real world