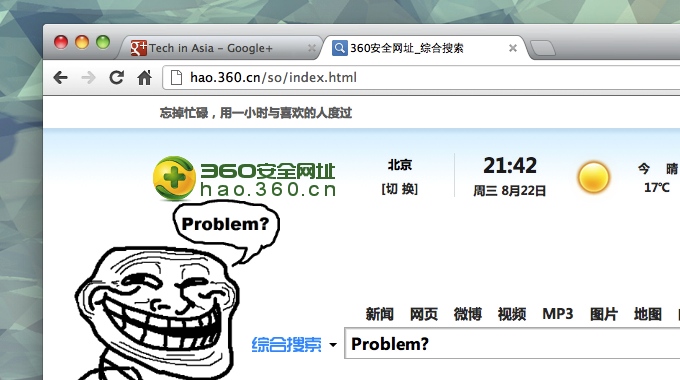 The Chinese software maker Qihoo 360 (NYSE:QIHU) recently launched its own search engine, as we reported yesterday. The new development caused a spike in Qihoo stocks and everyone's curiosity as the controversial web company – which started out in anti-virus, but now does so much more – provocatively stepped on even more people's toes in China's tensely competitive tech industry. To fire things up even more, there are claims by local search experts that 360 Search, at so.360.cn, is already the country's second-biggest search engine in just its first week online – with as much as 10 percent market share.
While that'll take some time to verify (Baidu being the current market leader with 80 percent market share; it's disputed whether it's Google or Sogou (NASDAQ:SOHU) in second place) let's look at how 360 Search has so much traffic already. The two main contributors to 360 Search traffic are its own web browser and links portal, and its anti-virus app might join in the trafficking operation as well. So here are the three factors:
#1: "360 Safe Browser"
The browser in question is Qihoo's PC-based "360 Safe Browser" which has risen – by hook or by crook – to be China's top web browser with 57 percent market share. Yes, even ahead of China's beloved Internet Explorer. Needless to say, the browser has been updated to make use of 360 Search and it's now the default search engine within it. There are versions of 360 Browser for iPhone, iPad, and Android as well, and it remains to be seen how much those will be tweaked to make use of 360 Search.
In Qihoo's newest financials for 2012 Q2 [1], which were released earlier today, the company revealed that "monthly active users of Qihoo 360's browsers were 272 million in June 2012" – that's up from 209 million at the same point last year.
#2: Hao.360.cn
But the real powerhouse for all those searches might be Qihoo's controversial links portal at Hao.360.cn. It's what the company calls, in English, its "360 Personalized Start-up Page." This AOL-esque site of simple links has been at the center of Citron Research's attacks on Qihoo – wherein the short sellers branded Qihoo a "fraud" for its claims of massive revenue by selling links to China's web giants – and it is also an alternative doorway to 360 Search. That search box now defaults to Qihoo's own search engine, though other search options – from its new rivals – remain available.
As a landing page for so many relatively new users to the web – and integrated into 360 Safe Browser, and providing links for the 360 Browser for iPad homepage too – it has a lot of captive users that might use its new search facility. The newest Qihoo financials claim 83 million average daily users to this site in the previous quarter, generating a monstrous 368 million link clicks. Both those figures are up by just over double from the same point in 2011.
#3: 360 Anti-Virus
The company's PC- and mobile-based anti-virus apps cannot be forgotten about as a potential – if not so obvious – source of traffic for the new search engine. Qihoo has a bad reputation for tying users down and foisting its own stuff on them, so there's always a way for your users to be milked. The new stats claim that Qihoo's mobile security products are used by 120 million people, which represents 70 percent of all China's smartphone owners.
What's to come?
Currently, mobile search is a shortcoming for 360 Search, not even having a mobile-optimized page. But that's easy to resolve. Plus, Qihoo has its own Android-based budget smartphone, so it'll be relatively easy to swap out Google search for a 360 Search mechanism within its Android ROM.
If Qihoo fancies even more toe-stamping in the China tech scene, it might be well positioned – to throw out a few of my own ideas here – to start its own ad platform, launch a social network, and perhaps push harder into online gaming.
As for its rivals, like Baidu, Google, and Sohu's Sogou search engine, they'll just have to be confident that their greater experience in search can win out, and that users will appreciate that. But Qihoo's CEO, Zhou Hongyi, seems to realise that it needs to grow with China's maturing and more sophisticated web users, not fade into irrelevance like AOL and Yahoo, whose business models were initially imitated by Zhou as he expanded Hao.360.cn. Though not a popular man on the China tech scene, by all accounts, he's clearly keen on making something that can tackle and injure much older and more established rivals like Baidu and Google.
---
The 2012 Q2 figures saw revenue more than double to $72.8 million, but both profits and net income fell.  ↩

Facebook Conversation
comments