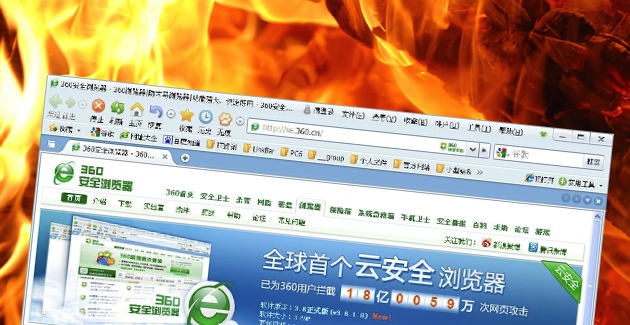 Microsoft (NASDAQ:MSFT) has been wanting people in China to quit using Internet Explorer 6 (IE6) for quite some time – but it didn't want things to pan out like this. Now a rival web browser, made by Qihoo (NYSE:QIHU) and called the 360 Safe Browser, has far surpassed the market share of IE as a whole, and is now reportedly used for 57 percent of all web surfing in the country.
But New York-based Digital Due Diligence (DDD) has evidence which suggests that Qihoo has used some seriously evil tactics to rope in users to its 360 Safe Browser. And it believes that these Machiavellian maneuvers – a total of nine are identified – have helped it to prevail in such a short time – just three years.
Firstly, it's worth pointing out that Qihoo's main business is, supposedly, anti-virus software. But with most of those anti-virus products being free, Qihoo generates nearly all of its revenue from its links portal hao.360.cn and general ad clicks. It's an area that has provoked attacks by the short-sellers Citron who say that such old-fashioned links sites are unsustainable. But, on the contrary, Qihoo seems to be doing well out of it, serving as a sort of AOL to inexperienced web users at a time when millions of Chinese people get online for the first time each day.
And so its 360 Safe Browser is an integral part of all that, driving ad clicks on its portal as well as being, in Qihoo's mentality, an integral part of its anti-virus platform.
But its tactics in forcing the 360 browser upon people are unacceptable, and render it something closer to malware or spyware. It looks to be exploiting the country's not-too-savvy web users, infringing on their privacy, and even hijacking their choice of browsers. Here's the list that DDD compiled explaining how Qihoo's browser rose to the top:
An almost identical icon to IE except that it's green (pictured above).

In the setup process, asking users to make it the default browser for links in other apps, such as in IMs.

Using its 360 Anti-Virus product to fire up pop-ups reminding people that the 360 browser is safer than IE.

Yet more pop-ups pestering people to set 360 Safe Browser as their default.

Using 360 Anti-Virus to block other browsers from becoming default, as pictured here blocking the Sohu-made Sogou Explorer:

360 Anti-Virus scans give lower scores to users who don't have the 360 browser installed, and then recommends that they install it.

Installing the 360 browser covertly in some anti-virus software bundles. Since most people just click 'next' during the set-up process, it gets foisted upon unwary people.

360 Safe Browser is deliberately difficult and confusing to uninstall. The 'Change to IE9' option in the uninstall dialog box actually just reinstalls the 360 browser and makes it the default. That's some super-sized shysterism.

After uninstallation, there are instances of some users finding it hard to get on the internet again and finding that their web settings have been changed.
It wouldn't surprise me to see Qihoo following the lead of Tencent (HKG:0700) and Sohu (NASDAQ:SOHU) in launching its own search engine, and tying its 360 browser to that as well. It's something those other two are doing already.
And so it looks like web standards – as well as ethics and basic respect for users – are still distant concepts on the web scene among some major tech firms in China.
Hit the source link below for all the nine screenshots that provide proof of those malicious tactics.
[Source: Digital Due Diligence]