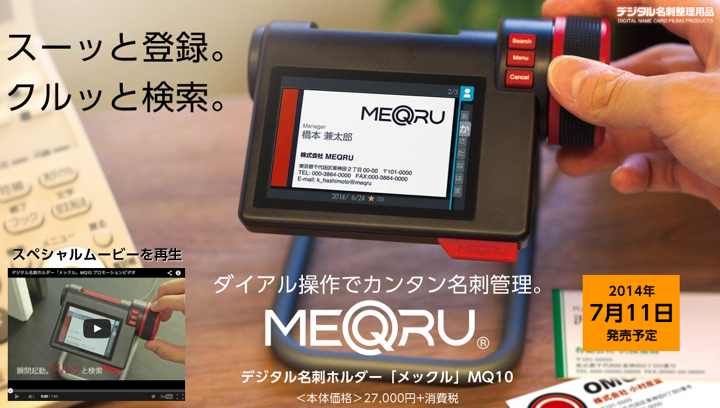 Business cards are an inescapable networking tool in Japan and workers of all stripes often find themselves buried under the paper rectangles after attending meetings and conferences. King Jim, one of Japan's largest office supply and stationery providers, announced two new business card scanners that, when combined with the company's digitization software, promise to organize and store contacts in an easily searchable manner.
According to Engadget Japan, King Jim surveyed 500 business people to gauge interest in business card digitization. About 10 percent of respondents said that they were already using some kind of digitization service, while one in three said that they were interested in such applications and services. The company has already been providing OCR-enabled portable card scanners to the Japanese market since 2010, but has faced competition from free mobile apps like Eight and Camcard.
The first new device, which is targeting individual users, is called Meqru (pictured above). It was designed to resemble a digital Rolodex, complete with a navigation knob on the right-hand side. It can scan a card in under six seconds and has enough built-in memory to store 5,000 cards. Users can search for contacts alphabetically by name or company, as well as by the date a card was scanned, and contacts can additionally be assigned to user-created groups.
Meqru will go on sale in Japan on July 11 and will retail for 27,000 yen (US$265). King Jim didn't say if it would be sold overseas in the future, but has an annual sales target of 20,000 units.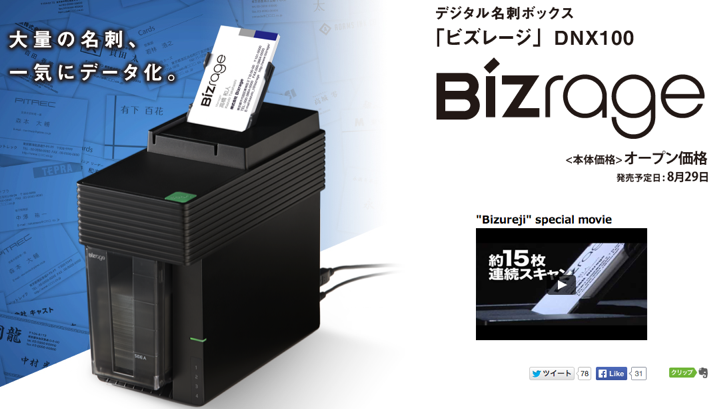 The second scanner is likely more appealing to businesses than individual users. Dubbed Bizrage, it combines a scanner and a storage box. It can be fed up to 15 cards at a time and the attached box can hold 800 cards (internal memory can store 400). It connects to a PC via USB 2.0 and can also be connected via LAN cable to instantly share contacts across the network. It can scan an individual card in just three seconds.

Bizrage will launch on August 29 and King Jim has not yet revealed how much it will cost (though the company hopes to push 10,000 units in a year).

See: Too many business cards? Japan's Sansan gets $14 million to bring its cloud-based contact manager to the US


Both Meqru and Bizrage can be integrated with King Jim's upcoming DA-1 digital business card management software. DA-1 uses OCR technology to digitize scanned cards, which can then be edited and exported as Excel or CSV files. It also makes searching more convenient than using the scanners themselves, and contacts can be easily organized into groups by drag-and-drop. The desktop application will be available for Windows and Mac from July 11.

(Source: Engadget Japan)

Editing by Josh Horwitz

Facebook Conversation
comments
Powered by Facebook Comments