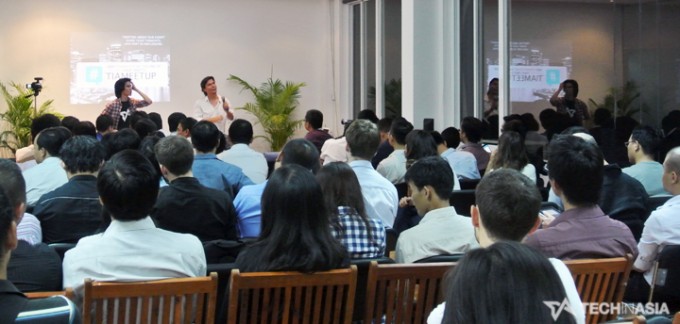 Last month, we had the privilege of having Victor Lavrenko from CocCoc out our Meetup in Ho Chi Minh city to talk to us about the startup search engine's plans in Vietnam. As much as he grumbled of how boring he was and his difficult Russian accent, we got to learn a lot about CocCoc's search strategy and the future of the search battle now brewing in Vietnam. Let's look at key points that we learned from Victor.
Amidst all the questions, one of Victor's main points was that they're not trying to compete head on with Google, but would like to focus on areas where they "can be better than Google". Victor believes these things include being better at understanding the Vietnamese language (not an easy problem to solve) and local location data (that includes pictures of venues that Google doesn't have) that CocCoc's content team is going out and finding manually. These are things that, not being present on the ground, Google cannot do.
Victor also revealed a few stats, namely that CocCoc currently has over 300,000 monthly users. That's after four months of going live since Tet, Vietnamese New Year, and ten times the number a month before.
One interesting point I particularly liked from Victor was when an audience member asked how much better than Google does CocCoc need to be? Victor claimed that CocCoc was already 33 to 37 percent better than Google in terms of the accuracy of its searches for Vietnamese users. That means, out of 100 searches, CocCoc got 33 to 37 searches correct whereas Google didn't get anything. Victor then responded that you only need to be one percent better. He cited the story of Google beating Yahoo, just by being better than Yahoo by one percent, and so every month one percent of the web users moved over to Google – and eventually that's a huge number. Victor cited the book "I'm Feeling Lucky" for more understanding of this.
My favorite and final question, and a answer that many audience members were very keen on hearing, was what Victor's views on censorship are, especially following the Associated Press' recent scoop on CocCoc blocking results of a sensitive nature. Victor's response was: "We are mathematicians, we don't care about politics, so we forward those results to Google, it is not our interest to get into that."
It's going to be an interesting path as CocCoc battles it out with international mega-company Google, as well as local rival Wada, which is going for more of a mobile strategy.
You can check out the whole event video here:

Thank you to our Awesome Sponsors | Ethics statement for events:
---
Corporate sponsors
---
---
VC sponsors
---
---
Startup sponsors
---

Facebook Conversation
comments