When it comes to search in Vietnam, Google is number one, at least according to Alexa. But Vietnamese netizens aren't exactly happy with Google's search service because it wasn't built with Vietnamese characters in mind. And that's where Wada, a new search engine launching publicly today that's run from Vietnam, is seeing an opportunity.
Wada is developed by local company New Horizon Internet. It is, however, based on search technology invented by Russia's Ashmanov & Partners.
On Wada, users can find web directories based on genres across entertainment, business, and sports. There's also a one-page news aggregator from over 250 news sources. The news aggregator is able to identify the primary news source and filter duplicated news for users' reading convenience. Alexander Smirnov, business development director of Ashmanov and Partners, says:
We consider these services very important for the Vietnam market, especially mobile users. In Russia, at least 20 percent of mobile users are new to the internet. And they do not like to search by putting in queries but by clicking on directories. […] We believe these are features users want in Vietnam.
One example of the search engine's localization is being able to detect Vietnamese names quickly and accurately. Wada also allows searching without the need to insert accent signs while you are keying Vietnamese on mobile. The search engine (pictured below) will suggest the correct accent signs to your search queries. Google.vn, on the other hand, doesn't do this useful thing: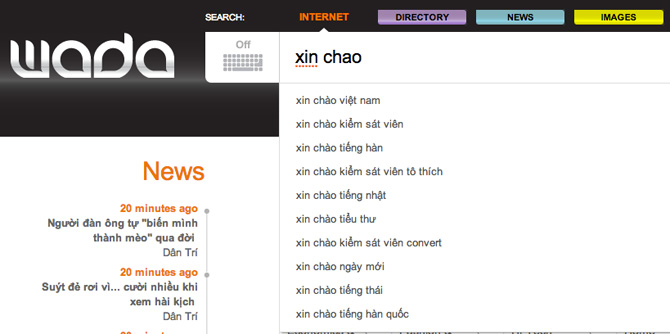 Challenging Google
---
As I see it, Wada wants to challenge Google in Vietnam, to create a search engine for Vietnam that's much more localized and specialized. It isn't just about language, but also some cultural and behavioral aspects of Google's search engine that aren't quite suited to Vietnamese users.
In Wada, the potential is certainly there. Thinh Pham, the CEO of Wada, says that Vietnam has more than 30 million internet users (out of 91.5 million in total population) and 75 percent of them use search engines actively. Vietnam also has many mobile subscribers – 127 million – and many are still on feature phones.
So it's not surprising that Opera Mini (which is well-known for saving users' mobile data and loading pages faster) is the number one mobile browser in Vietnam. And today's announcement here in Hanoi also highlighted a partnership between Wada and Opera. For Vietnamese users on Opera Mini browser, Opera will feature Wada.vn on its start page. Opera insists that this partnership isn't to challenge any other search engines. The mobile browser remains neutral and open to work with any content provider. Opera Asia's senior VP, Fabrizio Caruso, says:
We're an open platform only to give our users the best mobile browsing experience. […] We give relevant content to users. And we believe that Wada will give relevant content to Vietnamese users.
Since being featured on Opera Mini, Caruso says that Wada has attracted 180,000 unique users and 700,000 page views within two weeks in Vietnam.
Anyway, it should be fun to see how Google will react to this punch from a local competitor. It isn't just Google who will be pulling its hair out, though. Chinese search engine Baidu recently set up a language R&D center to research the Vietnamese language (and also Thai) in Singapore, and the Chinese giant may also be taken aback by this news.
When asked by the media about how Wada will be able to change users' habits now, when they're already used to Google, CEO Thinh Pham didn't really answer the question directly but insisted that the purpose of Wada isn't to compete directly with the current search engines. Rather, Wada is focused on building a better search experience for people who use the Vietnamese language. Pham did concede that he's aiming to bring Wada to other markets in the future. Smirnov added:
In the short term, we would like to have one million users. In two to three years, we would like to have 30 percent share of the search market [in Vietnam]. Search is just our technology, we would like to build other services around it.