Alibaba has continued its relentless promotion of its latecomer chat app Laiwang, and it looks like WeChat, its biggest competitor, has begun to fight back.
Earlier this week Laiwang announced a special promotion, in which its users will receive 'red envelopes' (a traditional Chinese monetary gift) for each friend they invite onto the platform. For every friend that joins, each party will receive RMB 1, and the more friends any one person invites, the more money that person stands to receive.
The promotion was set to begin today, and naturally, Laiwang users rushed to send invitations to friends through WeChat, as it remains the default mobile social networking app in China.
But thousands of users report that when recipients clicked on the invite links to join Laiwang through WeChat, they received notifications from Tencent's security software (regardless of whether or not it was installed) informing them that the related website was blocked for containing "malicious content."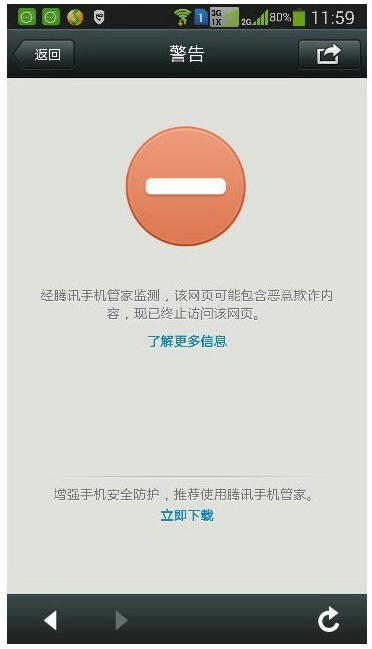 The Laiwang team responded to the reports with a message on its Sina Weibo stating invitation links simply directed users to their Taobao account login page and then the website for the promotion.
Laiwang's aggressive promotion marks only the latest move on behalf of Alibaba rope in users. Last week Alibaba chairman Jack Ma showed his eccentric side when he published a letter on social media announcing he would be closing his WeChat account in order to support Laiwang, which he referred to as "his baby." He also demanded Alibaba employees each make 100 new friends on Laiwang, lest they risk losing their bonuses, and built Laiwang profiles for 100,000 Taobao models.
If Tencent did deliberately attempt to block WeChat users from signing up to Laiwang, the resulting publicity in the Chinese media will likely only serve to boost its competitor's visibility, rendering such tactics counterproductive.
Shenanigans aside, WeChat maintains a stronghold in the Chinese chat app space, with over 236 million monthly active users.
(Source: Sina Tech)
(Thumbnail image via Flickr user thecrazyfilmgirl)

Facebook Conversation
comments