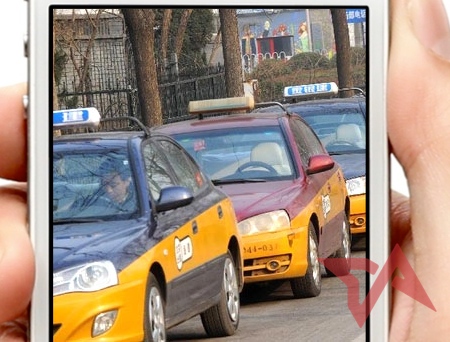 After a mediocre attempt at making an official taxi booking/finding app, the Beijing Municipal Traffic Commission ditched its own endeavor and instead chose four "finalists" from the current pool of startup-made apps. These apps allow passengers to find and book nearby taxis from their smartphones. Out of many such apps, Beijing municipal authorities have given the official seal of approval to market leader Didi Dache, Yida Dache, Yibu Jiaoche, and Yaoyao Zhaoche.
These four approved taxi apps for the capital are now all centralized at the official 96106 website. Their names were changed accordingly to include the 96106 prefix. For example, Didi Dache is now known as "96106 Didi" in Beijing.
A cap on drivers' tips via taxi finder apps
All of the selected private sector apps remain relatively unchanged, but they'll have to make some changes to their pricing schemes in Beijing. For instance, in the past, a passenger using Didi Dache could offer RMB 5 to RMB 20 ($1 to $3) extra to entice taxi drivers to come pick them up. Now they will be limited to RMB 5. All that goes into drivers' pockets. The government says this will make the app equally accessible to people of different income levels.
On the other end of the transaction, taxi drivers without smartphones can use their vehicles' on-call indicator to receive pick-up requests from users of those four apps. Any charges from apps not picked to be in the official four will be considered illegal. The commission has effectively blocked out other competitors like Kuaide Dache and Dache Xiaomi, both of which previously received venture capital investment. It's a major blow to startups that are left out.
Currently, these Beijing-sanctioned versions are only available on Android, but iOS versions are coming soon. The Transportation Committee says the old internally-developed 96106 app will go out of service in about a month. The committee plans to implement evaluation mechanisms so users and drivers can report missed rides and rate their experience. The government will also eliminate the voice chat feature of the apps to prevent secret price fixing.
Is this an overreach by the Beijing government, or is it just leveling the playing field for both passengers and drivers?
(Source: TechWeb)
(Editing by Steven Millward)

Facebook Conversation
comments