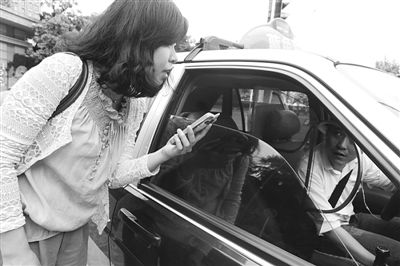 Taxi finding apps are a hot topic right now in the Chinese startup ecosystem – both for their success, and for their being under increasing scrutiny from authorities. Beijing's government will soon challenge the startups with a taxi booking service – both via phone and an upcoming app – of its own for the capital. Trouble is, the municipality's own effort has one truly ludicrous flaw.
Whereas startup taxi finding apps pin-point your location and can connect you immediately, down on the street, to the nearest cab driver that has partnered with the service, Beijing's state-approved '96106' will require people to book several hours in advance – to a maximum of 15 hours. Yes, even when 96106's smartphone app launches, it will still require you to book way ahead of time. Clearly that's utterly useless when you've just emerged from a supermarket with armfuls of shopping, in the rain, and all the taxis are flying by with someone already sat smugly in the passenger seat. In contrast, private-sector apps can help someone locate a vacant taxi on their smartphone screen and get that driver to immediately come find you.
Worse yet, the pilot program for 96106, which started on June 1 across Beijing, has hit only a 68 percent success rate on its 4-hour reservations. So basically this thing is a lottery. However, the aim is for this municipal taxi booking service – it's clearly not a taxi finding one – to hit a successful delivery rate of 99 percent.
So why are the startup-created taxi apps proving so controversial when they're clearly far more advanced? Basically it comes down to monetization and the varying and unregulated extra fees for cabs that are picked up using Chinese taxi apps such as Kuaidi Dache, Yaoyao Zhaoche, Didi Dache, and DaChe Xiaomi. Indeed, authorities in the cities of Shanghai and Beijing have banned such apps if they charge fees in addition to the taxi's metered fare; free services are still permitted.
So startups in this sector can still compete with 96106 in this space, but will have to forego monetization from their smartphone app users. But their real-time usefulness makes them a better option than the state-approved service.
Kuaidi Dache received funding in April, with one of the backers rumored to be Alibaba. A few weeks later, Yongche-owned DaChe Xiaomi also attracted investment.
(Source: Techweb – article in Chinese)