Since Kickstarter blew up, crowdfunding has become the hottest way for would-be entrepreneurs to get their products in front of the masses and raise the money for production by making pre-sales. A while back, we took a look at ZaoZao, a Hong Kong-based startup that was building a crowdfunding platform to help independent designers in Asia to get their products into the market. Now the service has finally launched, and it's looking pretty slick.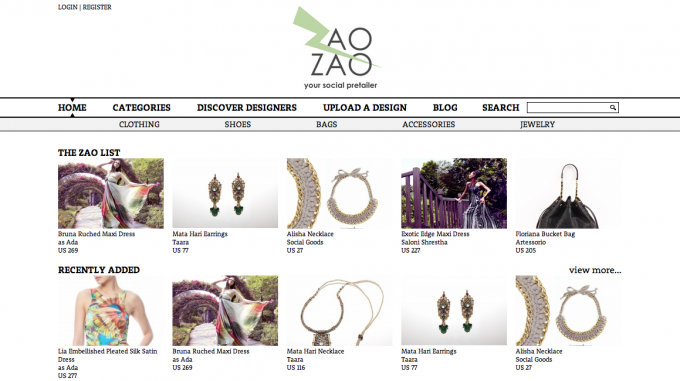 Potential designers can create profiles and upload designs, although that's no guarantee they'll appear on the site because, like Kickstarter, ZaoZao is curated so only the best submissions make it online. Designs that do make it online are there for a limited time, and available only in limited quantities. Like Kickstarter, it's all-or-nothing, so designers aren't stuck trying to produce an item they only got one preorder for.
Shoppers can easily browse for items by category, popularity, designer, and more, and project pages are clearly laid out with a few photos (some of the items would definitely benefit from more photos, though) along with a description and all the relevant details: how much time and how many items are left to preorder, what the item costs, how close it is to its goal so far, etc. Most of what's on the site right now is a bit pricey, at least by my humble standards, but it's probably not bad at all for very limited edition pieces. Prices are listed in USD, and ZaoZao has taken a little trick from restaurant-menu psychology by not including any dollar signs anywhere on the site.
The ordering process is pretty smooth if you're lucky, but I ran into a few bugs in my day-one experience with the site. When I logged in via Facebook, I had no issues at all, but I ran into some ordering issues after creating a basic account, so I'd recommend interested users log in with Facebook until the folks at ZaoZao work out this issue. It's also a little unclear sometimes whether the price displayed is the per-item price or the project's goal (i.e., the total amount it needs to raise to put the item of clothing or jewelry into production).
Hopefully ZaoZao can work out these kinks quickly, but neither of them would stop me from recommending the site to Asia-based fashion designers or to fashion-interested shoppers looking for some cool unique clothing and jewelry.