Self-billed "Asia's biggest online fashion store", Zalora had a net negative income of almost EUR 70M (USD 91M) in 2012. In an apparently confidential Income Statement 2012-2017 for investors, we now know that Zalora Southeast Asia made EUR 48M (USD 62.5M) in revenues (after returns and cancellations) in 2012 (thus we are enlightened on their "annualized double-digit million USD revenues" that is in their "About ZALORA" in press releases pretty much everywhere, SGE's previous estimate of USD 75M wasn't too off), projects profitability from somewhere in 2015, and aims to reach total revenues of EUR 1 billion (USD 1.3B) sometime in 2016.
These numbers are based on 8 (current) markets (no word of potential future markets), mostly desktop shopping for the last year since Zalora launched in early 2012, with mobile commerce to increase with launches of native mobile apps (iOS last week, Android later in the future) and the rising trend of mobile usage in Asia (see below).
German magazine Manager Magazin published the document online and parts of the Zalora Income Statement for 2012-2017 can be seen here: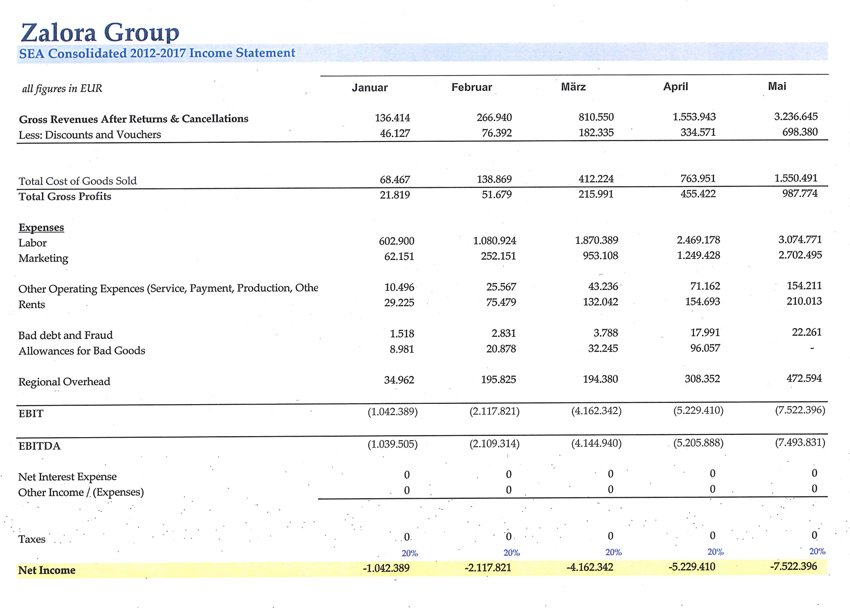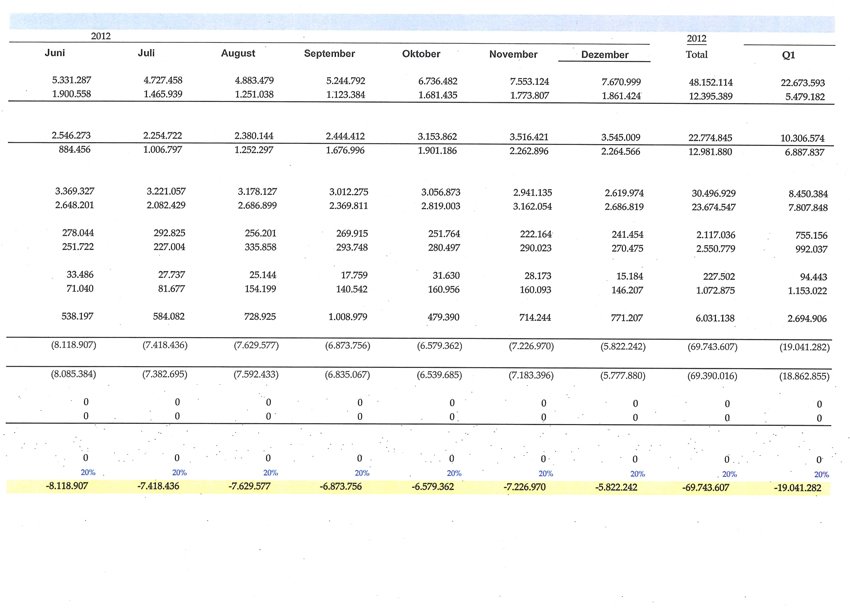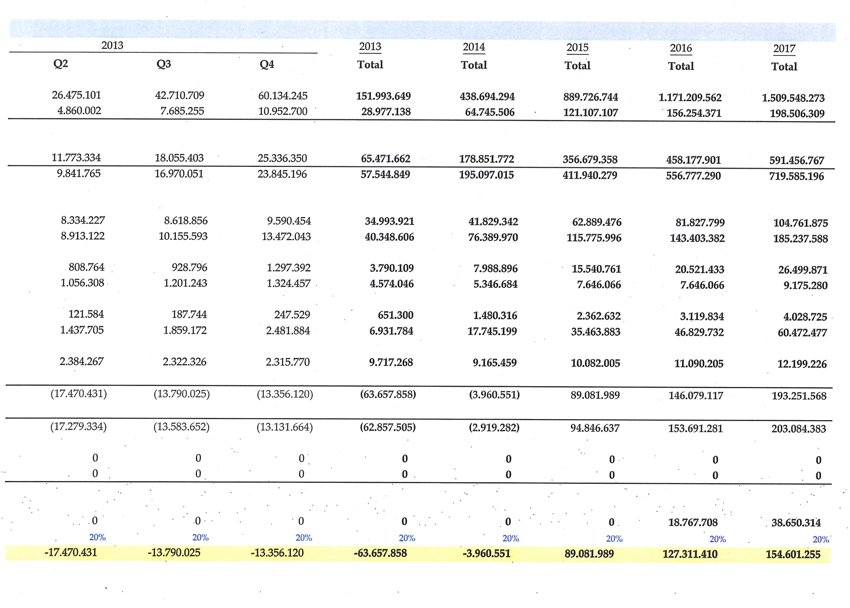 The fashion e-commerce outfit by Rocket Internet spans 8 markets in Asia (Singapore, Malaysia, Indonesia, Philippines, Taiwan, Thailand, Vietnam, Hong Kong), recently got a fresh injection of funds of EUR 20M (USD 26M) from German retail company Tengelmann (after JP Morgan's "significant double digit millions" of investment in September 2012, other investors include Summit Partners and Kinnevik), set up a regional software development center in Singapore, and just launched an iOS app.
As of 3 days ago, Zalora tells us that one day after the official launch of their iOS app last week, it has gotten:
– Top overall app (Free) for the Singapore and Vietnam app stores
– Top 3 overall app (Free) for the Malaysia and Philippines app stores
– Top 10 overall app for the Indonesia app store
– Top #1 lifestyle app for all Zalora countries.
iOS first makes sense for a company like Zalora even though Android trumps over iOS usage across APAC. iOS users typically are more willing to spend and spend more and the median price of Zalora's items are more than that of mobile apps.
According to a new 7011-respondent, 14-market Mastercard survey held over November and December 2012, mobile commerce is on the rise in some countries in Asia, with a few dips, and a few holding strong: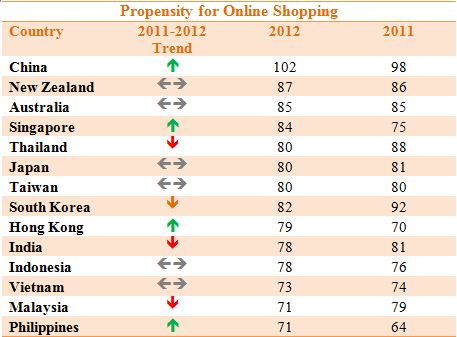 Source: Mastercard Survey
In the fashion sphere specifically, 35% of the respondents claimed interest in purchasing fashion with 20% of Asia-Pacific's shoppers having actually purchased "something fashionable" through their smartphones in the past three months. Further, the survey found that fashion-related items are least likely to be of interest to Indonesians (18%), Indians (24%), and Malaysians (26%).
Zalora obviously wants some of this fashion mobile commerce pie, and rightly so.
The possibilities of Zalora attaining its goals of reaching break-even in 2015 and in access of 1 billion in revenues in 2016 would rely on its ability to achieve more brand awareness, to build a smooth mobile purchasing experience to capitalize on the rising e- and m-commerce rising tide. In 2012, almost half of its gross revenues were spent on marketing: you should have seen Zalora ads plastered almost everywhere on the internet – if you haven't, you haven't been on the internet. Look forward to seeing more Zalora ads, this time on the mobile. Mobile ad networks and platforms should see more customer dollars from Zalora.
Zalora is headquartered in Singapore, with mostly separate offices for the different markets save for Zalora Hong Kong and soon-to-be, Zalora Taiwan. Amidst recent rumors that Zalora would be exiting Taiwan, it was revealed that instead of shutting down, it was just shifting most of its operations to be run remotely out of Singapore. Despite higher costs in the city-state, Singapore is going to continue to be a key place from which Zalora and Rocket Internet Asia in general operate.
In wider Asian e-commerce news, Singapore is also important to Japan's Rakuten as the giant just opened an office in the country, marketplace Multiply is shutting down while competitor Qoo10 (by Korea's Gmarket) did USD 224M in sales across 5 countries in 2012 and is gunning for an IPO. We wrote last month why we don't think a Rocket IPO will happen soon.
(On a side note, it is estimated that Rocket Internet burns more than EUR 50M per month across all its e-commerce outfits.)
One thing's for sure: there are big players hoping to capture the growing market in Asia. There will be enough space for Zalora to capture some fashion commerce online but choosing which markets to double down on is also crucial (moving part of its Taiwan operations to Singapore seems to be a clue).