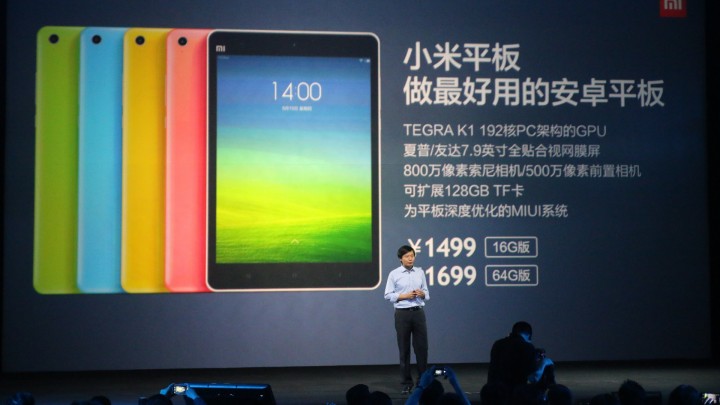 At Xiaomi's Baomihua ("Popcorn") fan meetup in Beijing today, founder and CEO Lei Jun took the stage to announce three upcoming products for the growing company.
First, Xiaomi will introduce its second smart TV, the Mi TV 2. Sporting a display with 4K resolution), the device is 23 percent thicker than its previous incarnation and will retail for RMB3999 (about US$640) when it hits shelves on May 27.
Next, Xiaomi revealed that it will launch its first tablet device – a development that had been speculated for some time (basically ever since the company started making phones!), with the strongest hint arriving last March it quietly announced a tablet-compatible version of its MIUI ROM.
The Mi Pad (pictured above), as it's called in English, features a 7.9 inch 2K resolution screen, a Nvidia Tegra K1 processor, 2GB of RAM, and a 4:3 aspect ratio which will place it alongside Apple's iPad with Retina display. The price? RMB1499 (about US$240) for the 16GB version, and RMB1699 (about US$270) for the 64GB version.
(See: Hugo Barra explains how Xiaomi works, says it's prepping launch in Malaysia 'in next few weeks')
The Mi Pad will also be available in six colors. There's no official release date for the device just yet, but the company said it would ship a beta device to users in June.
Lei added that Xiaomi would also release an updated version of its smart router.
The move into tablets makes perfect sense for Xiaomi – tablets tend to be better suited for heavy media consumption than smartphones thanks to their big screens. Given the company's continuous updates to its smart TV, its smart router, and also its mammoth investment in Chinese streaming content firm Xunlei, tablets make a natural complement to the company's burgeoning ecosystem of connected devices.
Xiaomi is aiming to ship 60 million smartphones this year, more than three times its tally for 2013. The company will officially begin operations in Malaysia, it's fourth destination outside of mainland China, in the coming weeks.