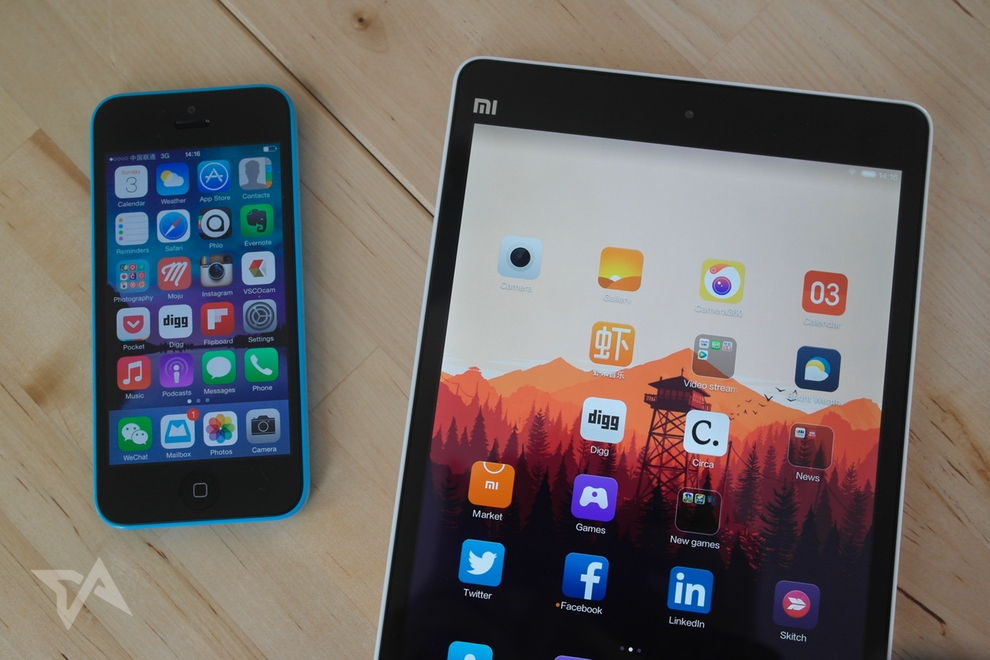 Xiaomi unveiled its first ever tablet in May in the form of the MiPad. Available initially only in mainland China, it costs RMB 1,499 (US$243) for the 16GB model and RMB 1,699 (US$276) for the 64GB one.
The MiPad went on sale in June. Although it's only available to Chinese shoppers, I wanted to review this from more of an international perspective, so I requested a review unit and loaded it up with all the apps that I use on my old Nexus 7. After living with the MiPad for a week, these are my thoughts.
Before we leap in, let's weigh up the very strongly specced MiPad against its rivals on price. Let's not include the much pricier iPad Mini with retina display, because if a brand is going in cheaper than an iPad, it's venturing into price-sensitive territory, likely targeting consumers who seriously cannot afford the extra couple of hundred bucks for an iPad. That's where the MiPad scores an early win against brands like Samsung with specifications that whip its similarly priced rivals: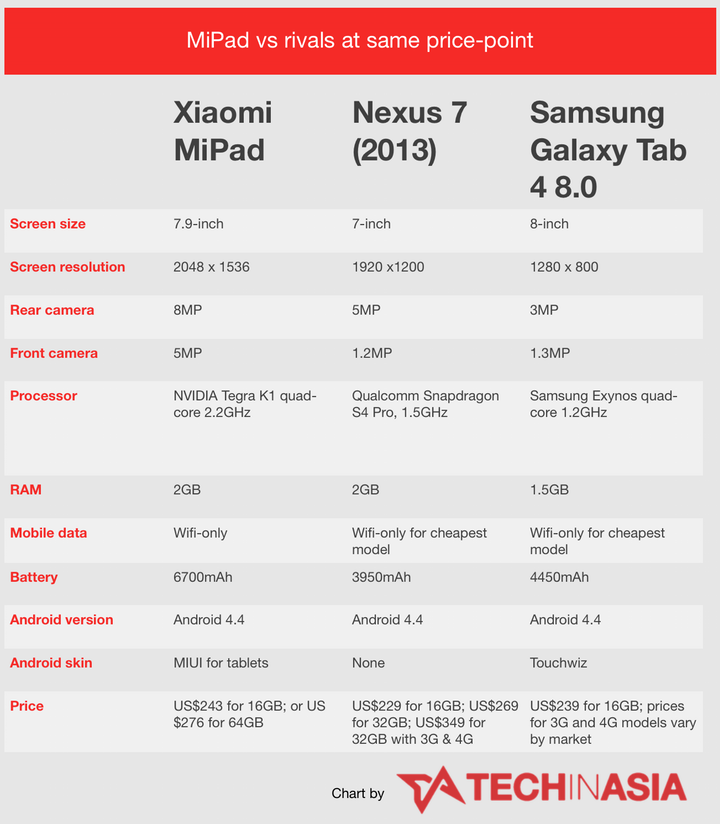 Let's dive in to the full review.
Hardware – look and feel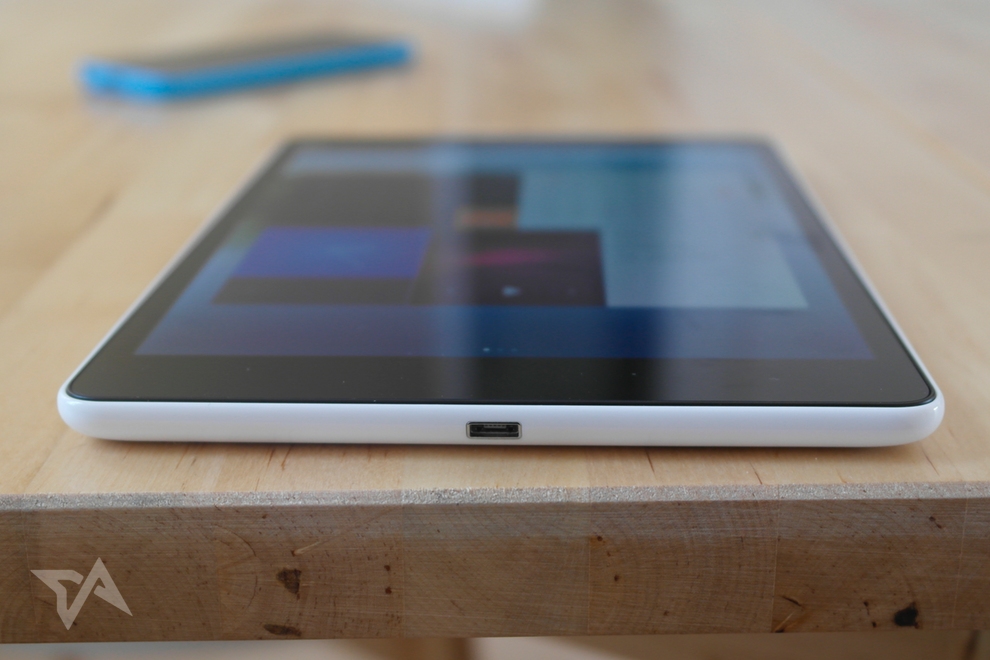 The MiPad hardware itself is an insight into Xiaomi's secret sauce. It looks good from a distance, and it looks and feels nice in the hand. While it couldn't be described as premium – with a plastic rear and plastic buttons made to look like metal – few people would say that it looks bad. Indeed, the MiPad itself feels solid and well put together. Individuals who get a glimpse of the MiPad up close, whether friends or waitresses, have been impressed with it and asked to hold it.
The good first impression turns to gasps of surprise when they turn on the screen and see how crisp and vibrant it is. The 7.9-inch screen is on a par – and identical in size and specs – to the iPad Mini. There will be more expressions of surprise when you say the MiPad costs just RMB 1,499, which is a whisker over US$240.
That's pretty much how Xiaomi has rocketed from zero to a target of 60 million phone sales for 2014 in the space of just over three years – with hardware that's good enough to pass muster allied to a price that's half of what you'd pay for similar gadgets.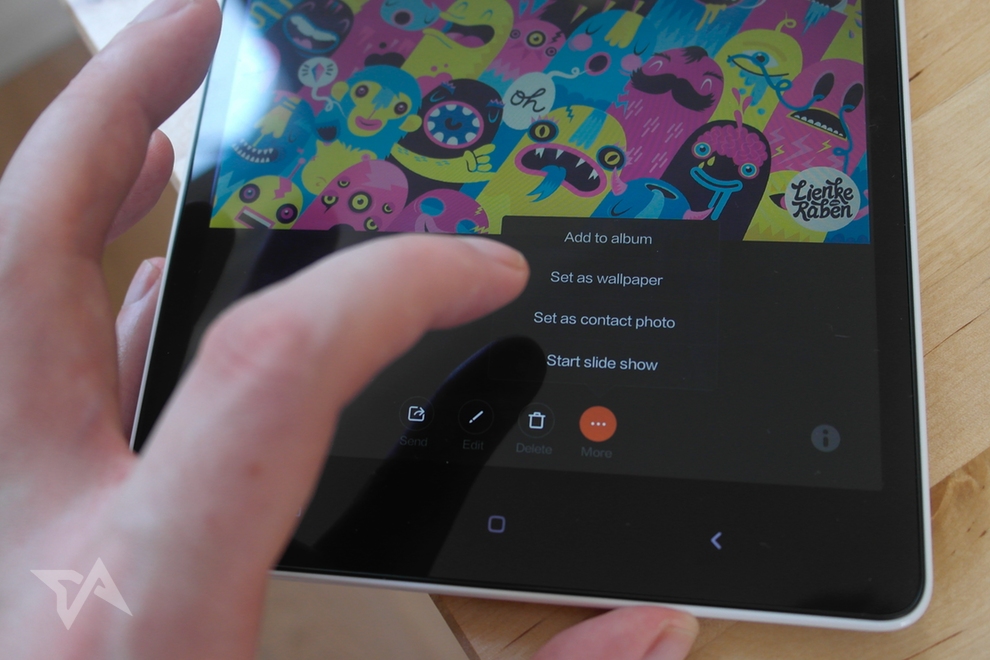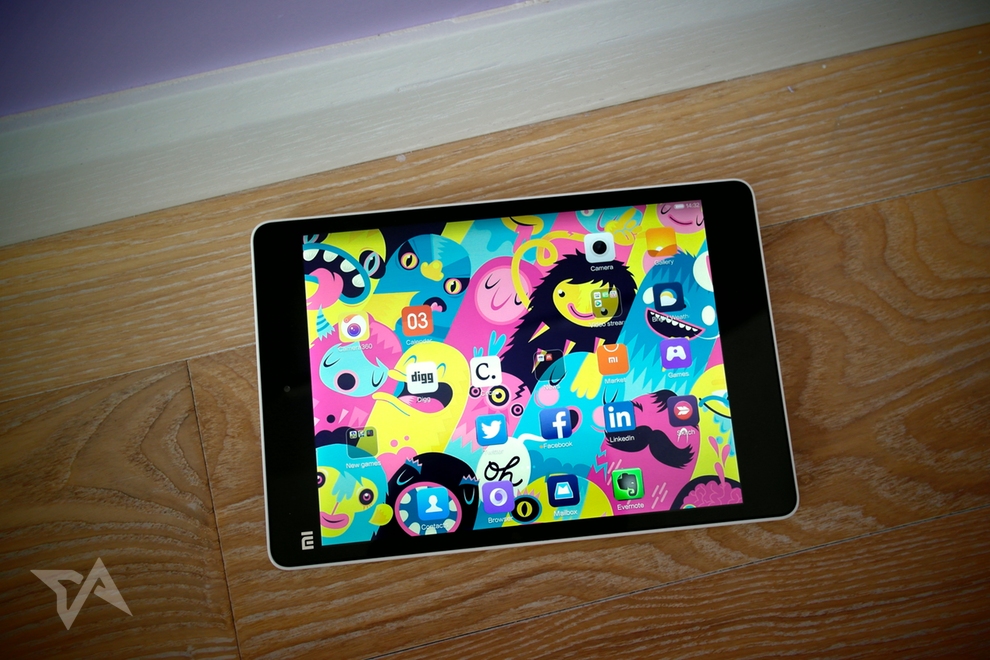 On the left side of the MiPad there's a slot for a micro-SD card (no, it's not for a SIM card, though it's identical to an iPhone SIM slot cover), while on the right there's a volume rocker atop a power/screen button. Headphone jack is on the top; a standard mini-USB slot at bottom.
On the rear there's an 8MP camera (more on that below), while opposite there's a 5MP camera that looks really good as a webcam. There's a pair of speakers on the rear.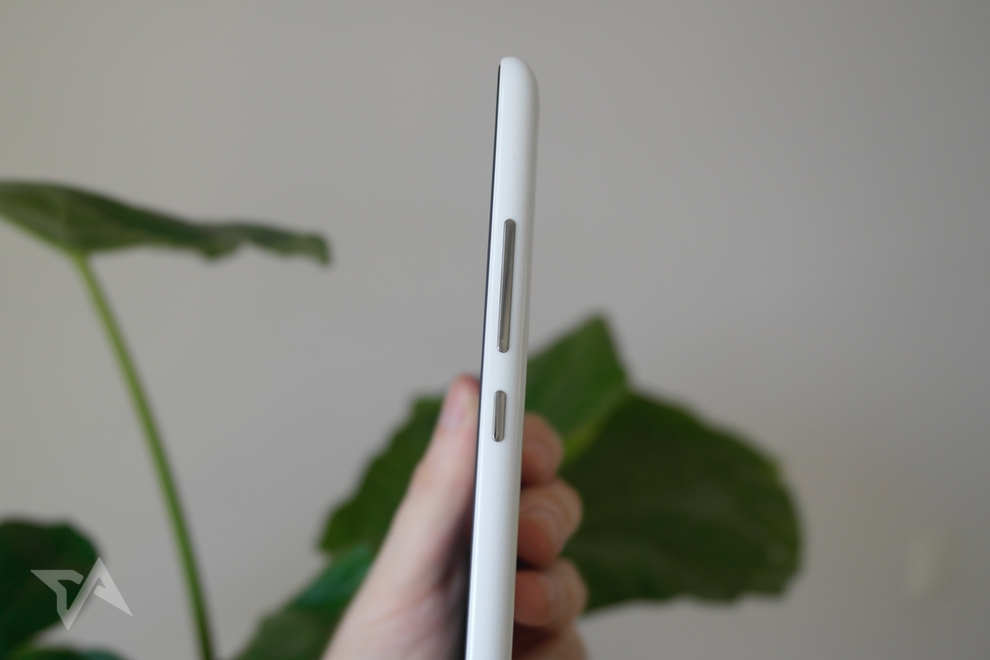 The MiPad's plasticky rear cover doesn't feel good – it's a bit slippery. While it is solid (no squeaks or creaks), that also means it's non-removable, so there's no way to change the battery. The rear cover – available in numerous other colors – wraps around the side and is visible from the front – just like with the iPhone 5c. Indeed, Xiaomi's homepage cheerfully admits that it looks like the 5c. It's one of many borrowed design cues that have recently got the company in trouble with media for allegedly emulating Apple in some very specific ways.
Can the MiPad be grasped in one hand? For me, with my rather small hands, the answer is yes, just about, but not for extended periods of time. I have a Nexus 7, which is easy to grasp in one hand because of its more rectangular screen, but I'd say that the squarer screen of a MiPad (or iPad) is worth it for the extra space, especially for usage in landscape mode. One-handed use of a tablet is not a primary concern for me, so I don't mind using two hands for the MiPad or an iPad.
See: Xiaomi leaps over Samsung, is now China's biggest smartphone brand
Screen and sound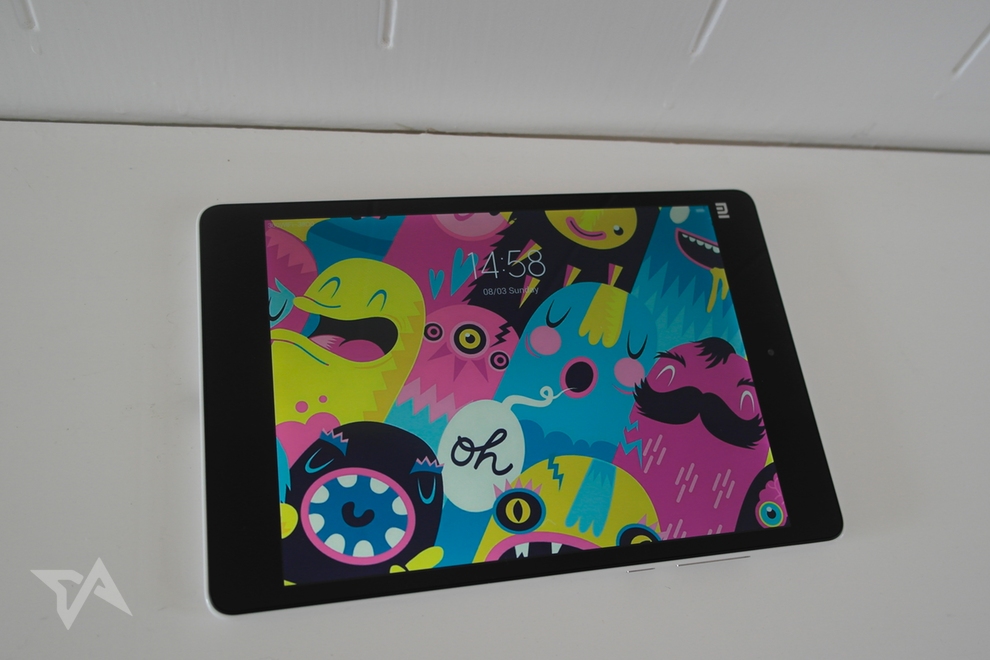 As I've just mentioned, the screen is a delight with colors that pop. The MiPad beams out of 2048 x 1536 pixels to give it a "retina"-level 326 pixels per inch (PPI). But many tablets are doing the same, so it's not a stand-out feature in itself. The larger Samsung Galaxy Tab Pro 8.4 has 2,560 x 1,600 pixels for a slightly crisper 359 PPI, as does the identically sized Samsung Galaxy Tab S.
The MiPad's screen becomes more remarkable, however, in light of its much keener price. The lowlier Samsung Galaxy Tab 4 (with its 8-inch screen) costs the same as the MiPad but sports a relatively disappointing 720p screen (not 1080p) that carries only 1,280 x 800 pixels.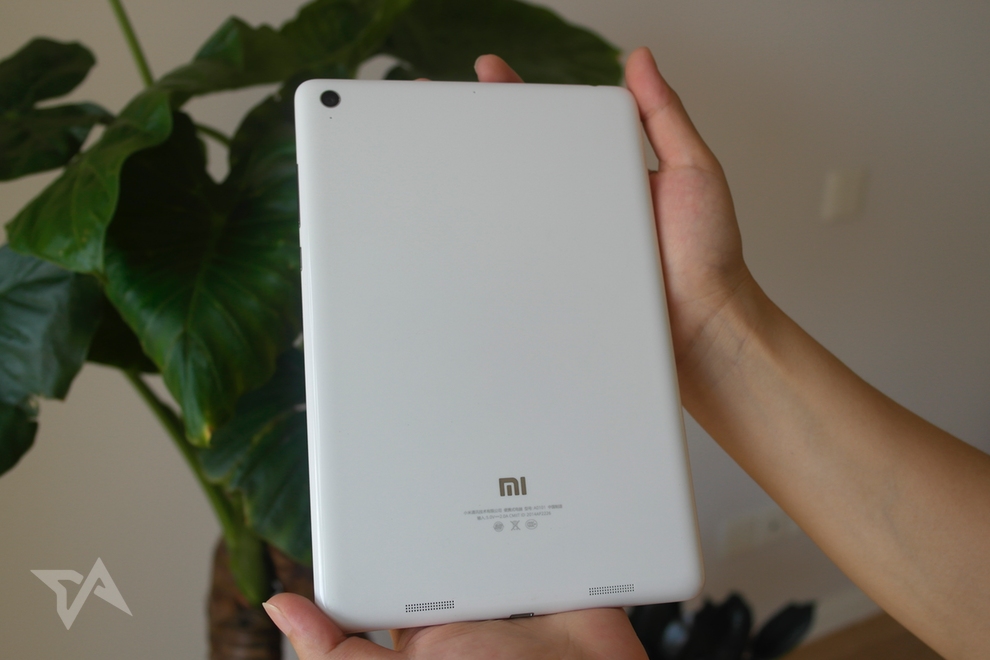 The only quality tablet that matches the MiPad on screen and price is the Nexus 7 (US$229). However, the slim phone-like screen on the vanilla Google tablet feels very cramped. The Nexus 7 works fine in portrait mode, but it's awful for situations where you want to read or write in landscape. The Nexus 7 simply works better in portrait mode like a giant phone. As a (not very satisfied) Nexus 7 owner, I much prefer the squarer screen of other tablets – including the MiPad – and certainly won't buy another widescreen-style tablet.
Towards the bottom of the MiPad's rear side is a pair of speakers. While they're stronger than those of my Nexus 7, the unfortunate placement on the MiPad means they'll often be muffled by one of your hands if you're using it in landscape mode.
Software – massaging MIUI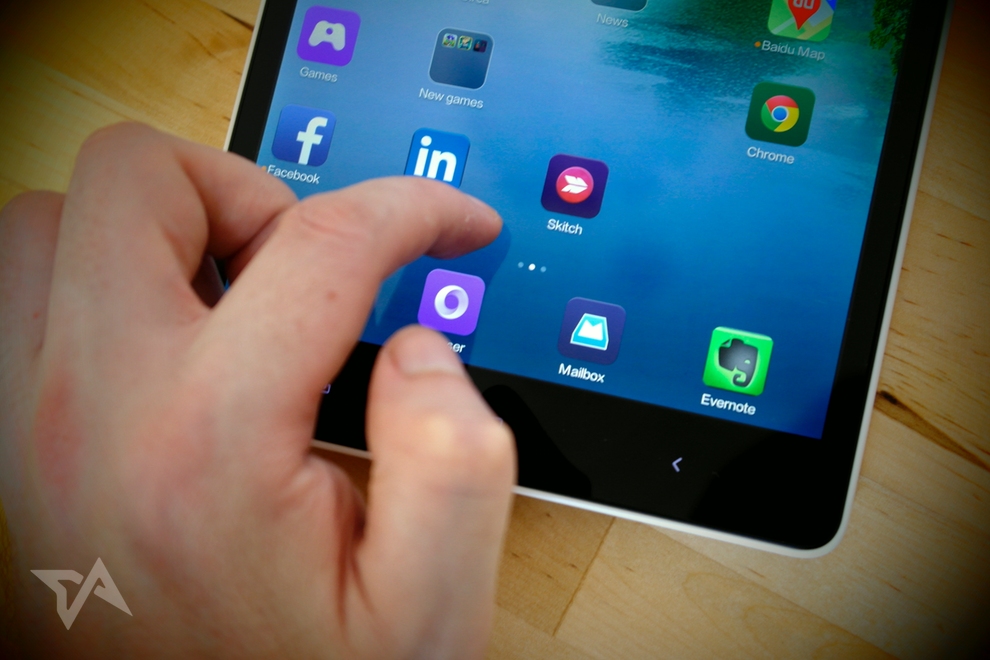 So now we know how Xiaomi lures people in on strong specs and decent hardware at a lean price, does it even need to worry about the software? The answer, of course, is yes. A manufacturer's interpretation of Android is essential as both a standout selling point, a way of locking in users, and an ongoing revenue channel. For Xiaomi, all this is done with MIUI, which is what it has built atop Android. Here's a 15-second UI run-through I just posted to Instagram:
For the MiPad, MIUI is built on Android 4.4. MIUI is essentially the same on the tablet as it is on Xiaomi's phones – though, this being Xiaomi's first tablet, MIUI has had to undergo a few changes for its big-screen debut. Most of those tweaks are good – but some are a bit surprising.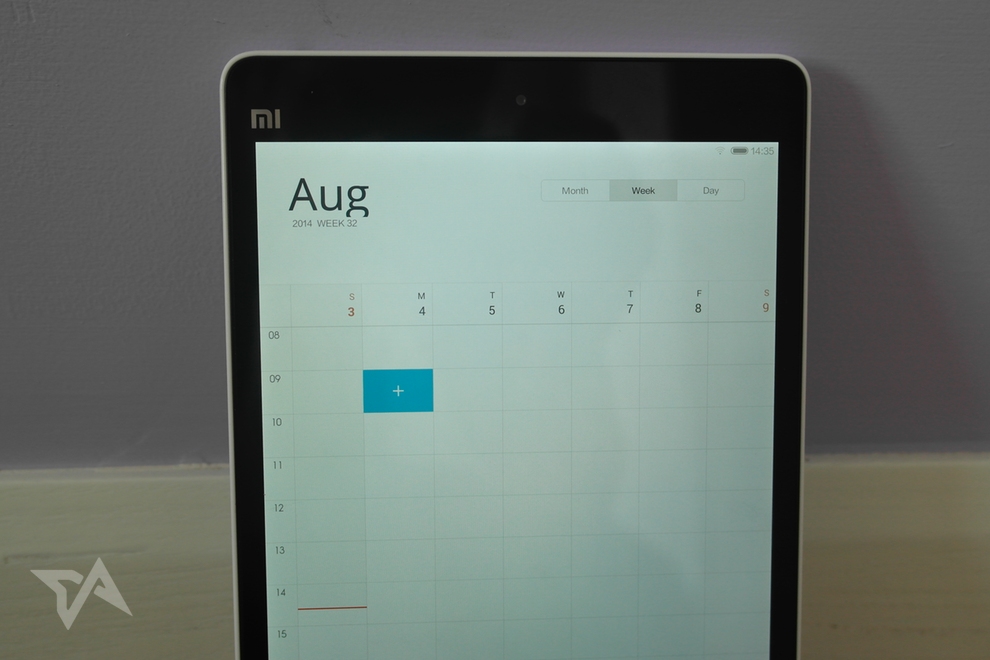 Most of Xiaomi's own apps have had a refresh for the larger screen, and that's visible in both portrait and landscape modes. Where relevant, like in the notes and email apps, columns of content appear.
What's so surprising in the MiPad's software? Those familiar with Xiaomi's phones will notice the absence of a Themes store – and therefore no themes at all – on the MiPad. Xiaomi has long sold the Xiaomi on its easy themeing – something that's now being copied by other phone brands. That could be a disappointing omission for some users. When questioned about this, Xiaomi international VP Hugo Barra explained, "The number of MIUI tablet users is not high at the moment, and therefore the potential number of users that will buy themes is limited. This is a key consideration for designers when they spend lots of time making themes for MIUI. That said, we are testing a theme store for [MIUI-based tablets] and may launch it in the future."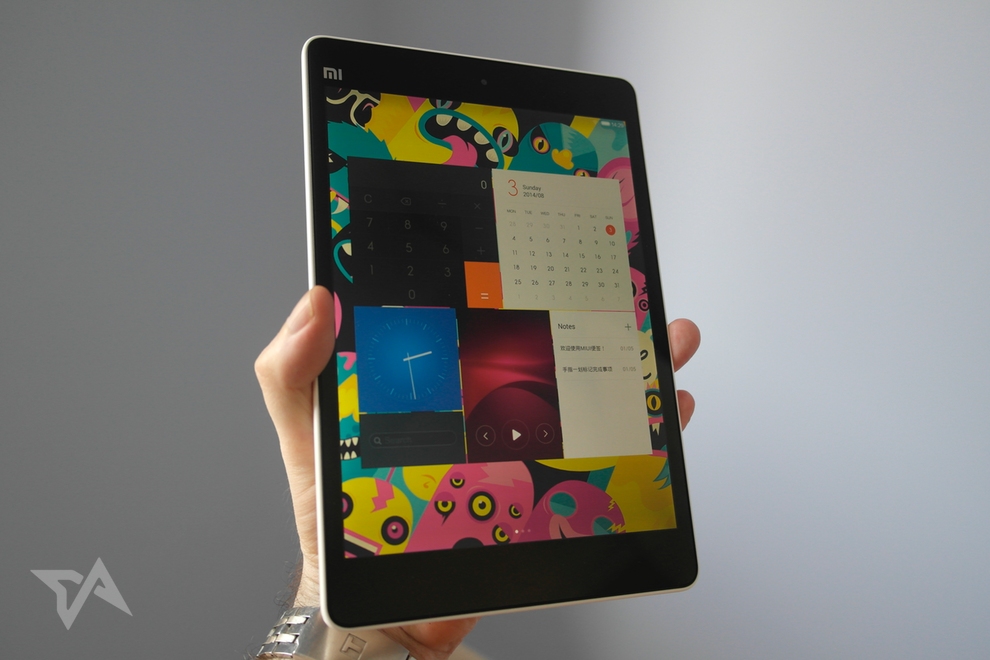 Another curious tweak – though not an omission – is the way the MiPad handles Android widgets. On most tablets, widgets can be added on any screen so that users can mix icons and widgets wherever they feel like it. The MiPad is trying something different, however. The MiPad only permits widgets on the left-most homescreen (pictured above). When you first buy and turn on the MiPad, it's filled up with some of Xiaomi's own widgets, but you can swap them out for your own. Actually, you can add extra widgets-only homescreens, but it's not very clear that you're permitted to do so.
That could lead to some confusion if you try to add a widget on another screen (one that's only for icons) and find – as I did – that there's no option to do so. All widgets – including third-party widgets from your preferred apps – must go onto a widgets-only screen. It's a bit counter-intuitive at first, but I actually liked this idea once I'd got the hang of it – and once I'd realized, quite by chance, that you can make more widgets-only homescreens. It leaves your other homescreens dedicated solely to app icons and folders, and that looks tidier. It makes the icon-only screens more reminiscent of iOS. The arrangement won me over in the end, but not without initial confusion. Here's the screen for adding widgets: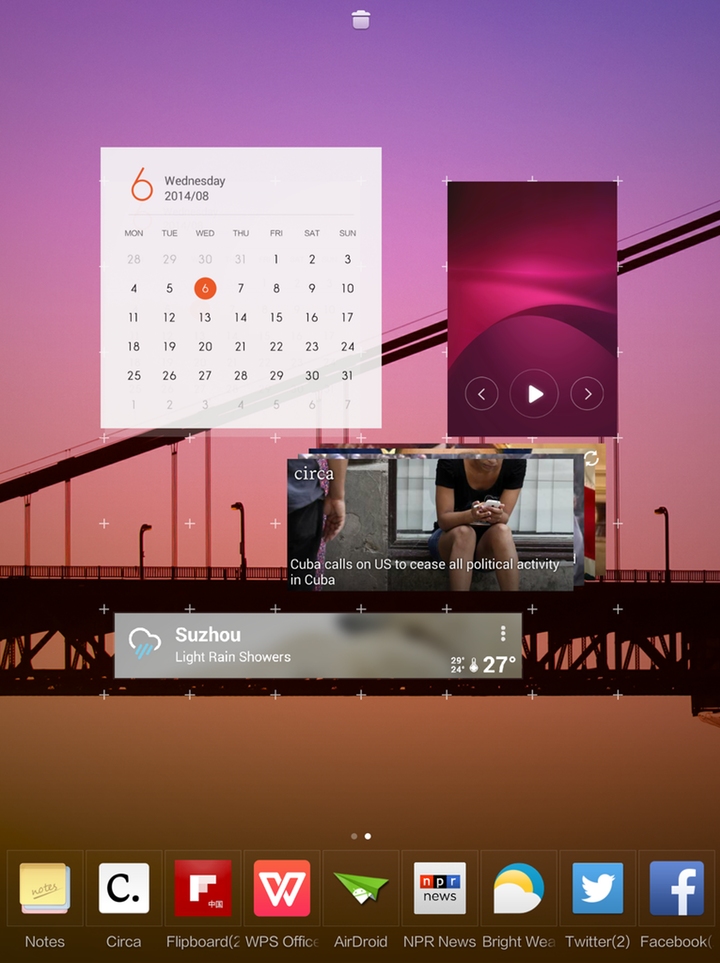 And then, voilà: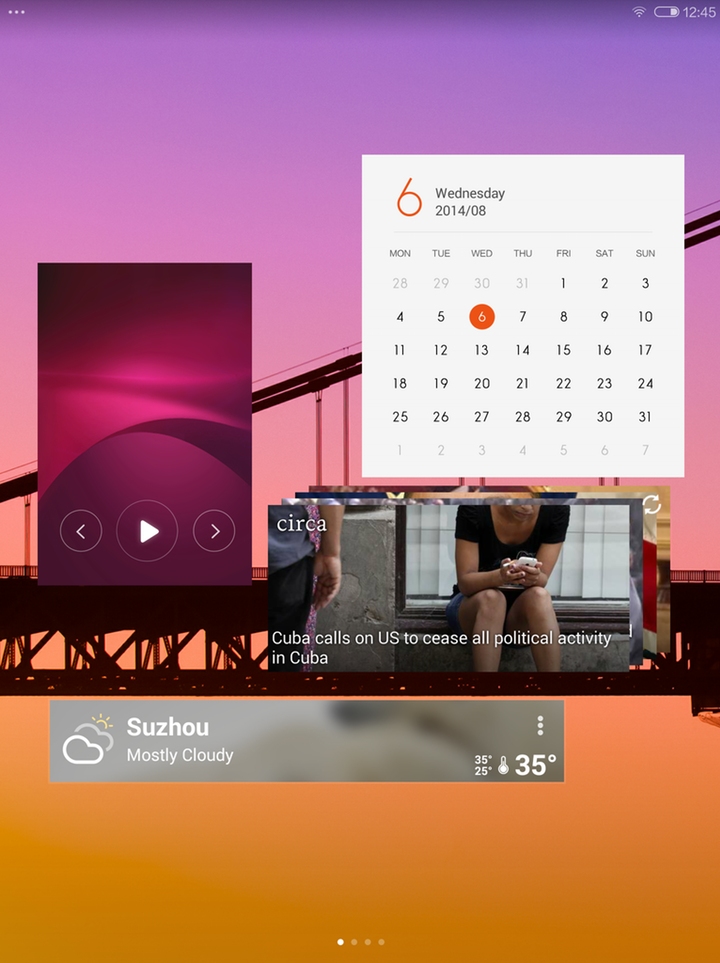 There's a reason why that was done, apparently. Barra explains to Tech in Asia:
On a tablet with stock Android, the dock will move to the right when you put the device in landscape mode. This makes sure that the usable space for widgets and icons keeps the same aspect ratio whether you are in portrait or landscape orientation. Because of that, widgets will look consistent in either modes. However, we feel that the dock should remain at the bottom of the screen whether you are in portrait or landscape mode. Because of that, the area on the screen changes when you go into landscape orientation on the Mi Pad, which could cause problems for widgets that can come in many different sizes. Because of that, a dedicated screen that does not have a dock will give a more consistent experience.
Indeed, all the widgets-only screens you create will have no dock at the bottom (pictured above in screenshot). So the dock – which can house up to six icons – only appears on icon-only screens.
Android purists might miss a number of Android 4.4 features in stock versions of the OS – such as what appears on the Nexus 7 – that fit in nicely with a tablet. For example, the MiPad has no lockscreen widgets. There are some other things missing too – like when I play audio from a third-party app, my Nexus 7 shows a media player on the lockscreen, which is really useful; but the MiPad, and MIUI in general, shows nothing. I also missed the multi-user support for tablets in stock Android. This is Xiaomi's first tablet, and it feels like the software needs to do a bit more to play up to the extra space available – and to the different way that people use tablets, such as sharing them amongst a household.
Here's my Nexus 7 side by side with the MiPad: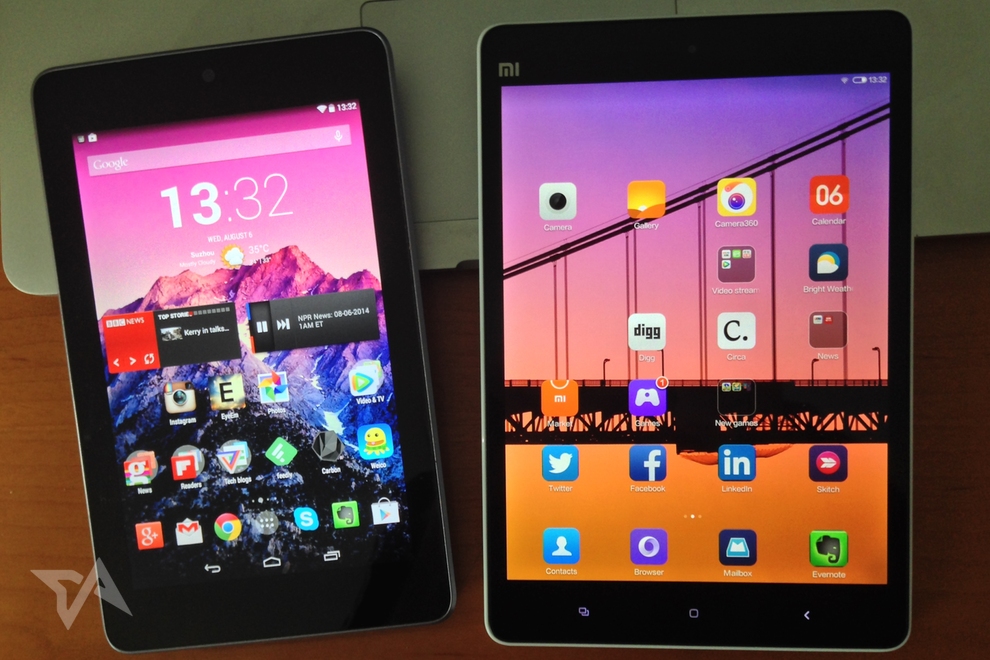 On the whole, MIUI's software is slick and quick on the MiPad, much like it is on Xiaomi's phones. I prefer the look of it to most other Android skins – especially Samsung's clunky TouchWiz – but I'd still vote for something closer to stock Android if it's me forking out the cash for a new gadget.
Actually, scratch that. If I'm going out right now and buying a new tablet, it'd be one of the iPads. The Android tablet app situation is still bad. In contrast, developers love the iPad and have created far more apps that adapt to the extra space; on Android, you'll mostly just be seeing blown-up phone apps. However, as I mentioned at the top, this is a price-sensitive market, so not all consumers will be thinking the same way.
Looking to the near future, Android fans might want to wait for the next line of Nexus tablets that will almost certainly come with Android 5.0. But for people who don't hanker after stock Android, the MiPad and its MIUI engine have oodles of appeal up against their (pricier) rivals.
Camera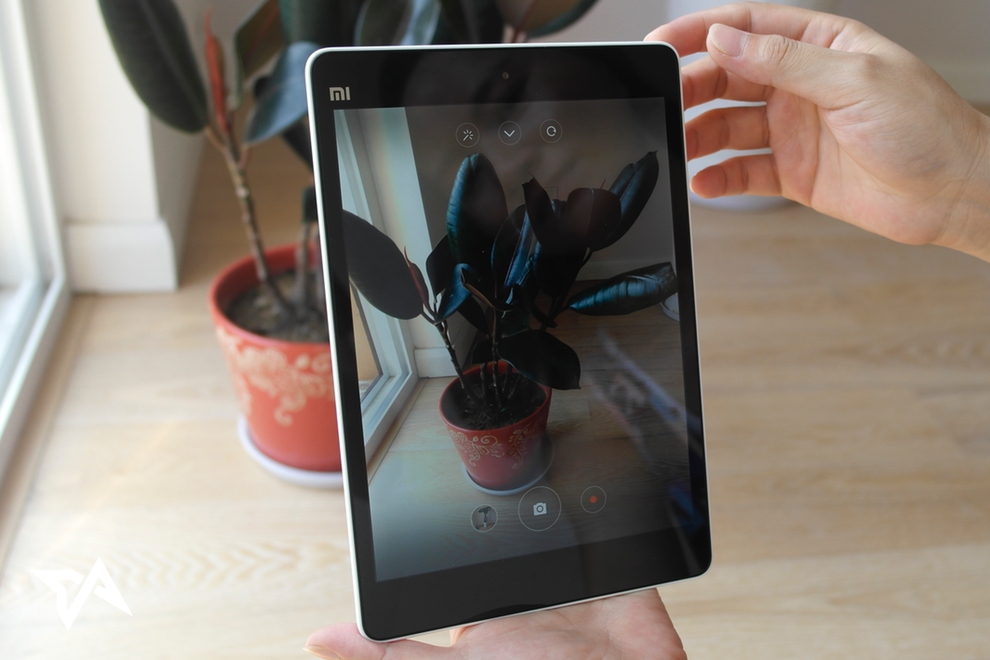 The camera software and UI is quick and minimal, offering options for shooting images, videos, applying one of over a dozen filters, and a skin softener. Yes, a skin softener. Hugely popular apps like Camera360 and Meitu have shown that women in China – and men taking photographs of their female partners – need to be in possession of some digital derma sorcery.
The camera itself, which packs 8MP, is crisp and serviceable, but the images lack a degree of feeling and true color compared to those from my iPhone 5c – perhaps mainly due to the MiPad having no setting comparable to Apple's excellent and very subtle HDR. Here are some sample (totally unedited) photos I snapped with the MiPad (click to enlarge):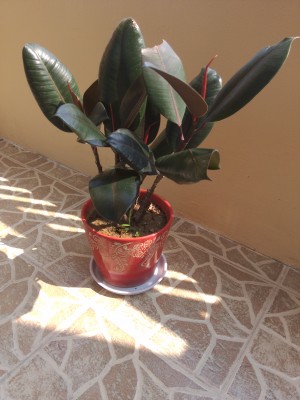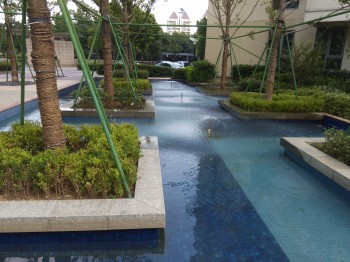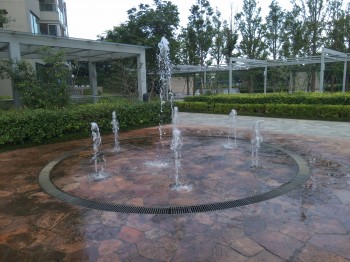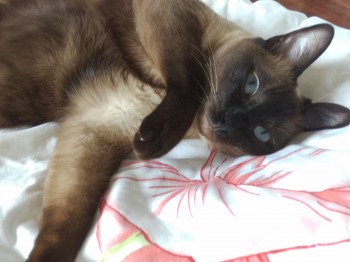 I'm not really convinced that tablets even need cameras, but most manufacturers seem adamant that they need them so as not to lose out in the mobile arms race. Xiaomi's pair of cameras are especially strong compared to their rivals at similar prices. The MiPad packs 8MP and 5MP while the almost identically-priced Nexus 7 offers only 5MP and 1.2MP. The Samsung Galaxy Tab 4 8.0 is lacking too, with only 3MP and 1.3MP shooters built in.
See: OnePlus One is China's coolest smartphone… for now – REVIEW
Performance and battery life
The 6700mAh battery inside the MiPad also beats its two budget rivals from Samsung and Asus/Google. While the sizable battery seems to add a bit of weight to the MiPad, it also extends the usage time. Despite the 1080p HD screen, the MiPad was good for about seven solid hours of online video streaming with one app open, wifi on (of course), and the screen set to about 75 percent brightness. You could get even longer from it watching downloaded movies (offline).
In less intensive usage for reading the news, listening to occasional online radio, and checking personal mails and social media – as I work from home and do work-related stuff on my main laptop – the MiPad lasted two days in that kind of ad-hoc scenario where the screen wasn't always on.
Rivals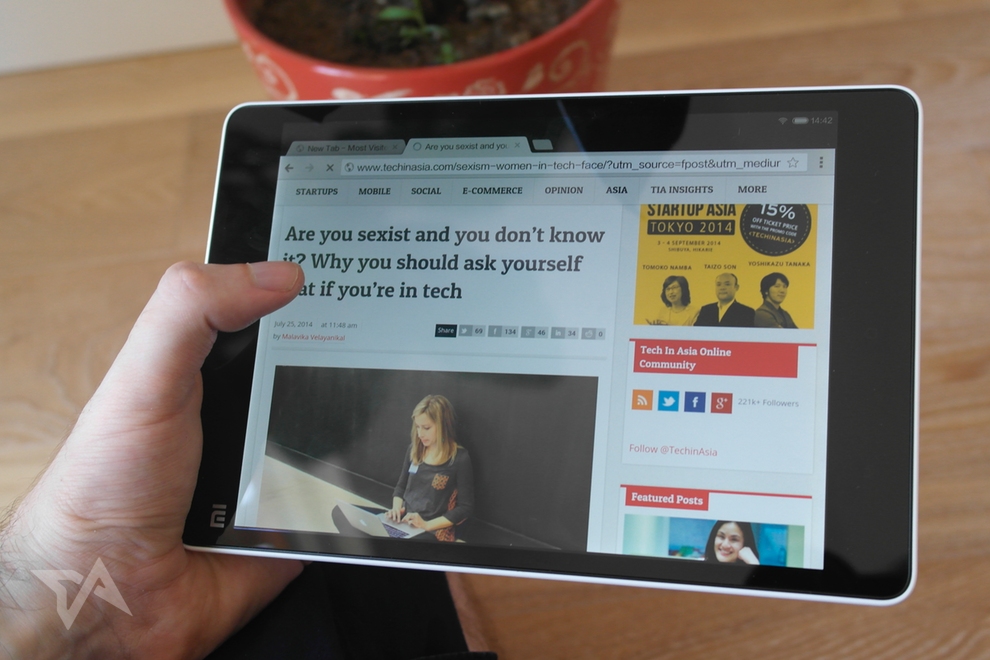 As I've said a few times in this review, the MiPad's slim price-tag sweetens the deal a lot – especially as there aren't really any glaring downsides to the new gadget. Able to compete on specs, it's inevitable that its price – RMB 1,499 (US$243) – will factor in for a number of people.
The Samsung Galaxy Tab S, the closest to the MiPad in specs, (see its review on Engadget) is priced at US$399.99. If you trade down to the smaller Samsung Galaxy Tab 4 (with its 8-inch screen), the price goes down at the expense of a lot of specifications – especially its very average 1280 x 800 pixels resolution. The Galaxy Tab 4 is now reduced to US$239, which is level with the MiPad.
Over at Apple, the newest iPad Mini with a retina display is priced at US$399 for the wifi-only 16GB model. The strongest value-add for consumers in getting the iPad is the far superior tablet app line-up available on iOS.
Conclusion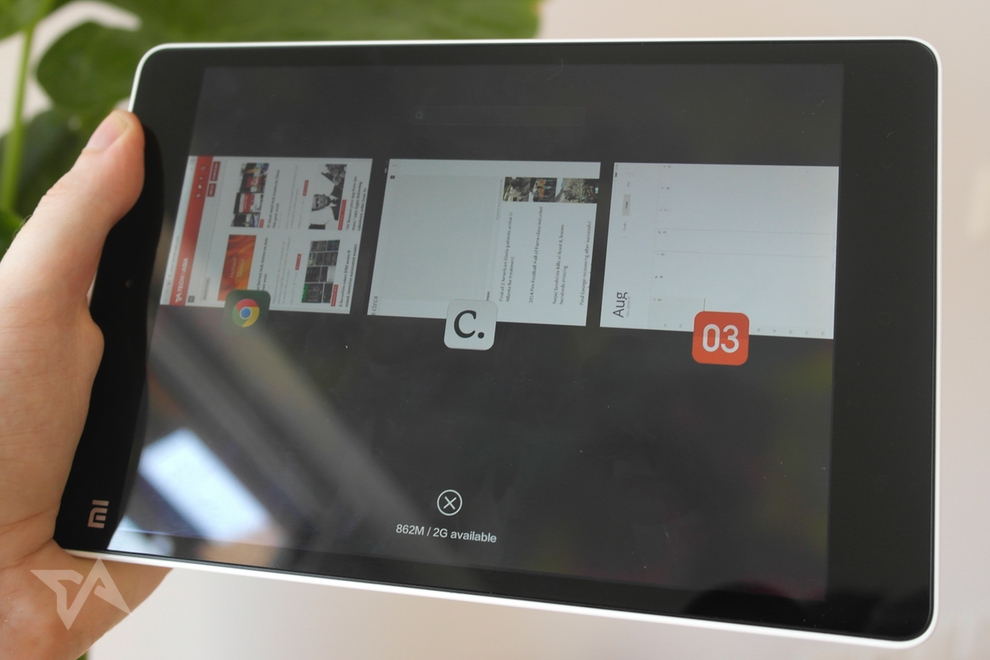 Ultimately, the MiPad is a real charmer – not just because of its price, but because it delivers the goods with no significant compromises to its small price-tag. There are no disasters, no slip-ups. A big bang for few bucks is Xiaomi's Tao Te Ching.
For Chinese consumers, the MiPad is clearly the best tablet they can buy for that money. That's also pretty much the case for overseas geeks looking for a new tablet, but it's hard to be definitive on that yet before Xiaomi confirms any plans to launch the MiPad outside China. Barra promises they're working on it.
Once the MiPad hits new markets, it'll need a few more things to keep it tempting – options for 3G or 4G, especially, as well as support for Google services. The current MiPad, made for mainland China, has no Google apps.
The MiPad is a very convincing first big-screen effort from Xiaomi. The slippy plastic rear was the only thing I disliked about it. Some software updates to make better use of all that screen space and the lockscreen would be welcome, but there's not much else of substance to critique in this little cutie.
MiPad pros
Great price
Very nice 1080p screen
Strong specs
No major sacrifices for the low price
MIUI is attractive and slick
Strong cameras
Decent build quality
MiPad cons
Plastic rear doesn't feel good to hold
No 3G or 4G option
Missing some software features compared to stock Android
Lockscreen feels like wasted space compared to iOS and many other Android skins
I've got the MiPad for the rest of the week, so I'm happy to answers your questions in the comments section.
See: Xiaomi Power Bank proves popular as phone users seek a cheap battery boost