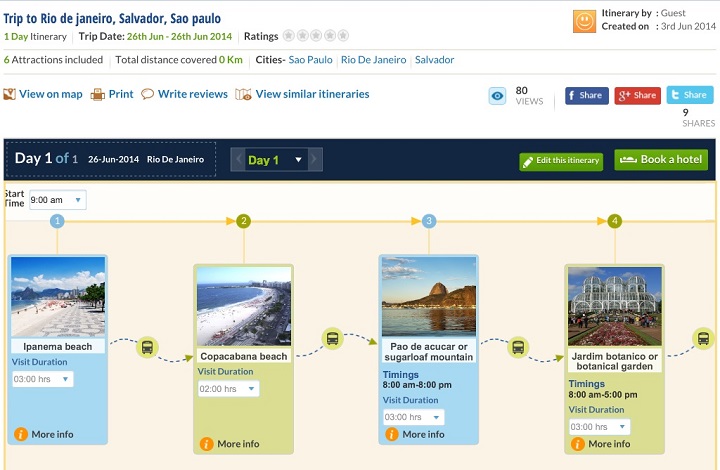 Indian travel startup TripHobo has secured series A funding of over US$1 million from Kalaari Capital. The two-year-old portal lets travelers share itineraries and plan their tours better.
TripHobo currently has more than 25,500 curated and verified itineraries written by travelers, covering about 10,000 tourist hotspots in 170 cities around the globe. The portal lets you pick a user-generated itinerary and edit it to make it your own.
Imagine being in Brazil for the World Cup. You want to take in the sights without missing a minute of soccer. TripHobo lets you see at once how to do that. The free day before this Friday's quarter-finals, for instance, could be ideal for a trip around Rio. One itinerary goes like this: the Ipanema and Copacabana beaches in the morning, lunch at a local eatery, cable car rides on Sugarloaf mountain for a bird's eye-view of the city, a stroll in the Jardim botanical garden, and the Tijuca forest in the late evening after dining out in one of the French restaurants at the Arcos De Lapa aqueduct nearby. All in a single day's tour.
One of TripHobo's strengths is an algorithm called 'Trip Optimizer.' For example, if you go to Paris for a short holiday, you would want to minimize the time spent commuting between your hotel and places on your itinerary. The TripHobo algorithm lets you optimize your trip using a number of parameters, including distance from hotel, opening and closing times of places to visit, etc.
""It's also a self-learning algorithm. That is, it can keep learning from fresh data without being explicitly re-programmed. This was created in-house from scratch and makes trip planning with TripHobo a lot of fun," says co-founder Karthik Ramachandra.
See: Big data and machine learning liven up the Indian online travel space
With the fresh infusion of funds, which could go up to US$3.5 million, travelers can expect more itineraries and other resources on TripHobo.com to plan their trips to the last detail, Ramachandra tells Tech in Asia.
Besides creating itineraries, finding interesting places, and booking suitable hotels, the portal also lets you network with other travelers worldwide to share experiences.
Vani Kola, managing director of Kalaari Capital, and Sumit Jain, principal of the fund, will be joining the board of TripHobo now.
Three travel buffs cum marketing MBAs – Praveen Kumar from IIM Lucknow, Karthik Ramachandra from IIM Indore, and Saket Newaskar from MDI, Gurgaon – started TripHobo in 2012 to solve the lack of credible travel planning resources, a problem they had themselves faced frequently.  Being techies, they are hooked on data and used that know-how to figure out solutions to make their trips as efficient as possible.
Ramachandra recalls an 18-day bike trip in the rugged Himalayan region of Leh when all of them used to work at HCL Technologies. They had plotted every point of the journey meticulously on Excel sheets – a precursor of their Optimizer on TripHobo today. Ramachandra, who is married now, is planning to return to Leh with his wife soon, and is very excited about 'optimizing' it.
Tech in Asia first wrote about TripHobo in September, 2013, – except that the startup went by the name JoGuru. The rebranding to TripHobo came from their increasingly global footprint.
"Currently, our user base is growing at 600 percent. With the fresh funds, we will push further. Our aim is to get a million itineraries and cover 3,000 cities within a year," Ramachandra says.
The Pune-based startup is among the top 30 global companies picked to attend the PhoCusWright travel innovation summit to be held in Los Angeles later this year.
The opportunity for TripHobo is huge. The travel activity booking market is approximately US$100 billion in size, with a growth rate of 9 percent. New startups like 36hrs.in, founded by two graduates from IIT Delhi and Harvard University, have also come up in the travel planning space. This Delhi and Boston-based startup, funded and backed by Startup Chile acceleration program, helps travellers create itineraries, look up recommendations, and discover spots in the cities around the world.
A survey by Red Rocket Media revealed interesting insights into this market:
42 percent of shared content on Facebook is travel
55 percent are influenced by online searches
63 percent are influenced by others' testimonials