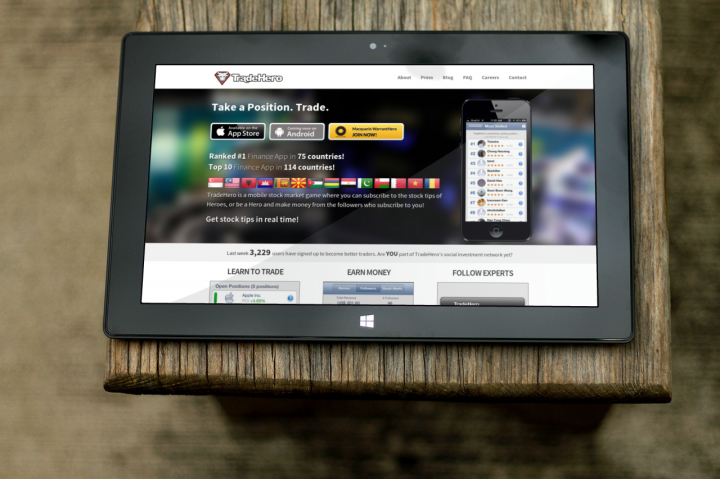 Singapore-based startup TradeHero today announced it has raised $10 million funding from Kleiner Perkins Caufield Byers China fund (KPCB China) and IPV Capital. This latest round marks one of Singapore's largest series A fundings and follows up the earlier S$600,000 ($478,000) round closed with The Network Fund (TNF) Ventures.
For those unfamiliar with TradeHero, it is a mobile app that allows users to trade virtual money based on real-world stock market data. It facilitates transfer of knowledge from veterans to amateurs on its platform, with its value based on the idea that knowledge and information exchanged are key to ROI on the real stock market. People will pay for good information, especially from those who have been delivering outstanding results.
So how is the startup doing since the last we spoke? According to TradeHero, it currently has 250,000 users across over 200 countries, up from the 50,000 users transacting over $5 billion worth of virtual currency back in March. Of 250,000 users, about 75 percent are active accounts with 13,000 to 15,000 daily log-ins. Top markets within the Asian region include Thailand, Singapore, India, and Vietnam. It has also teamed up with Singapore's Macquarie Group to promote warrants trading and is in talks with other international financial institutions to find ways to help them tap into TradeHero's reach.
With the new capital, CEO Dinesh Bhatia says it has plans to scale up the user base, technology, reach, and cross-platform collaborations to meet the overwhelming demand. This includes hiring more developers to help improve the user experience of the application, while keeping user acquisition through marketing and manpower as top priorities. Expansion plans currently include China, Europe, and the United States:
Half of China's 170 million brokerage accounts today are online, and TradeHero's focus on stock tips makes it highly relevant for Asian investors. We are energized and excited by the potential to address these growing markets.
It also looks to launch its Android app, on top of localization efforts. So for folks who would like to give the app a go, you can visit its site here, and congratulations to Dinesh and his team!
(Editing by Charlie Custer)