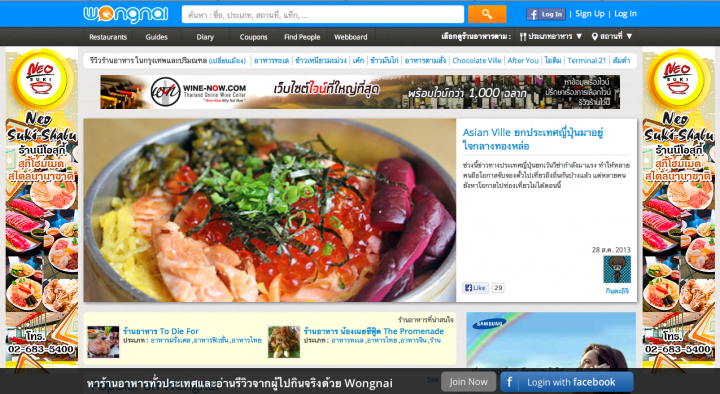 Back in May, we reported that Wongnai, a Thailand-based restaurant review startup, received a Series A financing round from Japan's Recruit Strategic Partners (RSP), a subsidiary of Recruit Holding in Japan, although the amount was undisclosed.
Recently, Tech in Asia sat down with Wongnai CEO and co-founder Yod Chinsupakul and talked about how he has spent and plans to spend the investment. Yod commented:
We want to added more staffs. We currently have about 16 people in the team and plan to hire up to 23 by the end of this year. We've just also opened Wongnai Chiang Mai office. There are four people there at the beginning who mainly work on sales and marketing.
Besides Chiangmai, Wongnai is also looking for more locations. It's considering Khonkae, Phuket, and Pattaya. But it wants to wait to see how Chiangmai goes first before expanding more.
So far, so good
Last time we talked to Yod, Wongmai boasted more than 500,000 downloads on the iTunes App Store and a database of 110,000 restaurants in Thailand. Three months passed, and it now has 700,000 members with around a 20 to 30 percent rate of active users per month. Now 120,000 restaurants are in the database.Yod expects Wongnai to reach 1 million users by the end of the year. He explained:
We collect stats on when users sign up. It shows that during festive times such as holidays, weekends, New Year, etc., more people sign up.
When asked about adding more revenue on the ad side, Yod commented:
Some of the restaurant owners are still into traditional media, so spending in this side is not their interest. It's also not our goal to make money from them since our business model doesn't support that many partners anyway. So we want to expand the foundation. The main goal now is to expand users and reviews.
Other types of partners
Thai Telco AIS offers AIS Guide and Go, an offline naviation app for AIS subscribers. It shows AIS customer loyalty perks nearby, current traffic, friends' check-ins, etc. The new version, with Wongnai partnership, allows users to see restaurant reviews from Wongnai, which, in return, also uses the AIS Guide and Go to lead users to the restaurant location. They just extended the partnership contract to February of next year.
Besides AIS, Wongnai also works with Samsung Thailand. Wongnai created a white label app for Samsung. The Galaxy Eat Out app is preloaded onto each Galaxy S4 sold in Thailand and uses Wongnai's database.
Gamification
Wongnai added some gamification functions to the platform. Users collect coins for reviews, for which they can be rewarded with gift cards in real life.
In the future, users will also be able to add emotions to each of the comments on a restaurant review. Users can say "jealous you're there," "the review is funny," "writer is cute," etc.
Competitors
Wongnai is not the only restaurant review app available in Thailand: EDT guide, Zodio, and Openrice for example. But Yod is not too concerned. He believes that each has its own selling points.
When Tech in Asia asked about the global competitor, the name that popped up was inevitably Yelp. Yod explained:
Yelp in Singapore doesn't seem to work. So if it comes to Thailand, Yelp will have to talk to us. Not just walk in. We have our ground and barrier of entry – more than 100,000 reviews. How many years would yelp be able to build that? They might have to spend 200 million to beat Wongnai. Wouldn't it be smarter to use that money to buy Wongnai? Plus, they are not local, so they will need local knowledge. There are many barriers of entry that others from outside will be hard to beat. That's why we're not too worried.
Wongnai's future?
Yod mentioned the company is being pressured to make an English version of Wongnai. But he believes having all the reviews in Thai is the selling point. If the company actually adds English, all the advertising and marketing have to be in two languages, too. That's not something he's considering right now. The company says foreigners can go to Tripadvisor or Restaurant of Bangkok for that. Yod also added:
I don't understand expats as much as expats understand themselves. We don't pretend that we understand them. We have a strong selling point.
Now the company is evaluating whether it wants to enter other business that isn't food – beauty, for example. Reviews can be done with many local businesses. The company's name is not even food-related (Wongnai in Thai means an insider).
Wongnai confirmed this round of funding can last another year. The relationship with investors is a long-term one. Wongnai already spoke to Recruit Strategic Partners (RSP) about when the next round of funding will come.
(Editing by Paul Bischoff)