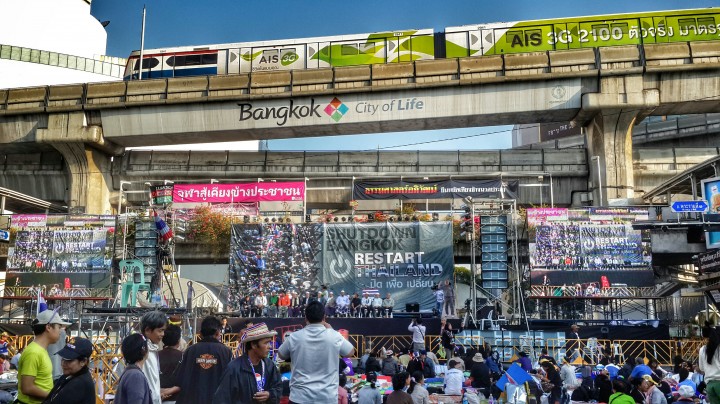 Thailand has been in the world's spotlight for the past few months due to the ongoing political unrest. But apart from a boost in online shopping during Bangkok's shutdown, the political stalemate hasn't affected the nation's tech industry that much. Until now.
Some anti-government protesters are now calling on the people of Thailand to boycott any companies linked to the leader's family. Yingluck Shinawatra, the embattled current Prime Minister, is the sister of Thaksin Shinawatra, the exiled former Thai PM and billionaire business tycoon who has long been dogged by allegations of massive corruption. Thaksin Shinawatra is the founder of AIS (BKK:ADVANC), one of Thailand's three main telcos – and so protesters want people to boycott AIS and take their mobile subscriptions elsewhere.
Last Friday, AIS tried to stave off a boycott by sending out SMS messages, buying newspaper ads, and getting the CEO to make a public annoucement claiming that the Shinawatra family has already sold its share of AIS to Temasek, but that isn't stopping some people from canceling their AIS accounts.
According to Thailand's National Broadcasting and Telecommunications Commission (NBTC), an unusually large number of people ditched AIS late last week. Usually the NBTC sees about 700 people switching telcos each week, but the agency said that 1,400 people dumped AIS last Friday – that's double the usual number. 70 percent of those subscribers switched to Dtac, while the other 30 percent moved to True Move H.
The NBTC hasn't released any numbers from the past weekend, so it's not clear if Friday's boycott call has gained any traction over Saturday and Sunday. However, local news media claim that there are queues at AIS stores made up of people wanting to cancel their AIS subscriptions.
Why are so many more switchers opting for Dtac over True Move H? That's because there's speculation that True Move H's affiliate companies are somehow connected to the Shinawatra family.
Since there are only three main telcos in Thailand – AIS, True Move H, and Dtac – the ongoing protests could benefit Telenor-owned Dtac. The numbers switching are small right now, but Dtac isn't going to let the opportunity pass, and has been promoting a marketing campaign to get more people to join the telco.
(Editing by Steven Millward)