Started with just three areas in late 2011, Tencent's (HKG:0700) street view imagery is now the most comprehensive in China. In a country where Google has not been permitted to roll out its iconic Street View cars, Tencent has filled the void, rolling out camera cars and sending guys with panoramic cameras to cover dozens of cities from all possible angles.
The result is that right now, after years of work and hundreds of thousands of miles of driving around individual streets in every major city in the country, Tencent Maps – which used to be called Soso Maps before a recent rebrand – now covers all of this: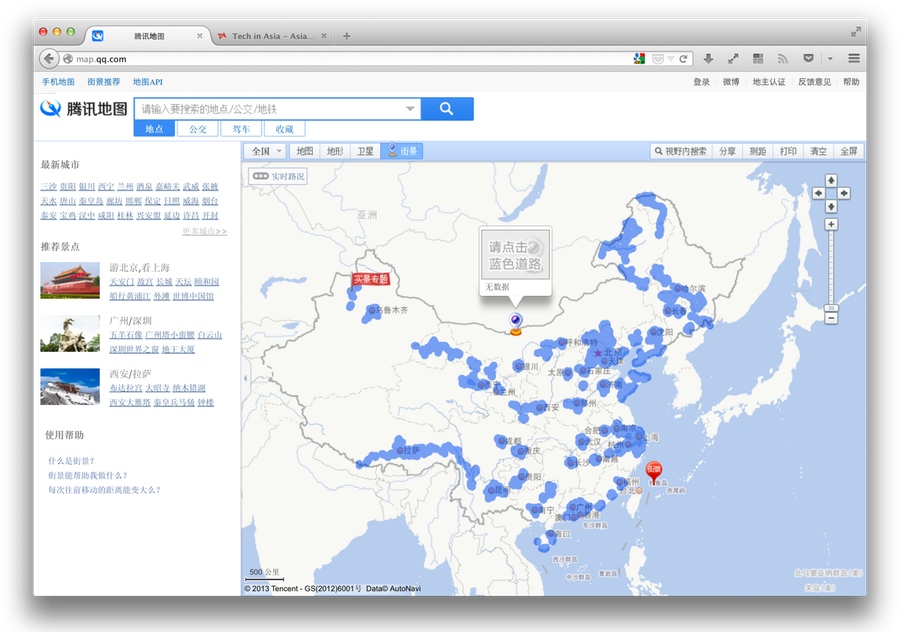 It includes not only street-level views, as seen here in Shanghai…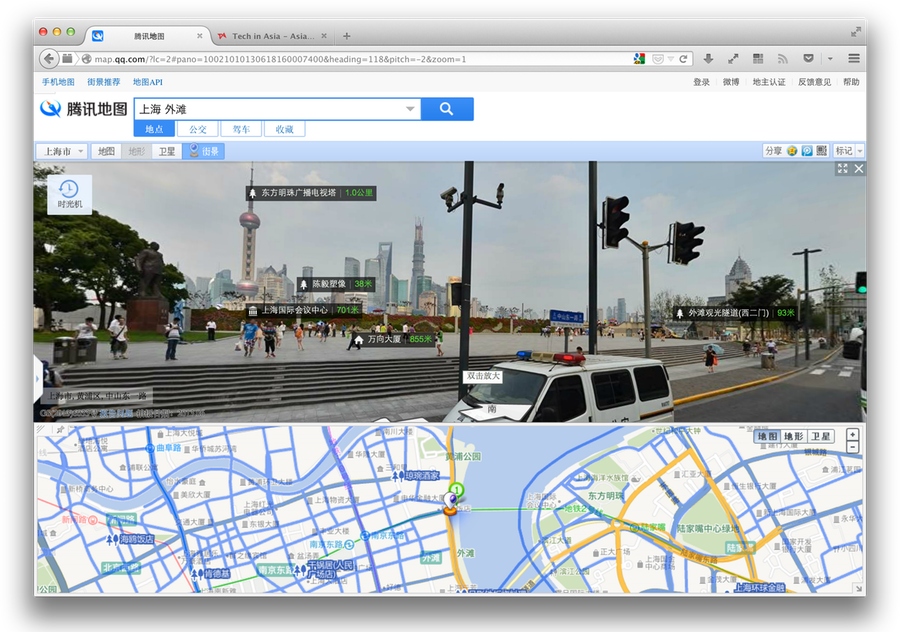 …but also vistas from landmarks, looking across the horizon. In some areas, like in Beijing's 798 Art District, Tencent's cameramen have done some window shopping: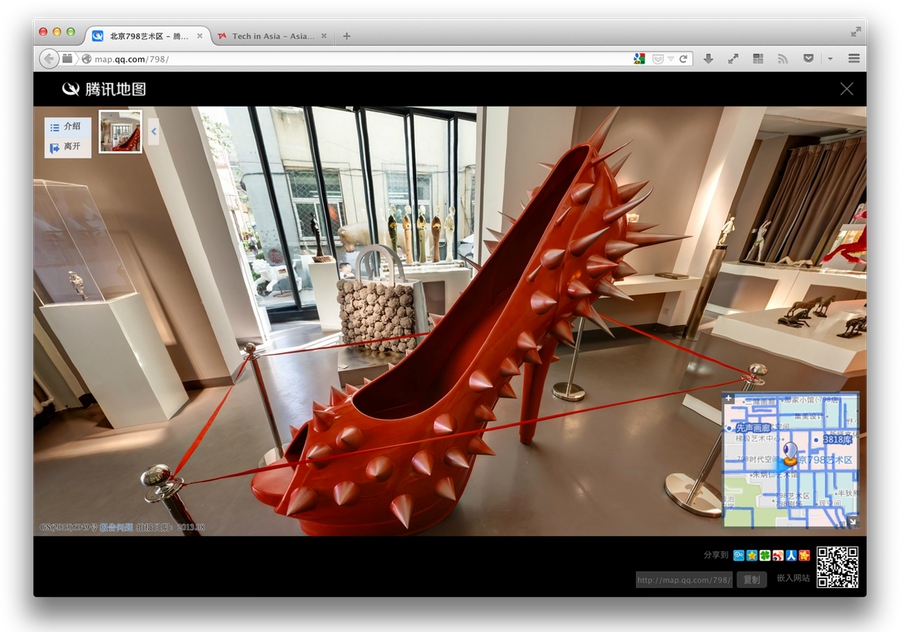 While some of the off-the-beaten-path images on Tencent Maps are actually static panoramas, other more quirky routes offer full coverage for mile after mile, as seen on the Li river in Guangxi province where you can cruise on a boat amidst the famous karst peaks that don't look like any other hill or mountain range you've ever seen before: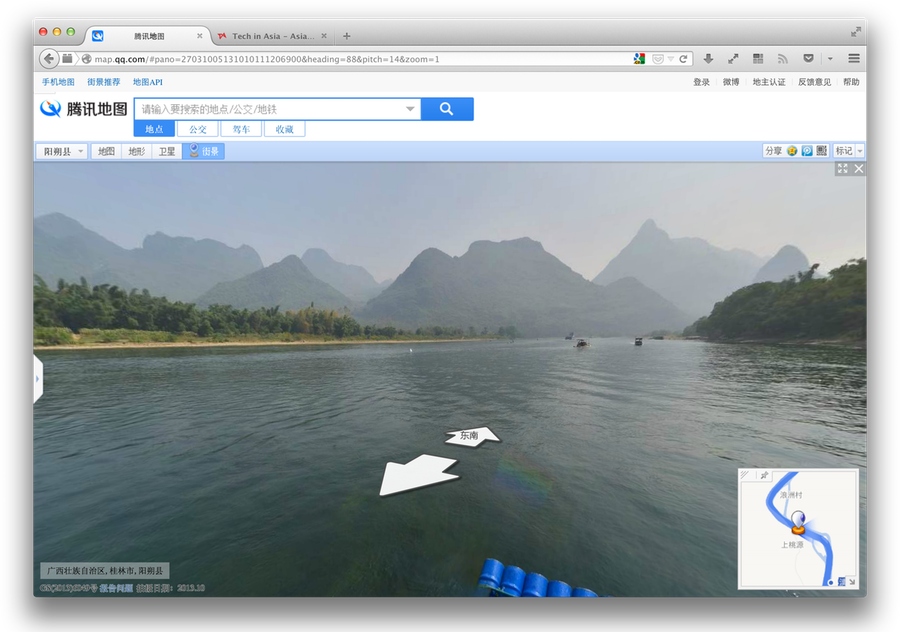 Rolling out
Tencent has been using Volkswagen Polo (correction: not Golf!) models as its camera cars. While the web giant has skimped on its wheels, they've spared no expense with the camera and all the other digital kit. According to one Tencent mapper interviewed by Chinese tech blog iFanr last week (which also took the photos below), the kit costs as much as an entry-level Audi A8 – which is to say it costs north of $80,000.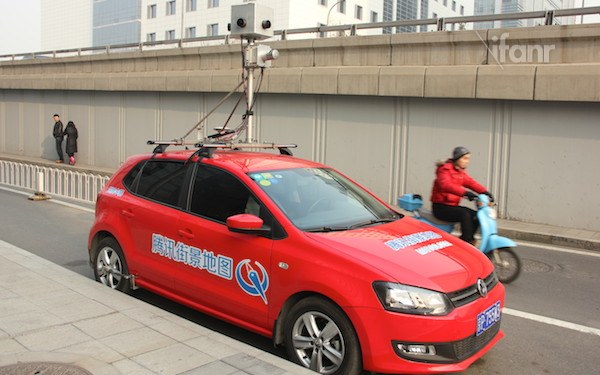 Where needed, Tencent Maps has also ventured on foot: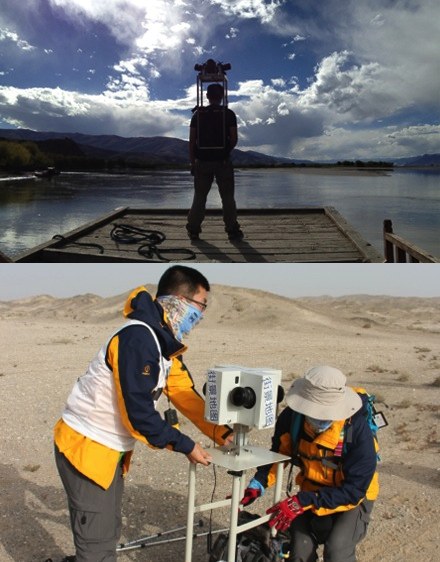 This massive photo-mapping effort could also pay off for Tencent in the world of social media and e-commerce. Tencent's WeChat, its hugely popular messaging app, makes use of Tencent Maps' street view feature when you follow a brand account inside WeChat and look up its nearest retail location. It gives a nice view of the store-front, helping you to track it down. That will become even more useful as WeChat expands further into e-commerce to the point that it becomes, as I believe it will, a socially-equipped mobile wallet app.
China's biggest search engine, Baidu (NASDAQ:BIDU), decided to start doing street view imagery in the summer of 2013, and so far it has managed to bring its urban panoramas to the web from only a few minor cities. Baidu Maps is ahead of Tencent Maps in the mapping market in China, but Tencent seems to think that racing ahead with its camera cars will win over new users.
(Editing by Paul Bischoff)