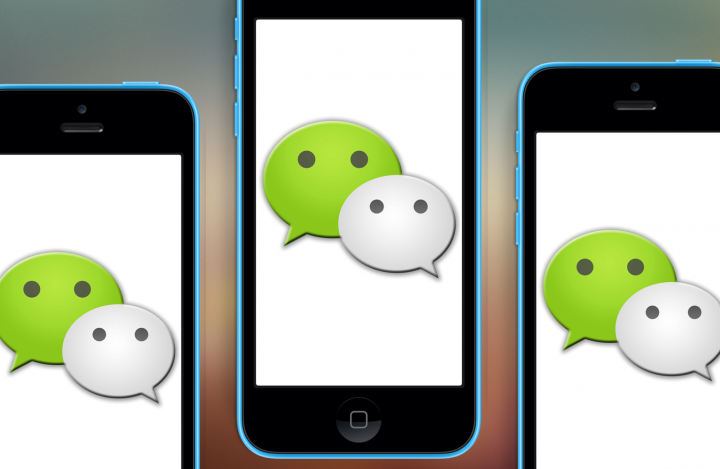 China's WeChat messenger (or Weixin, as it's known domestically) comes packed with more tools than a Swiss army knife, and it's just introduced a new feature that will heighten its dominance over the country's mobile internet. According to 36kr, parent company Tencent recently began issuing WeChat-specific QR codes that let users download apps using a special QR code that links to both the App Store and Tencent's own app store.

Okay, so WeChat lets you download apps now – no big deal, right? Wrong.
Everyone already knows how QR codes have become one of WeChat's distinguishing features – the black-and-white checkerboards can be found on billboards and business cards all throughout China. Typically, scanning one of these WeChat-specific QR codes results in an instant follow for a specific user or public account (usually a brand or a blog). But if you scan a QR code specifically for a standalone app, you'll be directed to the App Store (if you own an iPhone) or one of many different Android app stores – maybe Tencent's app store, maybe Wandoujia's app store, maybe Baidu's app store.
There's one minor problem though – you might not have Wandoujia installed on your phone. So if that's where the QR code for Angry Birds directs you to, you'll first have to download Wandoujia before you can download Angry Birds. Now, keep in mind, you're doing this on your clunky shanzhai phone, on the subway, with a lousy internet connection. Easier to just not download Angry Birds than endure the boredom of these awful installations, right? Cancel, cancel, delete.
Not everyone in China uses the App Store or Wandoujia, but nearly everyone uses WeChat. As a result, Tencent is in a unique position to use WeChat as a means to direct users to its own app store. That's exactly what it's doing with these new WeChat-specific QR codes: if you own an iPhone, you can hover WeChat's internal scanner  over a WeChat QR code and you'll be directed to the App Store. If you own an Android device, you can scan the same WeChat QR code and you'll be directed to Tencent's app store. That's one download that Tencent just gained, and one that every other app store missed out on.
What do developers have to gain from WeChat QR codes? Again, almost everyone with a smartphone in China uses WeChat. If you're slapping QR codes on swag items for your latest marketing push, you'll no longer have to hope that your users own iPhones, or direct them to some random-ass Android app store. Just smack on a WeChat QR code and voila – download accomplished!
Wechat users get to have their fun too. The special QR codes can be sent to friends on the messaging app, and also posted on to ones Timeline-esque WeChat Moments feature. Once again, since these QR codes are platform agnostic, almost anyone can scan them successfully. As a result, WeChat QR codes have potential to "go viral."
He who owns the users shall own the channels
Already, developers are reporting huge increases in download numbers just days after Tencent began issuing the QR codes. According to tech site IT168, Chinese ecommerce site JD reported daily download rates increasing by over 90 percent after implementing them.
Meanwhile, while users, developers, businesses, and Tencent all benefit from the introduction and spread of WeChat QR codes for apps, every other Android app store in China ought to shudder in fear. Tencent has "owned the users" on smartphones for a long time with the help of WeChat, and it's now on its way to leveraging that power by "owning the channels."
Yesterday Tencent revealed that WeChat has over 355 million monthly active users, about 100 million fewer than WhatsApp. The company recently opened up its third-party payment software to businesses with official accounts on the app, which could pave the way for an m-commerce explosion later this year.
(Source: 36kr)