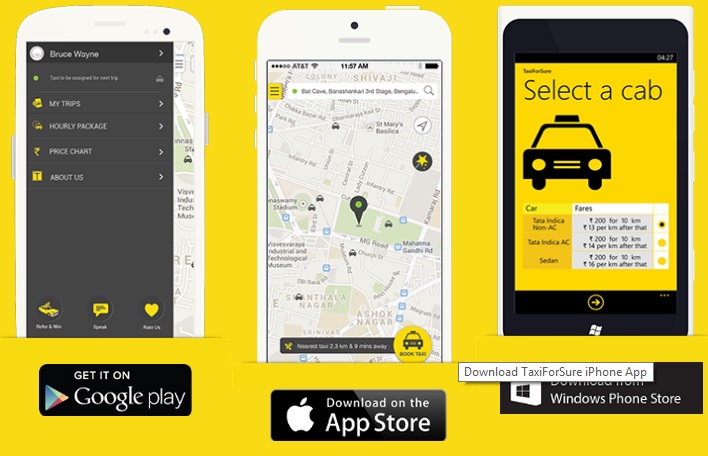 The battle of the cabs gets hotter in India. Just two months after securing US$10 million in series B funding, cab aggregator TaxiForSure has just landed an additional US$30 million. This fresh infusion of captial came largely from Accel Partners US, The Times of India reported today. Existing investors Accel India, Bessemer Venture Partners, and Helion Venture Partners also participated in this series C round of funding, for which exact figures are not known.
Just a month ago, its chief competitor Olacabs had raised US$41.8 million from Steadview Capital and Sequoia Capital, in addition to existing investors Tiger Global and Matrix Partners India. Both Olacabs and TaxiForSure, which received US$10 million two months back, have an aggregator model. That is, they partner with cab drivers or taxi operators, instead of owning fleets. This enables them to scale up rapidly.
The taxi segment is one of the hottest in India right now. There are a bunch of players like Meru Cabs, Savaari Car Rentals, and EasyCabs jostling for more action. Yet, the demand-supply gap is so huge that during peak hours, attempts to hail a cab are almost always futile. Even after a booking is confirmed, there's no guarantee that a cab will turn up. This is where Uber made a name for itself, and emerged as the rival to fear in just a year's time.
Its tech-based approach, which automatically detects a customer's location and sends the nearest available Uber cab, usually within minutes, has been a refreshing change. Uber is also competitively priced in India. Just two days ago, it dropped their fares by 25 percent in Bangalore, making Uber as cheap as auto-rickshaw fares. It also launched in four new Indian cities: Ahmedabad, Chandigarh, Jaipur, and Kolkata, taking its city count to 10.
TaxiForSure is currently in six cities: Bangalore, Delhi, Chennai, Hyderabad, Ahmedabad, and Baroda, while Olacabs is in 10 like Uber. With the fresh funds, the Bangalore-based startup is aiming to reach 30 cities by March 2015.
Source: The Times of India
See: Battle of the cabs: Olacabs drives into India's industrial hub Ahmedabad, days after TaxiForSure