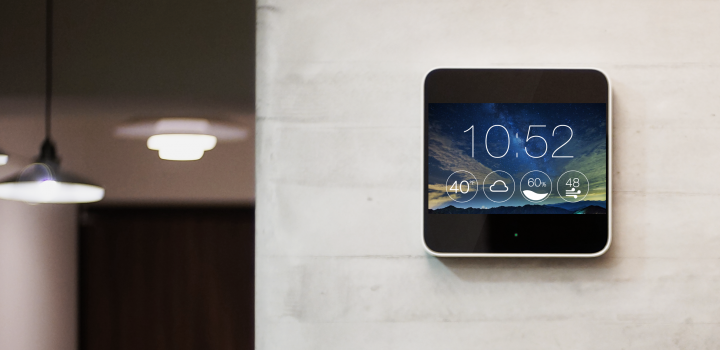 Now that our cellular phones have effectively turned into internet-connected, touchscreen-enabled "smart" devices, many consumers expect the next crop of dumb gadgets to become smart gadgets lie not in our hands, but in our houses. Garage startups and big-name corporations alike are attempting to transform plain Jane thermostats, light bulbs, and smoke detectors into tools that connect to apps and provide us data. While these gadgets have yet to become commonplace, investors and entrepreneurs are bullish on their potential after Google's US$3.2 billion purchase of Nest.
One startup that's entering this emerging industry is Kronosight, a Taipei-based team that's currently raising funds on Kickstarter for a product it calls Sentri.
Sentri is a plate-sized  slab that uses geofencing technology to learn when its owners come in and out of the house. For security, the device comes equipped with an HD video camera and motion detector. Whenever the motion detector notices irregular movement, it sends a notification to the owner's iPhone. In addition, the device comes with sensors that can record air temperature, humidity, and lighting. Like the security feature, users receive notifications whenever Sentri detects irregularities in these measurements. While Sentri itself isn't a smart light bulb or a smoke detector, it aims to utilize the open SDKs that makers of these products provide, thereby letting users control their Nest thermostats or Hue lightbulbs from inside Sentri's mobile app. Kronosight intends to sell Sentri for about US$350.
Kronosight launched the Kickstarter campaign for Sentri about a week ago and surpassed its target of US$200,000 in just two days. Of course, despite the successful fundraising, Sentri still has a ways to go before it sees the light of day. The team intends to ship the product's first version in April 2015. For such a fledging industry, there's no telling what the already-crowded market for internet-enabled smoke detectors and alarms will look like in a year's time – will every home be locked in some Nest-Google walled garden? Moreover, since there's no guarantee that any household will buy even one smart home device, let alone numerous ones, Sentri might have a tough time earning its place as a hub for every thermostat and motion sensor.
Sentri marks Kronosight founder Yen Tung's first foray into entrepreneurship, but the 28-year-old Taipei native boasts an impressive resume. After obtaining a master's degree at Columbia University in 2009, Tung returned home and got a job working for HTC. As one of the leading developers for an early version of Sense, the company's flagship Android user interface, Tung underwent a crash course in the software side of hardware. But as he grew impatient with the company's stodgy bureaucracy, the startup bug started to itch.
HTC treated me pretty nice. My salary was way above the salary of an average Taiwanese person. But HTC was a huge company and I only played a small part in it. I was in charge of a five to seven person team, and those were the only people I saw. I wanted to meet more people and share my ideas, but this is hard to do at a big company. At HTC, often managers would give me assignments and I could finish them in two weeks. But even after I finished my assignment, people had to do all sorts of tests. It would take six months to complete testing for a product that I built in two weeks. That's not really my style. I like implementing.
Tung left HTC in November 2013 with the intent to found his own startup. After spending a few months brainstorming, he decided to dive into the emerging "smart home" space.
In 2007 we saw mobile phones dominate the market. In 2010 it was tablets. Now the paradigm shift is occurring in the internet of things. What we mean by "internet of things" is connecting every electronic device to the internet. We can categorize these devices into two groupd. One is wearables, like Pebble and Fuelband. The next category will be smart home devices. When we saw Nest got sold for US$3.2 billion to Google, we became interested in this space.
Tung recruited Hunter Luo, Rical Hsieh, and Ray Hsieh, formerly of Asus, Acer, and HTC, to help design the Sentri prototype. The team knows that it faces stiff competition, but Tung hopes that its geographic location will prevent it from hitting roadbumps that US-based hardware startups often face.
We think our opportunity is that we know people. We have a long relationships with all of the ODMs and OEMs in Taiwan. It's kind of hard to prototype in america. I met the hardware directors at Pebble, and they were telling me that at the beginning of 2012, they began to crowdfund. Their funding goal was just US$100,000, but eventually they reached US$10 million. But the first problem they ran into was they didn't know how to make Pebble. There's no factory in the US that's capable of making Pebble.
Sentri's Kickstarter campaign officially ends on July 11.