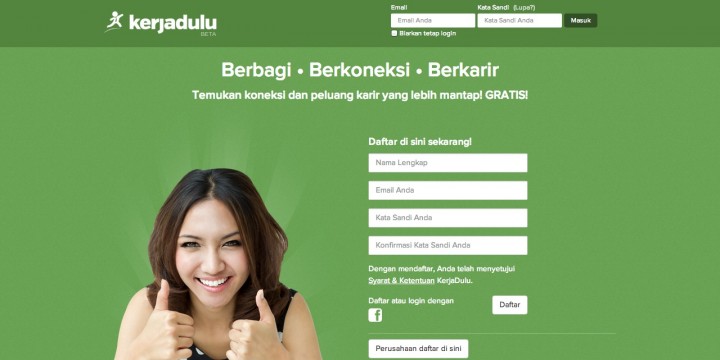 There are a number of online players in the job search and business networking markets, but no site has yet combined both concepts. One Indonesian startup is trying, however. Meet KerjaDulu – meaning "work first" – a career social networking site. What does that mean exactly?
KerjaDulu has LinkedIn-like features whereby people can set up their professional profile page and connect with other businesspeople within the site. But in contrast to LinkedIn which prioritizes the display of a person's resumé, members' pages on KerjaDulu look more like Facebook profiles, focusing on online activities and shares. Users of the new network can of course still see others' CVs and credentials.
Members can also fill in and update their resumés on KerjaDulu. Then they can look for job openings based on the occupation types and companies. And just like the job seekers on other sites, KerjaDulu's users can get alerts from followed companies whenever they have new job openings. In return, these companies have access to the credentials of the people who follow the firm.
KerjaDulu launched on the first day of 2014, and so far it has accumulated over 600 companies. Founder Christian Liu looks solid as an entrepreneur as he also founded a company based in Taiwan called C2 Networks, an out-of-home digital media network. C2 Networks earned him awards for best startup entrepreneur of the year and best product of the year at the Golden Peak Awards in 2007.
KerjaDulu hasn't put in place any way to monetize yet. It is still free for both ordinary users and companies.
Another startup that wants to make job searching easier in Indonesia is job portal Karir Rakyat.
(Editing by Steven Millward and Paul Bischoff)