Late last month, a new Indonesian job portal launched, called Karir Rakyat (meaning "people's career"). It offers yet another alternative for Indonesians who are looking for jobs online. Plus, the site is a lot more visual than most jobseeker portals, and even includes a map of nearby vacancies. We talked to CTO Eric Ngadiman about how he plans to make waves inside the HR portal market in the country.
He believes that the growing population in Indonesia, together with the country's economy progress, makes online job portal services an interesting market to jump into. Eric explains three killer differentiators that Karir Rakyat has compared to its competitors:
First, the site is not flooded with advertisements, instead aiming at a better job search experience for visitors. Compared to the homepage of rival site JobsDB, there are clearly fewer advertisements and Karir Rakyat's site looks easier on the eyes.
The second and third differentiators, according to Eric, are Karir Rakyat's beta features: the KR-Map (pictured below) and KR-iD. I found the KR-Map particularly neat as it allows users to type in their job search criteria and have the results shown on an embedded Google Map. Eric says that the distance between home and office is quite influential in determining a person's productivity.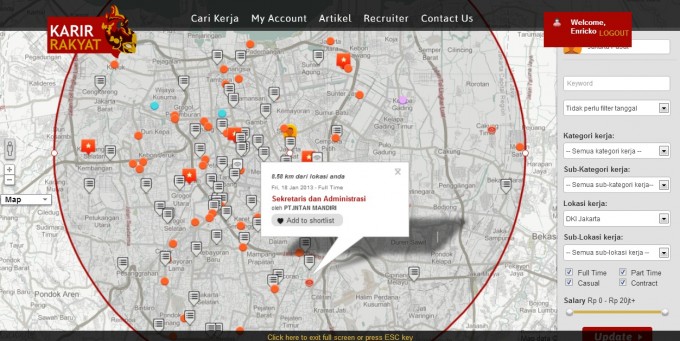 The KR-iD feature lists the logos of listed companies on Karir Rakyat. Eric argues it's easier for people to identify companies by their logos rather than their names. It's another way Karir Rakyat hopes to offer a new perspective in looking for jobs.
Up until mid-January, Karir Rakyat has more than 2,000 jobs listed from more than 800 Indonesian companies. The site has seen around 1,000 unique visitors every day with more than 4,000 registered users after it went live at the end of last year. There are around 7,800 likes on its Facebook page
Karir Rakyat is fully managed and funded by its three founders. Eric explains that they dream to offer job vacancies to all sectors of society with Karir Rakyat. Right now, they are running with a strategy not to make CV submissions mandatory in to make it more accessible to blue-collar workers as well. Such workers, they feel, are the ones powering the country's economy, but are not used to making CVs online. The team hopes that the fast pace in technology progress in the country might make their dream come true one day.
I think Karir Rakyat's very visual features are refreshing in the current, text-overloaded job portals market. If successful, its competitors might consider changing their strategies and freshening up their sites.