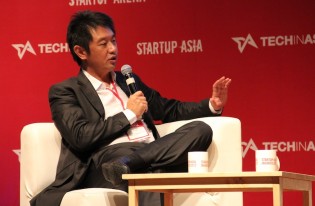 To start the morning session of Startup Asia Jakarta 2012, Willis Wee spoke to Steven Goh, the CEO and founder of Mig33. Below are some of the paraphrased highlights of Steven's insights.
#09:34: We've got about 56 million registered users with half of those in Indonesia, and about a million daily active users here. For monetizations, users are creating their own prepaid channels and entertaining themselves.
#09:35: Up until 2009 we were bigger than Facebook here, and we got to there we built a platform that was fitting for handsets here. It really appealed to how Indonesians were using handsets. In 2009 we were based in California and found it difficult to operate here, so we moved to Singapore and have been doing well since.
#09:37: We're still figuring out the game platform. The thing about social entertainment is giving a forum to entertain themselves and games are a great way to do that. we have good relationship with GREE. We Some hot games including Command & Conquer with Electronic Arts.
#09:40: They chat, they do a lot of emotes, or non-verbal expressions in chatrooms, virtual gifts, social games – its a very large bucket [of activity].
#09:43: We're broadening our platform, our footprint, and have launched our mini blog, we have 2.5 monthly actives in the first three months. That's been growing nicely. We have a great Android and Blackberry client, and about to do iPhone. But all these markets are still largely footprint markets in South East Asia with the exception of maybe Singapore.
#09:45: (Is Mig33 profitable) Not at the moment. But we're working on growing the platform.
#09:45: (Where is Mig33 going to be in three years) We're going to be huge.
#09:47: (Why should a dev build games for Mig33) We're the other social platform of choice in the region. There is Facebook, which is getting good attention in this region. We're the alternative. We're choice. In North American you have Facebook, in Japan you have GREE and DeNA, in China there are lots of options. But we represent choice [in Southeast Asia].
#09:50: The great inspiration for payments is what QQ has done with QQ Pay. It's notable in Indonesia that there are no [prominent] payment options here. We took inspiration from the QQ model and some other companies in emerging markets, and we came up with something called a merchant model. [1]
#09:51: I think very few people have done this before. For us to be a pan-Asian play that is based in Singapore is very unique. We're trying to build a team that has a passion for their customers, and its a big challenge and we're having a lot of fun.
#09:53: (Any advice for startups?) Have a passion for your customer. When people talk about 1 percent inspiration and 99 percent perspiration, they are under-estimating the perspiration aspect.
This is a part of our coverage of Startup Asia Jakarta 2012, our startup event running on June 8 and 9. You can follow along on Twitter at @startupasia, on our Facebook page, on Google Plus, or via RSS.