Softbank (TSE:9984) and Sprint (NYSE:S) held a joint press conference in Tokyo to announce Softbank's $20 billion investment in Sprint. Masayoshi Son hailed the move as a big step for Softbank to move into the US market, but acknowledged that it was one that comes with some risk, as the deal is financed with loans as well as cash on hand.
This is reportedly the biggest acquisition of any overseas company by a Japanese firm, and the latest example of formerly home-bound Japanese tech companies looking for opportunities abroad. In keeping with that theme, Son took a more global view of what this means for his company, saying that it makes Softbank the third highest carrier in terms of revenue in the world, labeling it as a victory of sorts over domestic rival Docomo.
Son was almost dismissive about the Japanese domestic carrier wars, preferring to focus on Softbank Group's new position on a global scale. With Softbank and Sprint's combined $32 billion in revenue (January to June 2012), that puts 'Softbank Group' on par with AT&T, just behind China Mobile ($43 billion) and Verizon ($37 billion).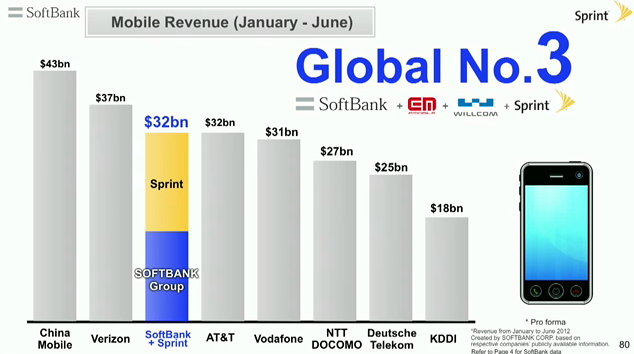 He noted that the US market is an attractive one for Softbank, as it is the world's largest mobile market with great smartphone growth, and the top ARPU among all nations. In company's official release (included in full below), Son explained:
This transaction provides an excellent opportunity for Softbank to leverage its expertise in smartphones and next-generation high-speed networks, including LTE, to drive the mobile Internet revolution in the world's largest market. As we have proven in Japan, we have achieved a V-shaped earnings recovery in the acquired mobile business and grown dramatically by introducing differentiated products and innovative services to an incumbent-led market. Our track record of innovation, combined with Sprint's strong brand and local leadership, provides a constructive beginning toward creating a more competitive American mobile market.
Son pointed to his company's track record of turning around companies in trouble, giving Japan Telecom, Vodaphone, and Willcom as examples of companies whose fortunes reversed after coming under the umbrella of Softbank Group.
Dan Hesse, the CEO of Sprint noted that although Sprint was the third largest carrier in the US according to market share (at 16 percent), that it was number one in terms of revenue growth and ARPU growth in comparison to its competitors. He noted that this deal gives Sprint the financial flexibility that it needs for new growth opportunities.
Hesse also noted that it will make the US market more competitive, especially as Sprint can learn from Softbank's experience and know-how, especially its experience in LTE deployment. Overall, he says that this will result in a "much stronger, better Sprint" and help them reach their goal of being America's top wireless carrier.