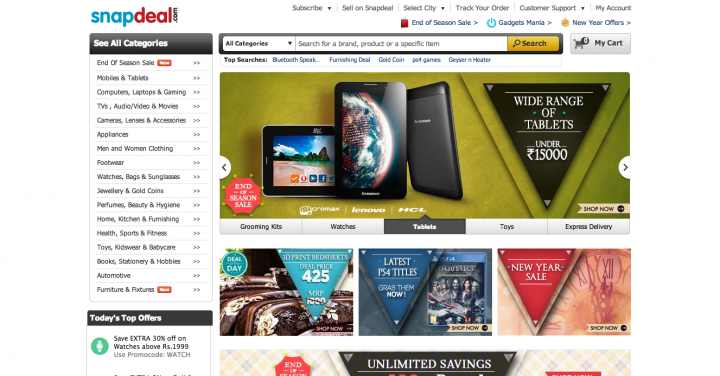 Not long after Amazon and Flipkart both rolled out their next-day delivery services for India late in 2013, New Dehli-based online marketplace startup Snapdeal has come up with a similar same-day delivery option for its customers – only it won't charge extra fees for it.
In order to use the new service, consumers need to place orders by 1 PM so they can be processed on the same day as the product ships.
Like Amazon and Flipkart, Snapdeal is only offering its same-day delivery in select cities. Customers in Dehli-NCR (National Capital Region) can access it right now, and it will soon make its way to Bangalore and Mumbai.
While Snapdeal currently offers the service for free, it's not unreasonable to expect the company might apply fees on it in the future.
"With the increasing competition in e-commerce space, delivery has become an essential factor after price. Keeping up with our company motto of providing the widest assortment of goods and the best services we have managed to evolve our supply chain system to such an extent that we can now offer this service with ease," says Saurabh Goyal, vice president of supply chain operations at Snapdeal.
Snapdeal is funded by eBay Inc., Intel Capital, Bessemer Venture Partners, Nexus Venture Partners and IndoUS Venture Partners.
While same or next-day delivery service looks great from the consumer's perspective, in the long run, the true test for these online marketplaces will be whether they can sustain themselves in terms of profit margins.
(Editing by Josh Horwitz)